Buzzard - YEAR 5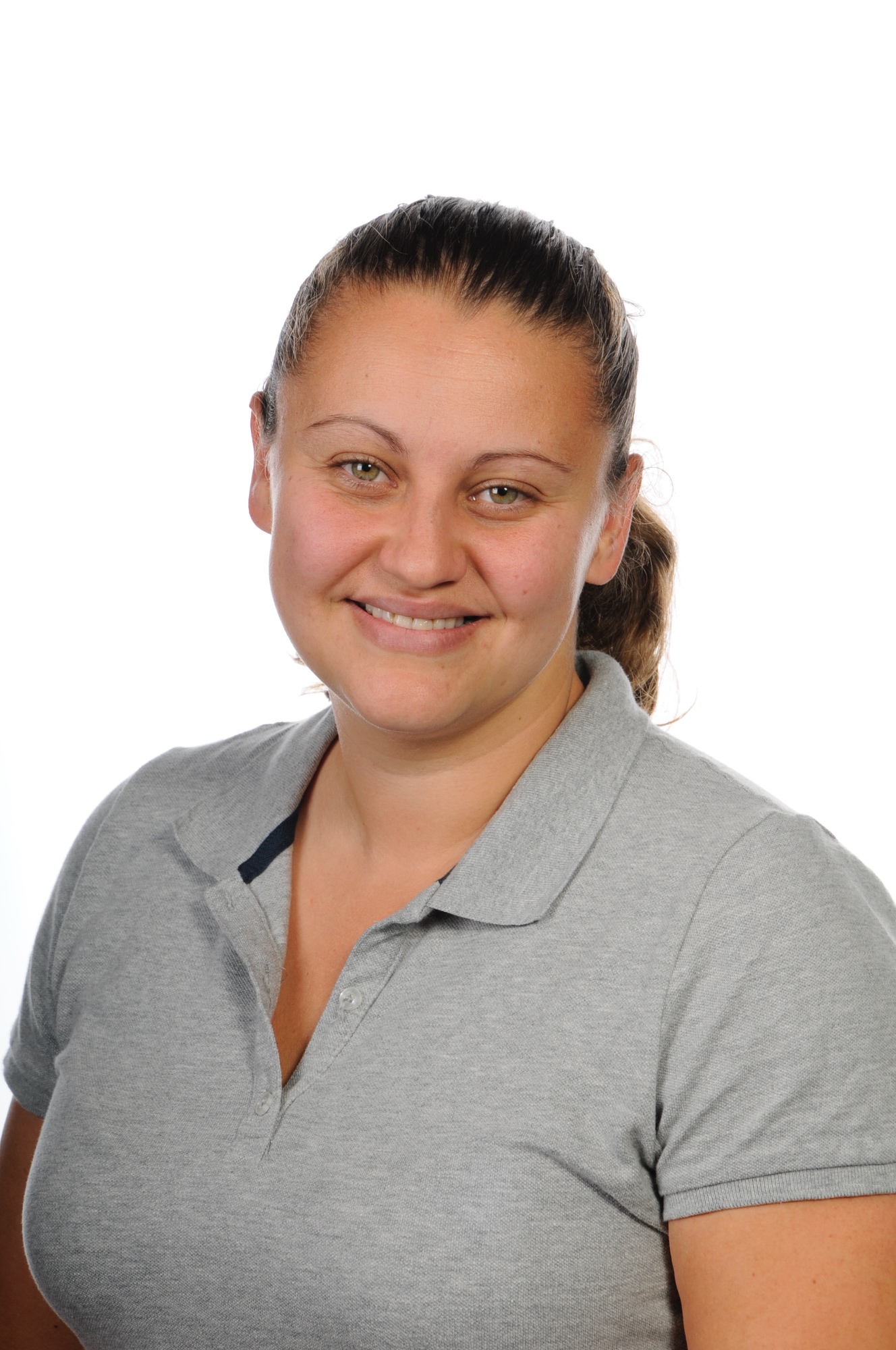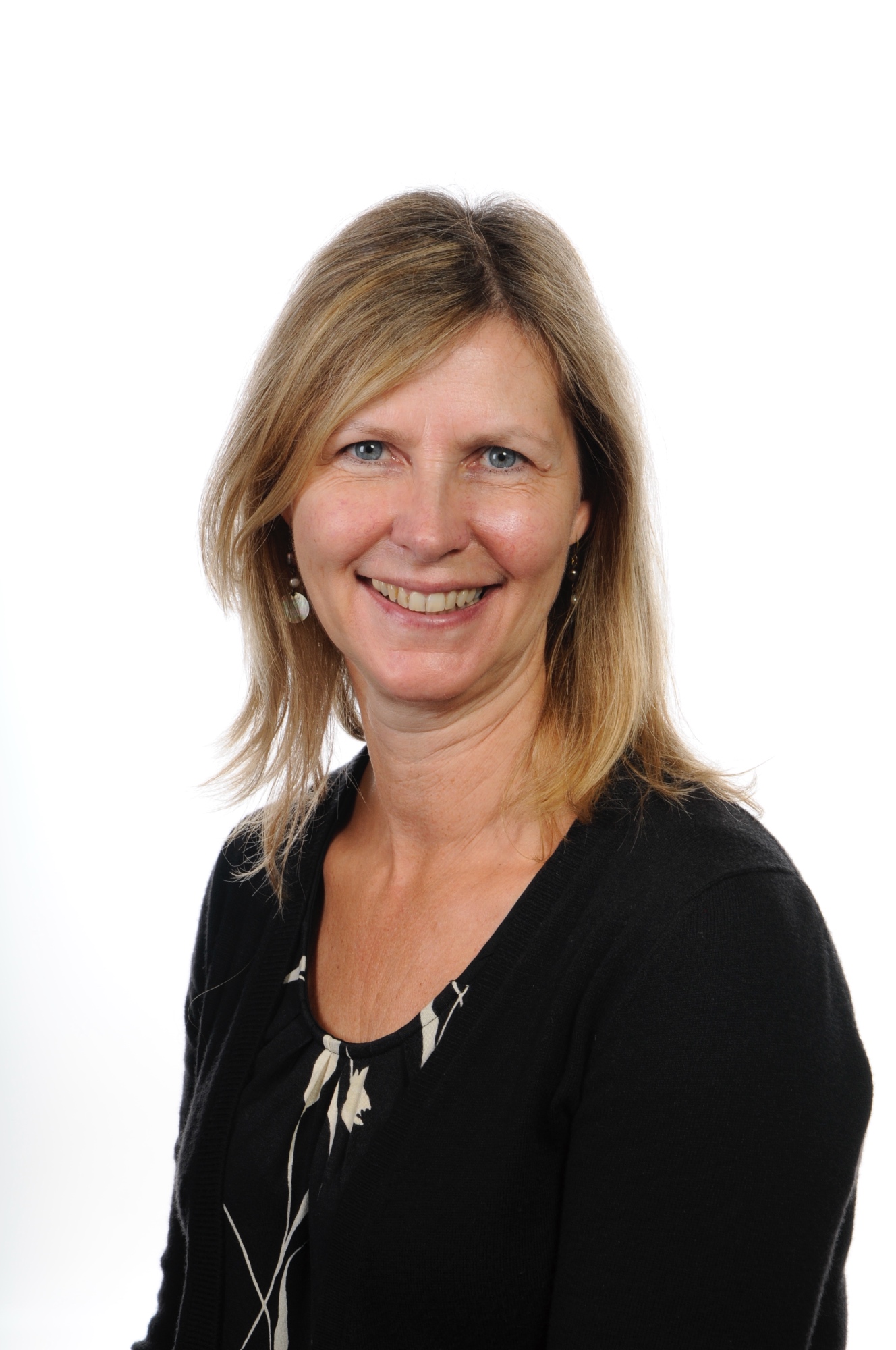 Meet
the
Team!
Buzzard Class
Our Trip to Lulworth
On Tuesday 9th of July, Year 5 went to Lulworth to learn about the Jurassic coast and its geology. We had a fantastic day, and we were very lucky with the sunny weather. If you haven't been to Lulworth coast- we would really recommend it as it is absolutely stunning!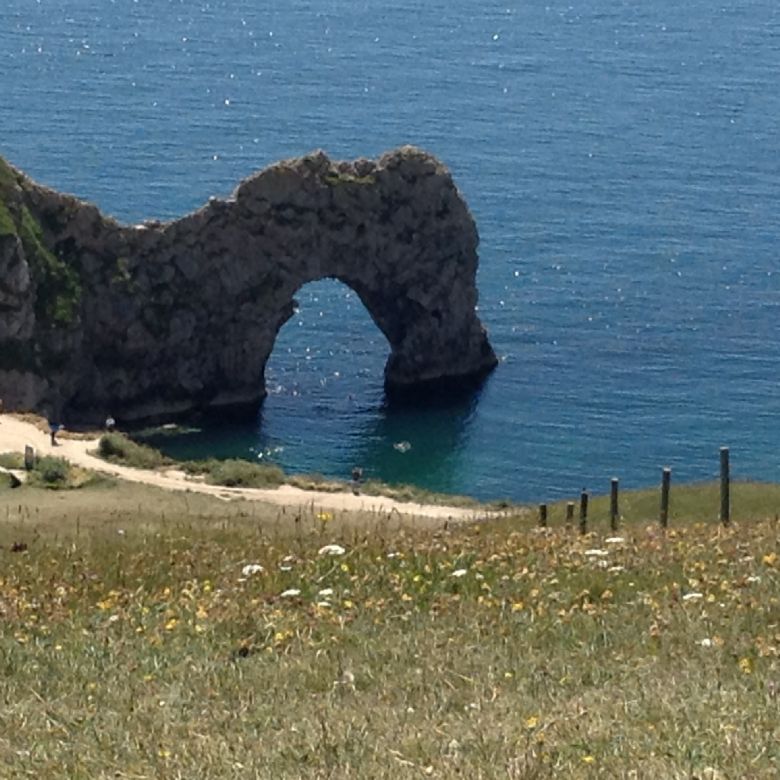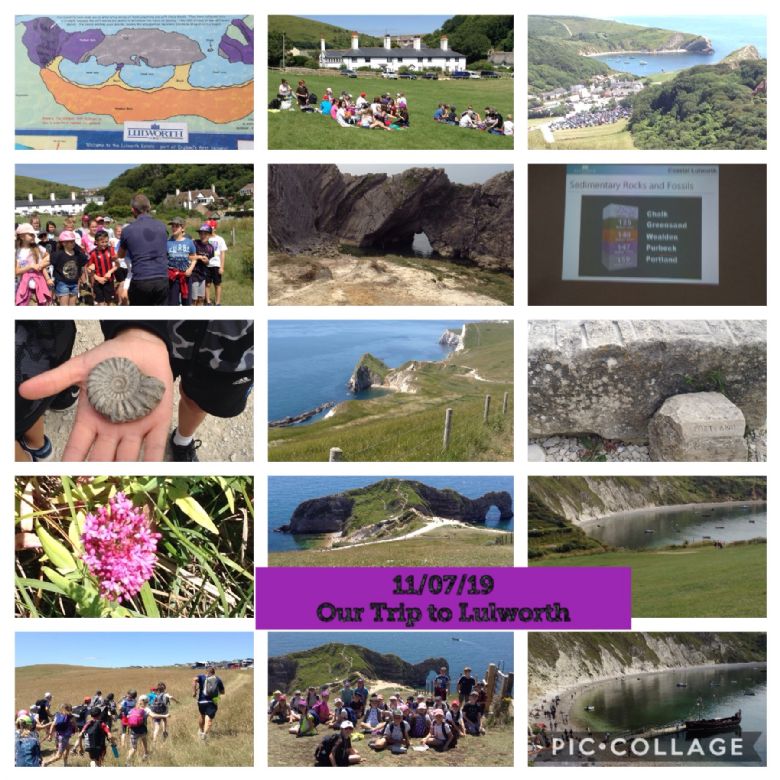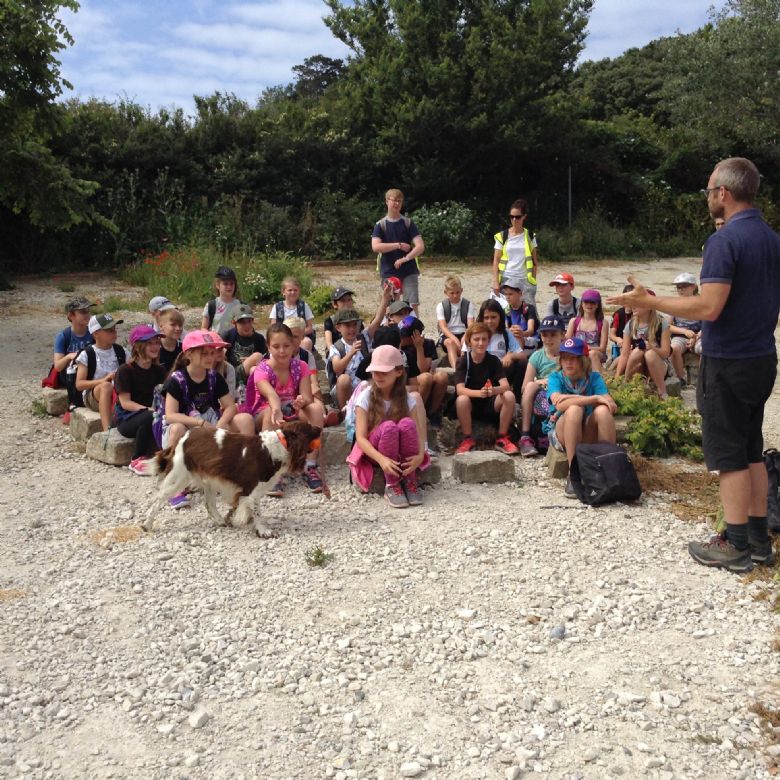 Rodney "Rodrigo" McCoubrey
we have been looking at artwork made from recyclable materials. We looked at the fish that Rodney McCourbrey does and got some inspiration for our fish. Can you guess what recyclable materials we used in our designs?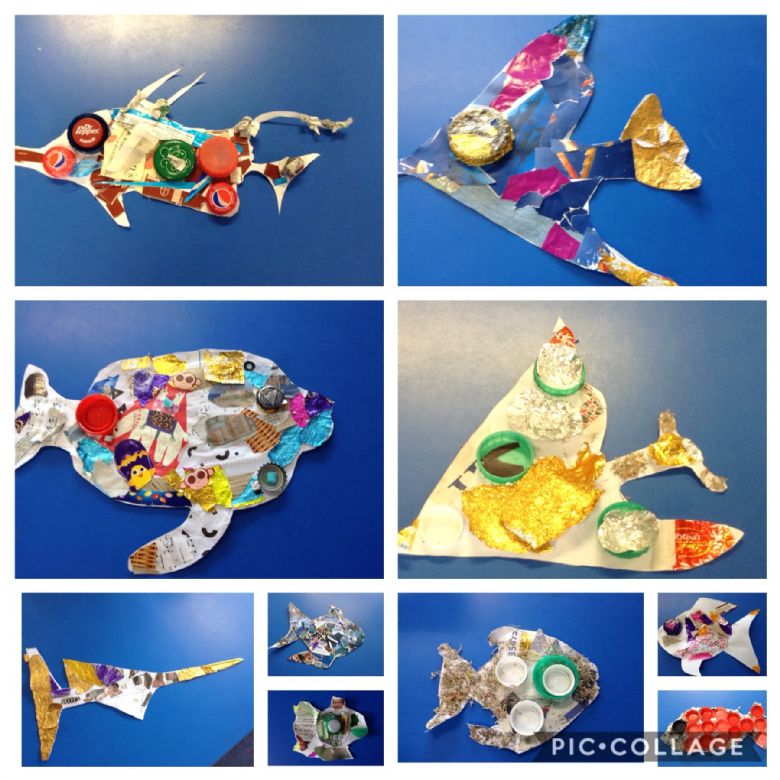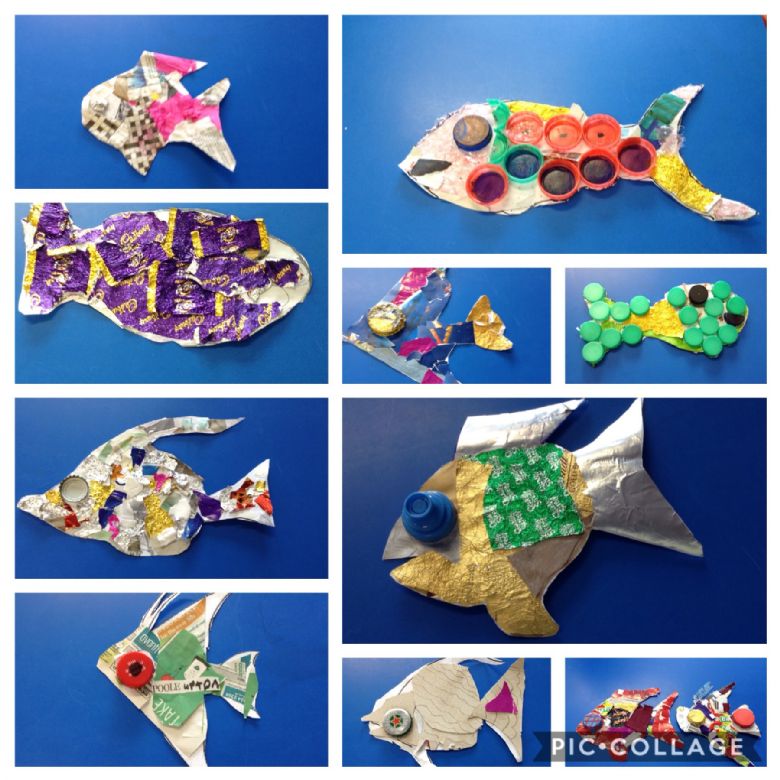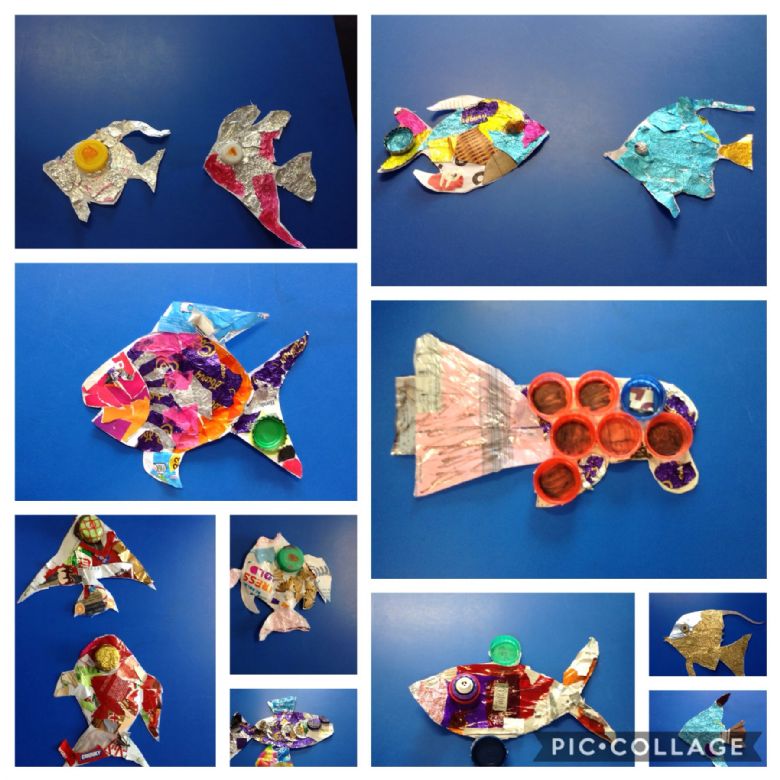 Watch Out David Walliams!
Buzzard class wrote some stories inspired by David Williams's picture books during World Book Day. We shared them with the year ones today, which we all really enjoyed.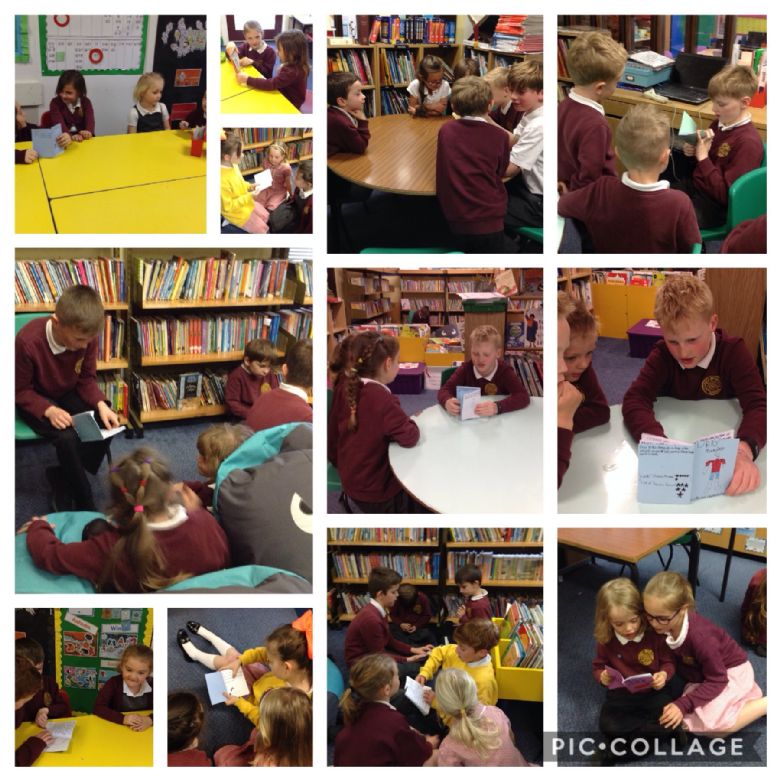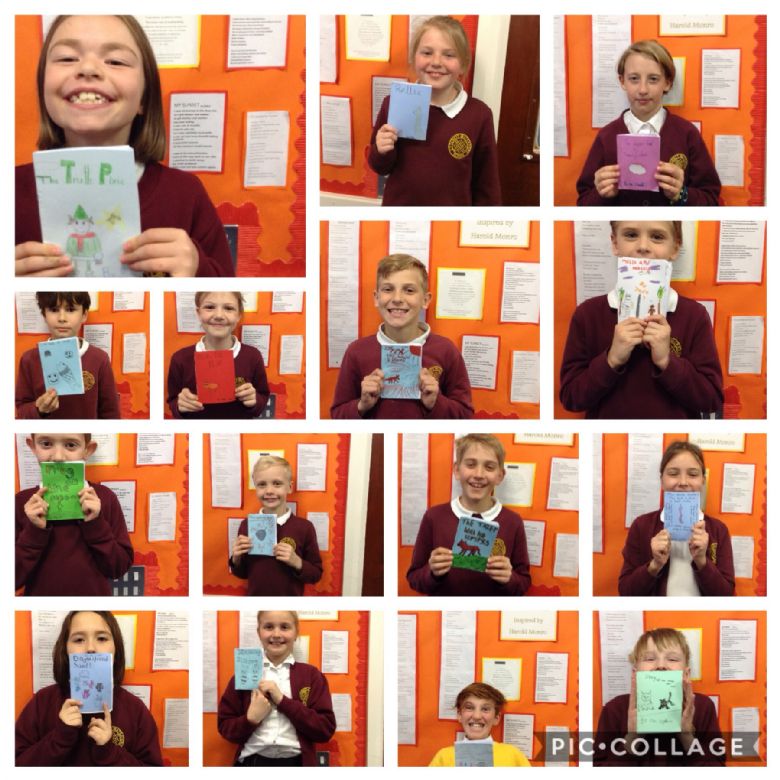 Cross Country
Children from year 5 and 6 went to the Cross Country competition at Canford School. The year 5 girls came second overall. We were also very proud of our classmate who came first out of all the year 5 girls in the competition.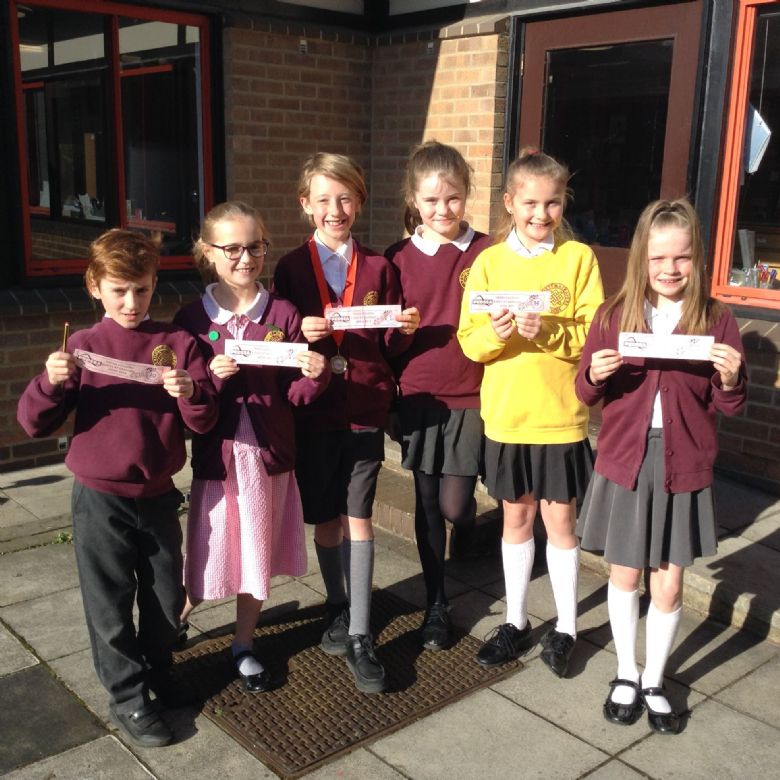 Sustrans
Sustrans closed Wareham road (outside our school) to put some of our design ideas into practise. We had great fun chalk spraying and drawing our patterns, crossings, art street art.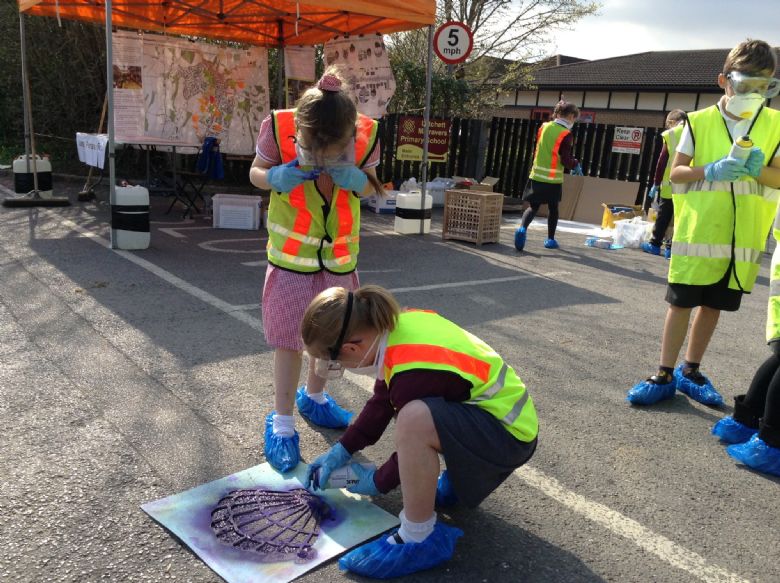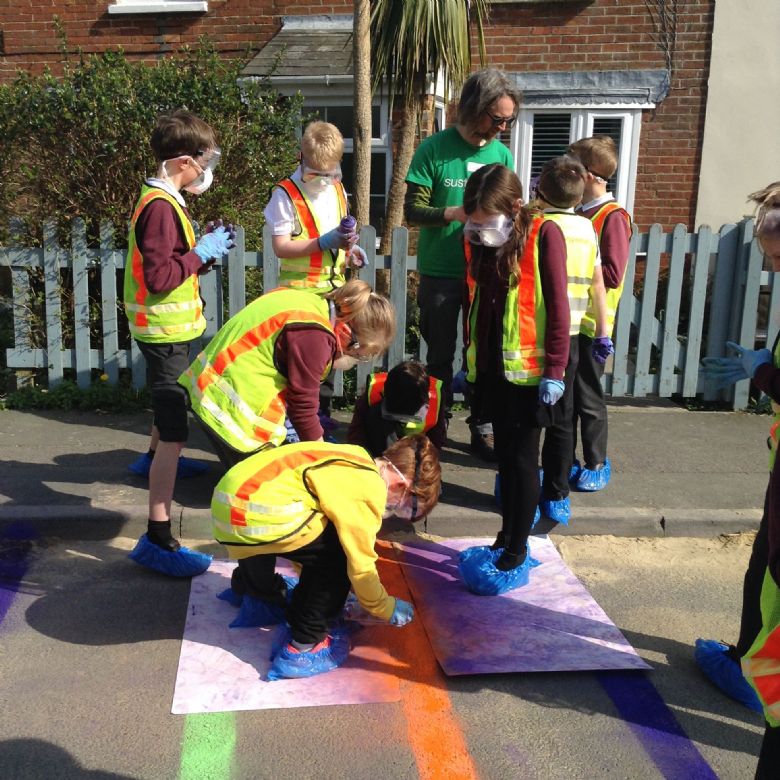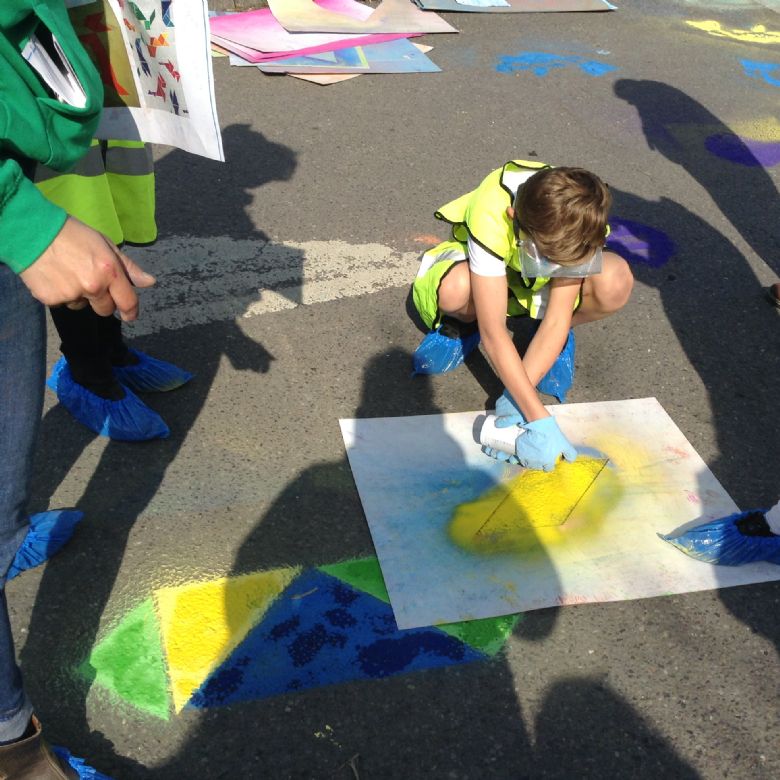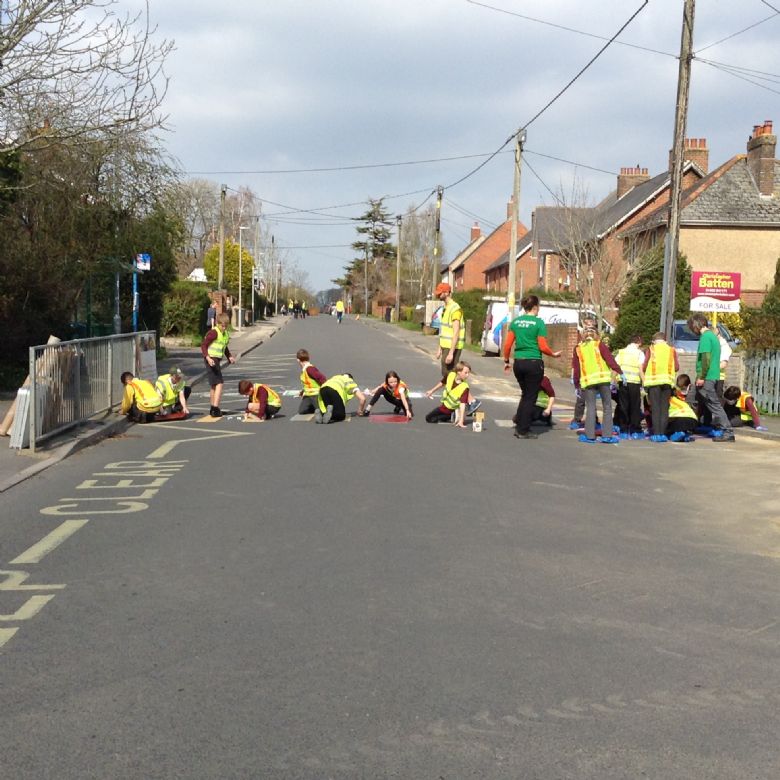 Life Education Bus
We visited the Life Education Bus today (our theme was titled 'Friends'). We learned about what inner and physical things make us healthy and happy, how to be assertive to our friend if needed, we looked at different types of drugs and also spoke about peer pressure. We shared our ideas and listened carefully to others too- we had a lot to share! Our visit wouldn't be complete without an appearance from Harrold the Giraffe. We always like to see him and stroke him.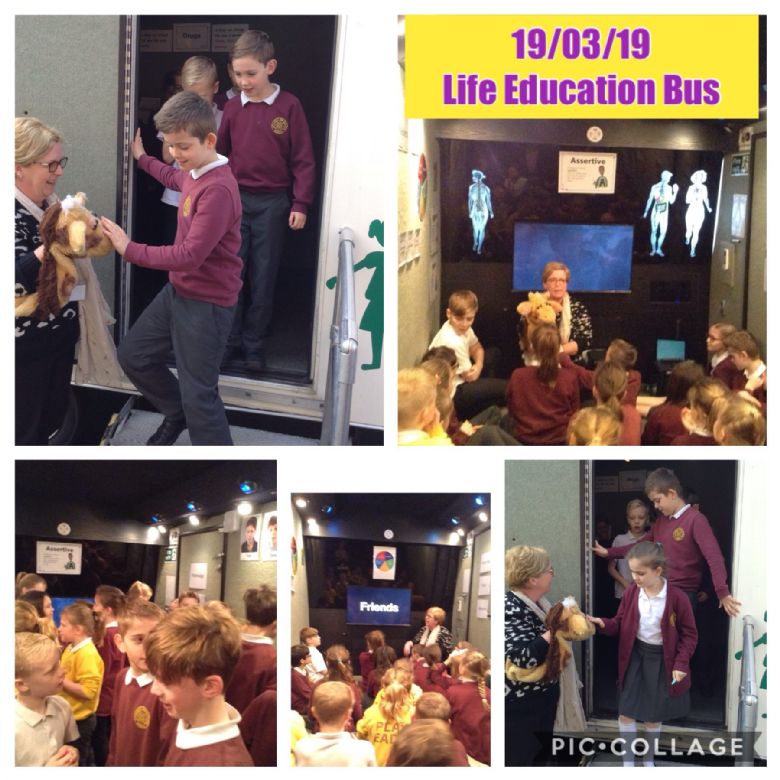 SLIME
Have you ever wondered why slime is so slimy? Have you ever wondered how you make slime? We had a lot of fun making slime out of cornflour, water and food colouring. It was messy but we had a great time!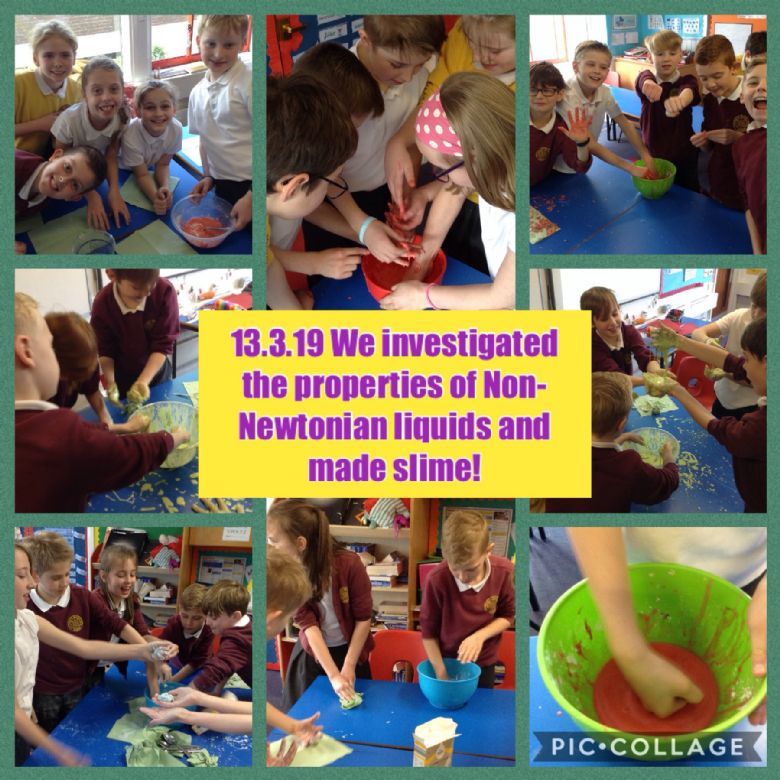 Colourful characters from the world of literature were brought to life by pupils at our school.
From fairytale characters, crossed dressed boys, to a sea of David Walliams's book characters - the school was full of vibrant book characters!
Now in its 22nd year, World Book Day is the biggest worldwide celebration of authors, books, illustrators and reading (taking place in more than 100 different countries across the globe)
Children and staff alike, enjoyed the day thoroughly, where they experienced a range of exciting and enjoyable activities.
The award for the best dressed in our class was awarded to Saba- who dressed up as Astrid from How To Train A Dragon. She helped her mum make her fantastic costume. Can you spot her in the photograph of all the winners?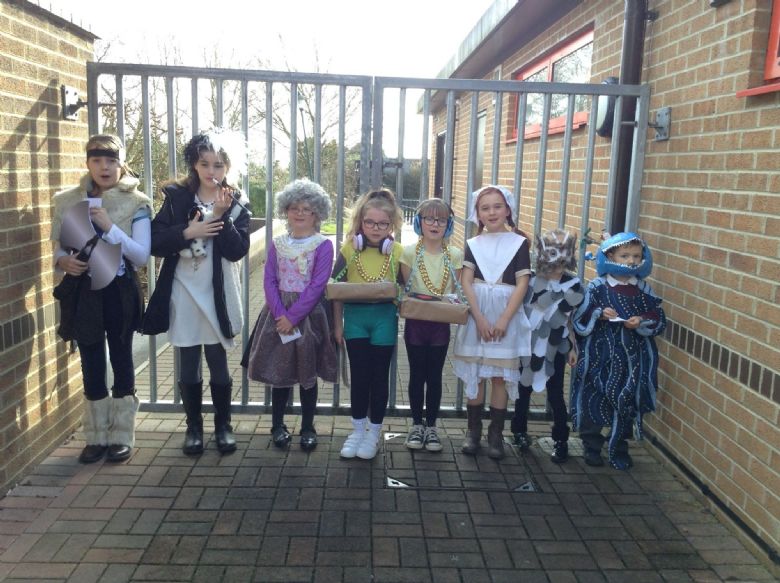 Our World Book day winners this year. Can you guess which books they are characters from?
Our Village Library
As it's World Book Day on Thursday 7th - we went to visit Mrs Thomas at Lytchett Matravers Library. She set us a task to explore how we choose a book to read. We had to look at the front cover, the blurb and read a couple of pages from a selection of different themed books- and choose which one we like best. We then had to decide which book we would choose to read.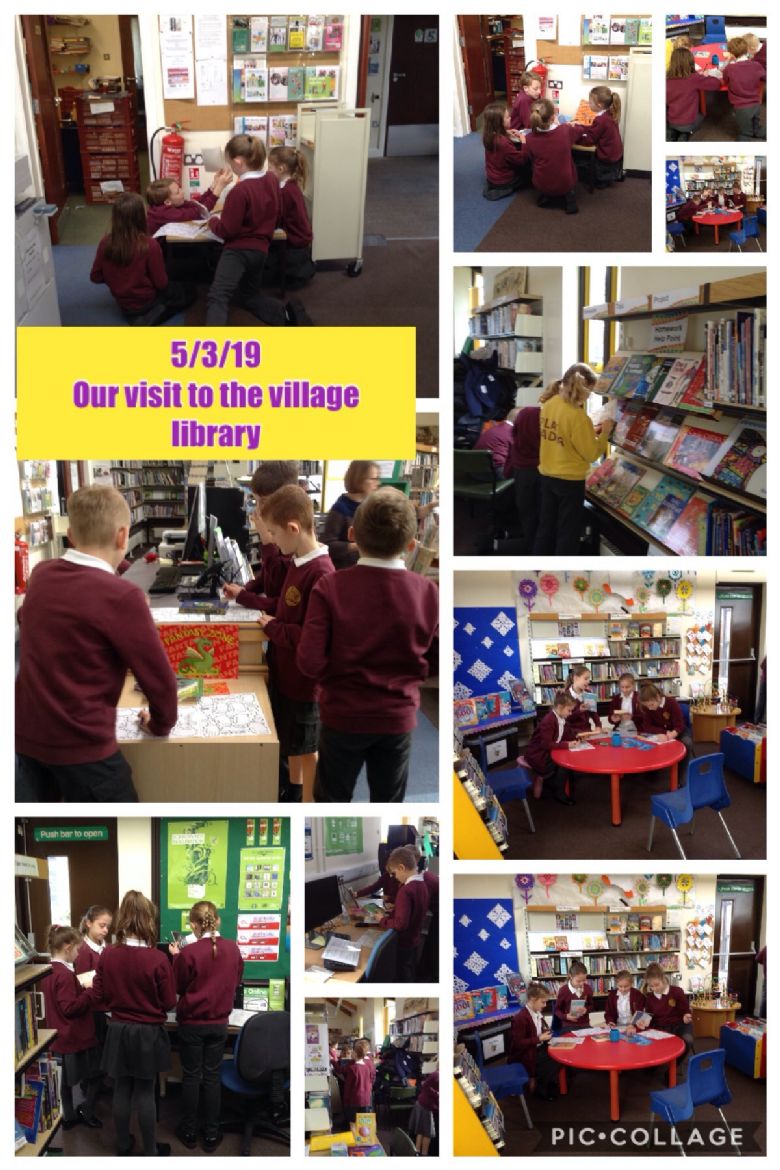 Anglo-Saxon Brooches
We have been making some brooches inspired by the Anglo-Saxons. We used aluminium foil, sharpies and some gems. Which brooch do you like best?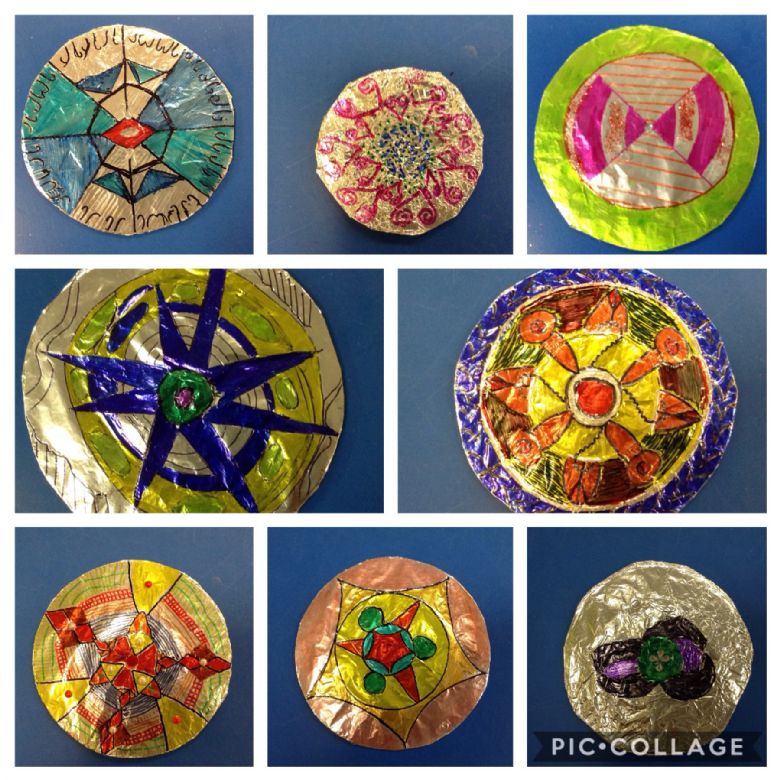 Sustrans Workshop
Year 5 were very excited to welcome back the Sustrans team. The children all had a go at designing a crossing, that they would like to see outside the school gates. The children's ideas and designs were vibrant and exciting. I wonder which design will be chosen!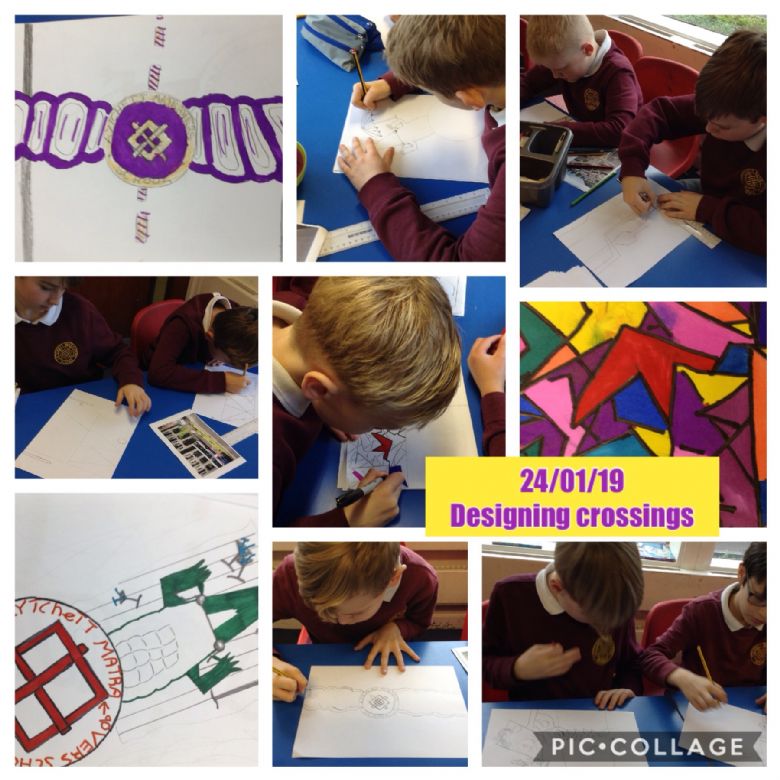 The children also got an opportunity to design their ideal Wareham Roam (school road). They had to decide where they would like to see different safety features (traffic lights, crossings, speed bumps).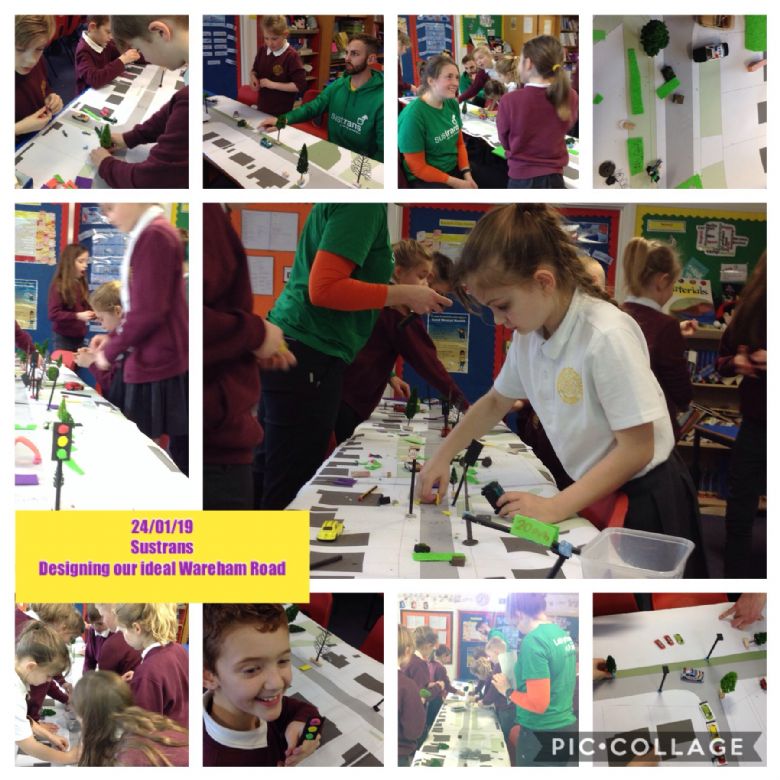 Making 3D Shapes
We made various 3d shapes from 2d nets. From cylinders, cubes to Icosahedrons.
Challenge: How many faces, edges, vertices does a Icosahedron have?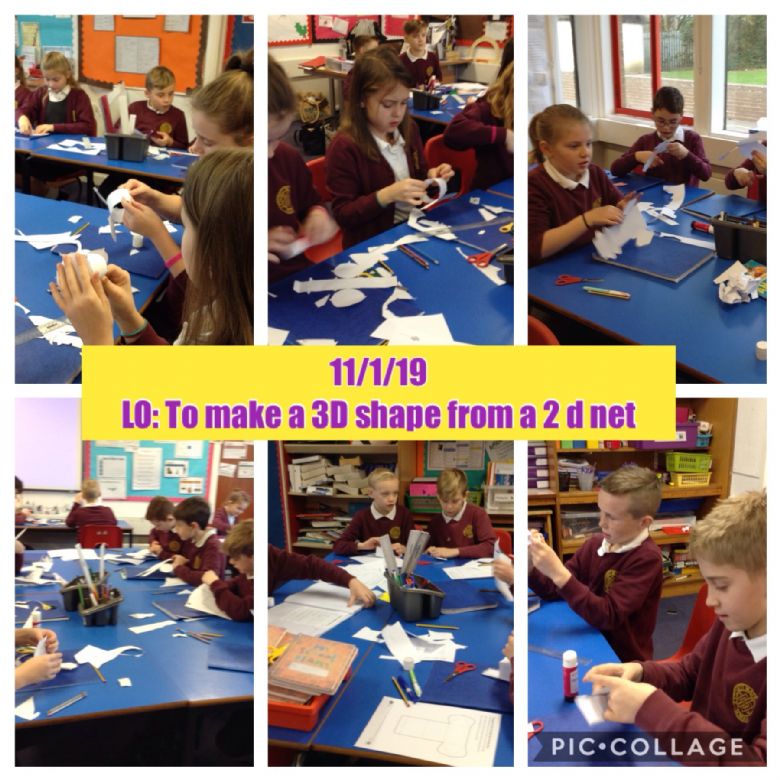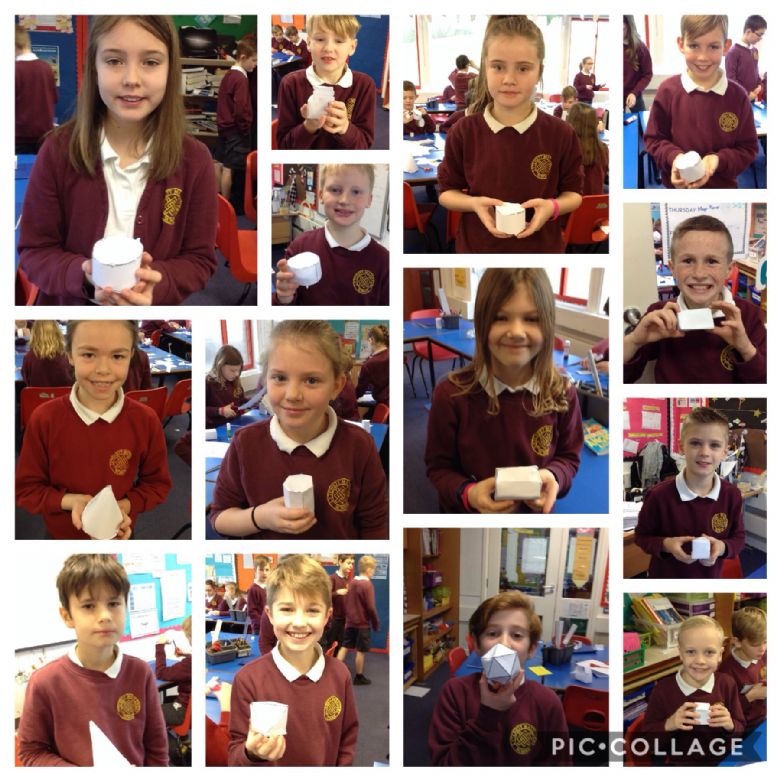 The Great City by Harold Monro (Bob Cox Unit)
We looked at the famous poem, The Great City- which is about a sunset. The poet, Monro, tries to create a sunset image in the reader's mind. This is a poem we can all relate to as we have all seen a memorable sunset at some point. We followed the Bob Cox unit about the poem, which encouraged us to appreciate and relate to the poem.
Great City - Poem by Harold Monro
When I returned at sunset,
The serving-maid was singing softly
Under the dark stairs, and in the house
Twilight had entered like a moon-ray.
Tune was so dead I could not understand
The meaning of midday or of midnight,
But like falling waters, falling, hissing, falling,
Silence seemed an everlasting sound.

I sat in my room,
And watched sunset,
And saw starlight.
I heard the tramp of homing men,
And the last call of the last child;
Then a lone bird twittered,
And suddenly, beyond the housetops,
I imagined dew in the country,
In the hay, on the buttercups;
The rising moon,
The scent of early night,
The songs, the echoes,
Dogs barking,
Day closing,
Gradual slumber,
Sweet rest.

When all the lamps were lighted in the town
I passed into the street ways and I watched,
Wakeful, almost happy,
And half the night I wandered in the street.
Here are a couple of our poems inspired by the Great City by Harold Monoro.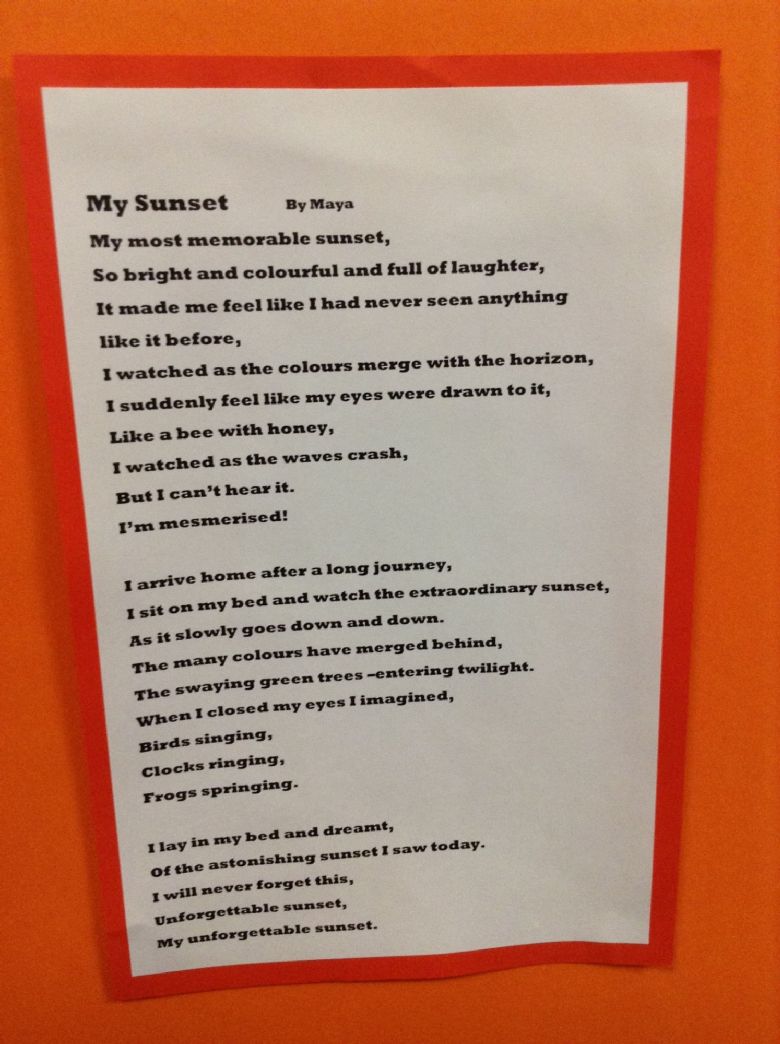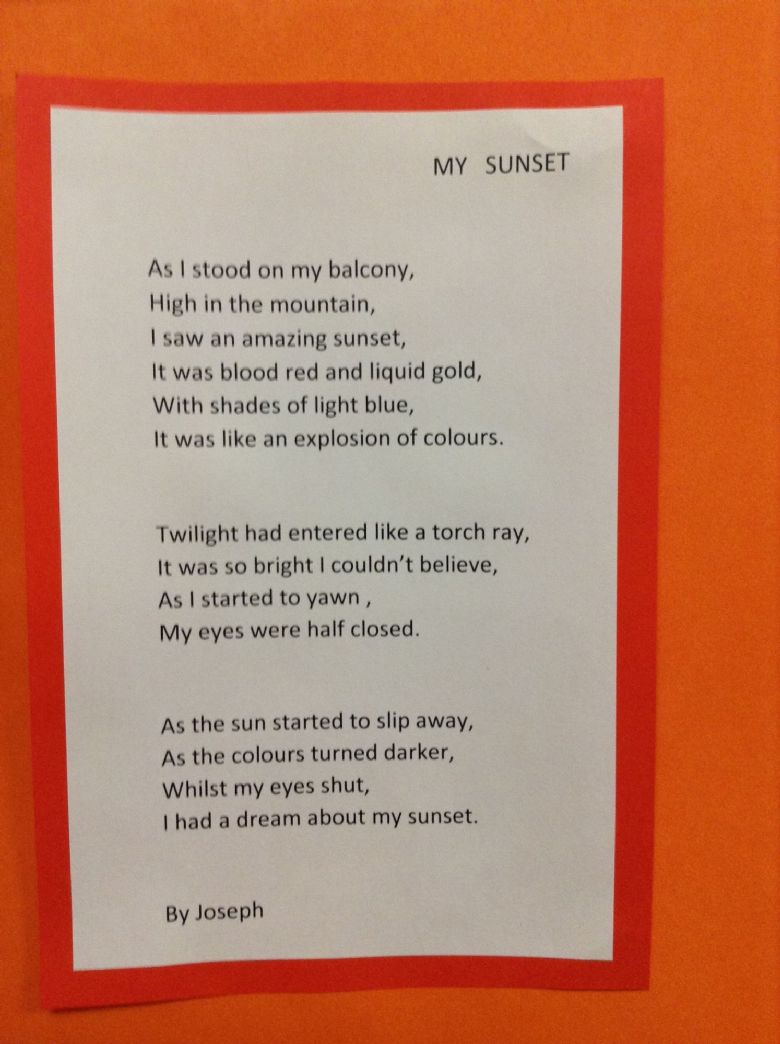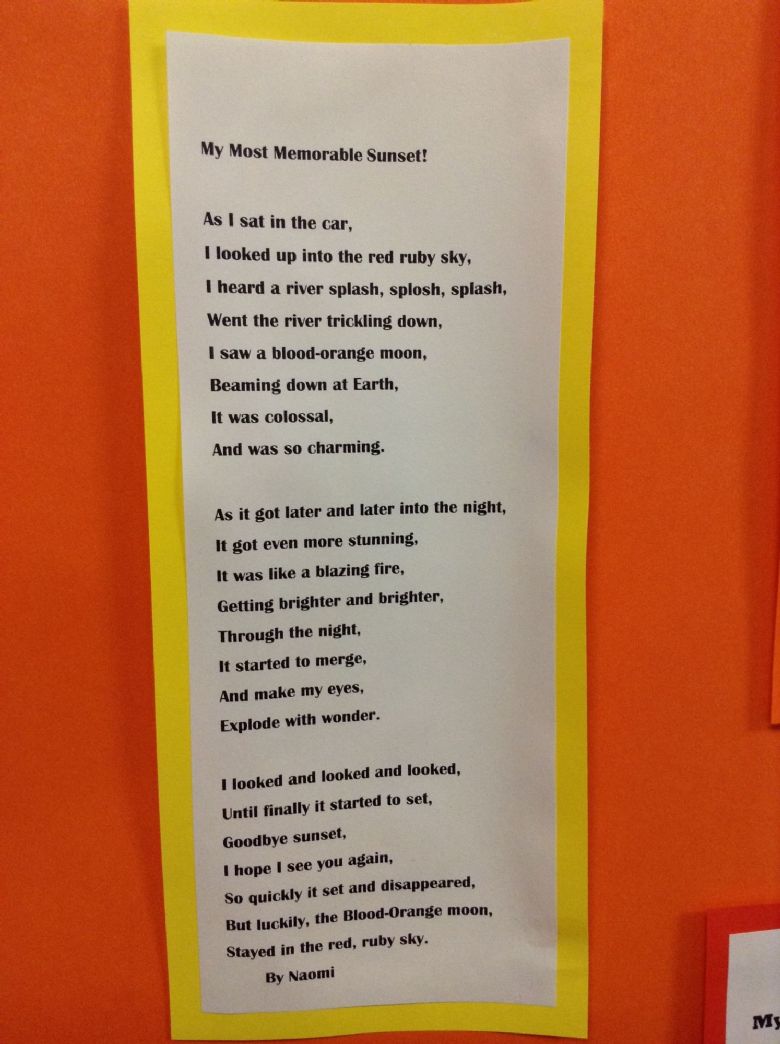 Coming Home
We have been looking at a fabulous narrative poem picture book by Michael Mopurgo. It is about a robin who is trying to get back home. He faces a stormy journey and encounters several problems-which could easily make him quit- but he preservers to get home. We looked at inferring characters' feelings, thoughts and motives from their actions- and acted out a thought tunnel for robin to fly through to explore all his thoughts and feelings.
If you want to hear Morpurgo reading his story- click below
https://www.youtube.com/watch?v=RslbtKSrrns
Waitrose also made an advert using the story. Click below to watch it.
We used Morpurgo's narrative poetry style of the book to write our own Coming Home poetry.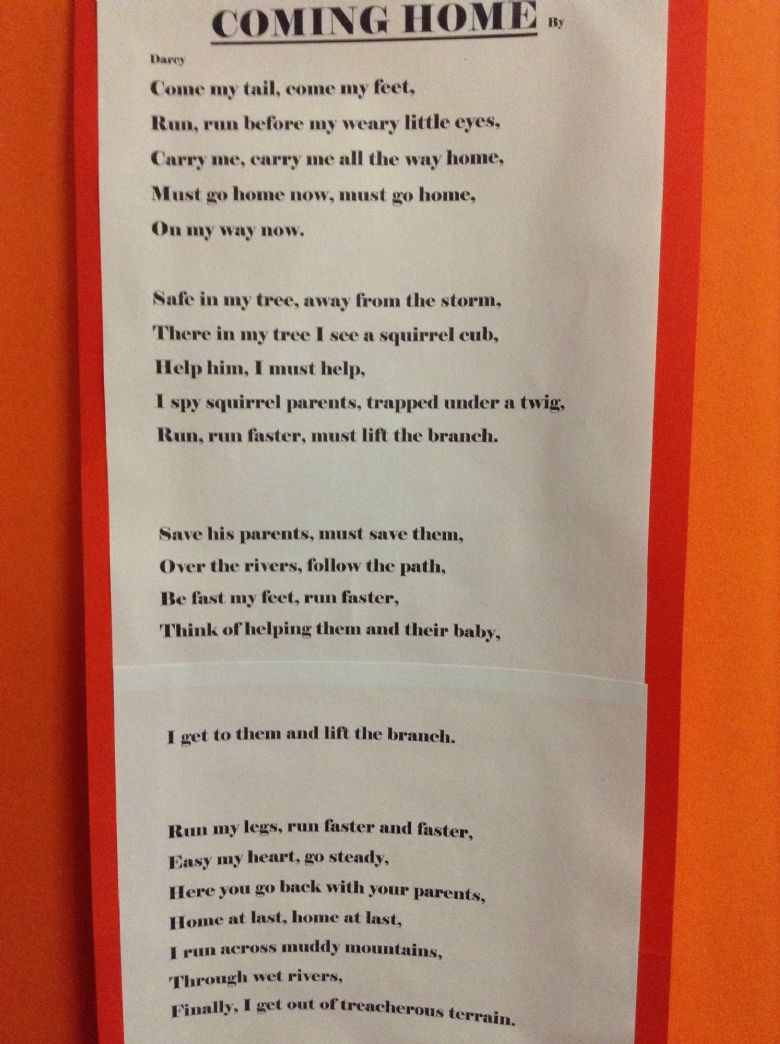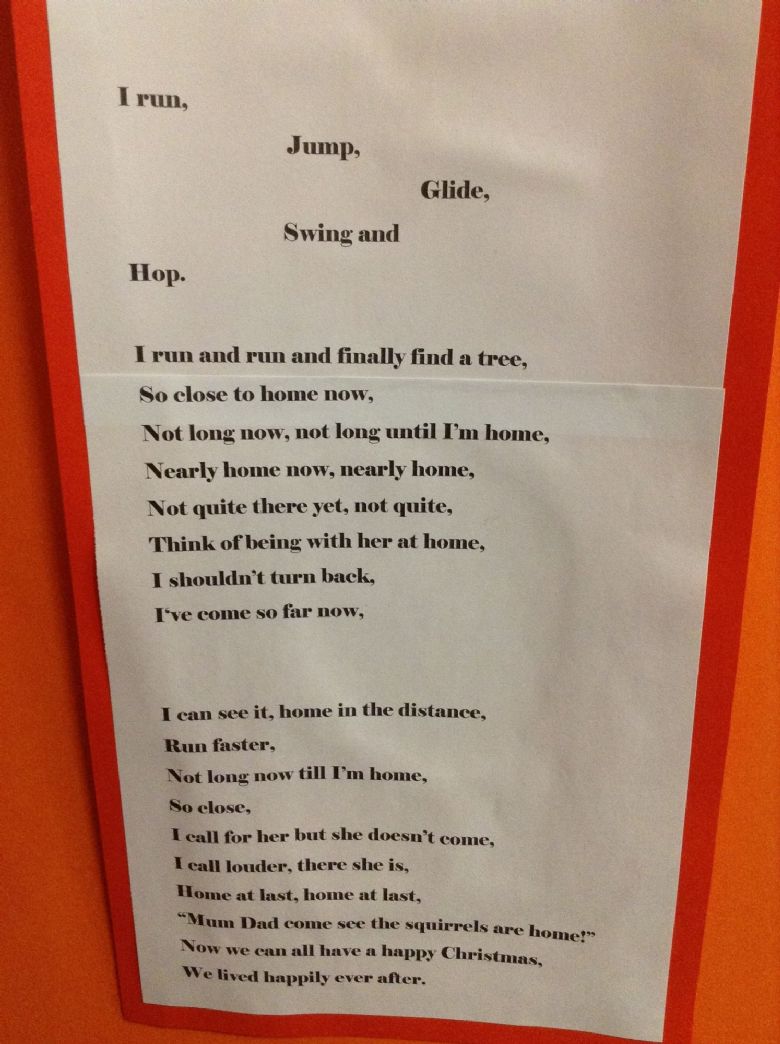 Year 5's Christmas Party
Year 5 had a fantastic festive party to celebrate Christmas. Groovy moves were shared on the dance floor, and a fabulous feast was enjoyed by all. The whole of Year 5- including all the staff- were glittered by Miss West!
Merry Christmas to you all!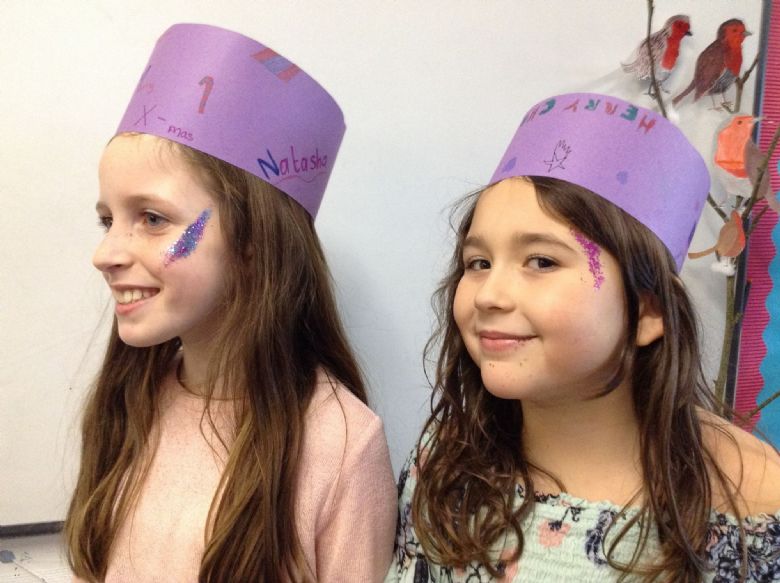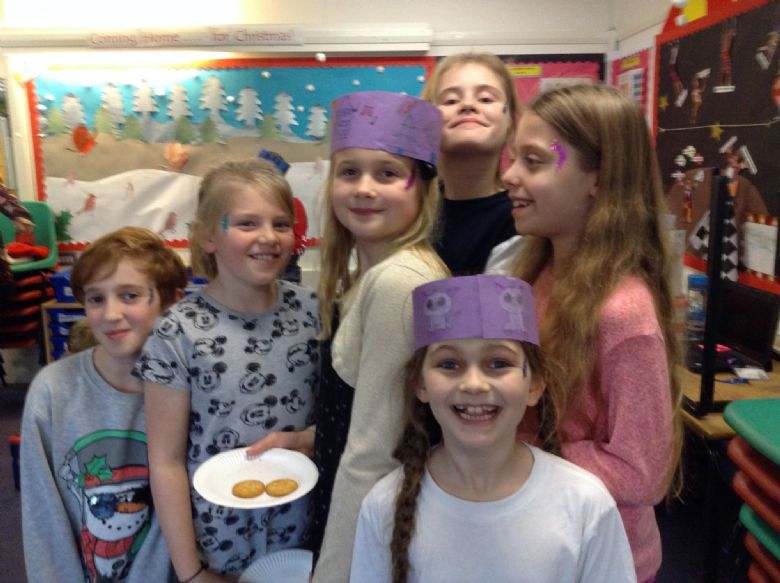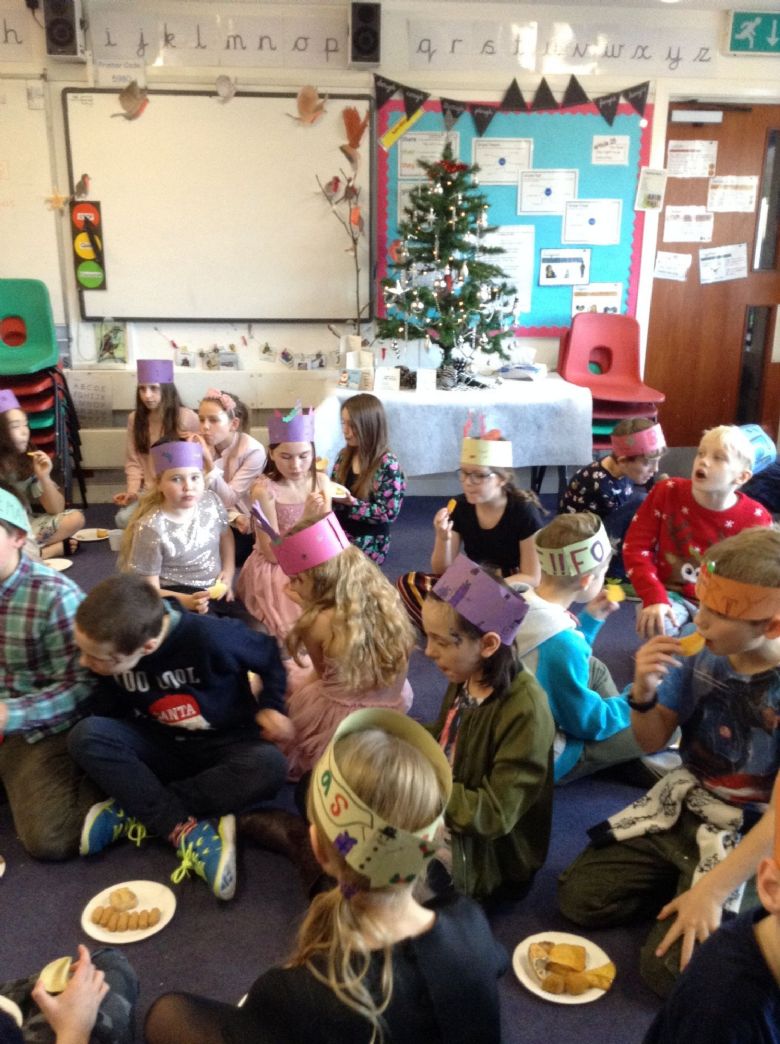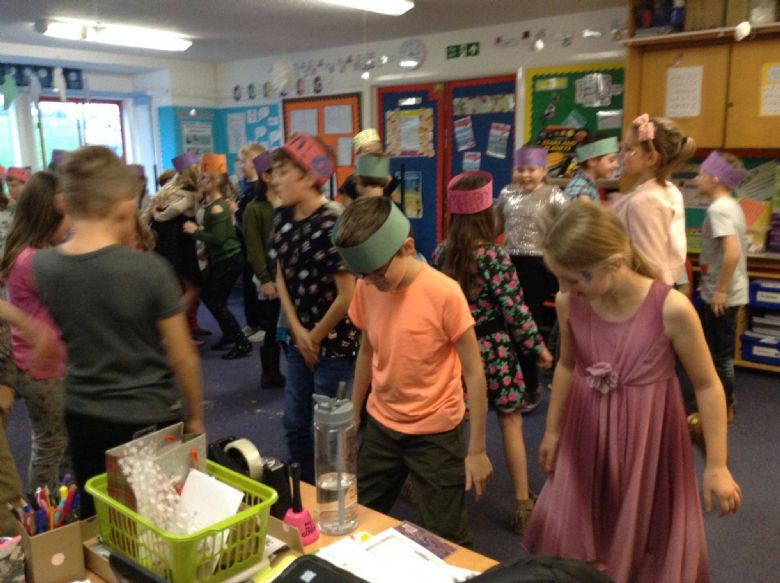 LMPS do Panto
The whole of LMPS went to watch Dick Wittington at the Lighthouse Theatre, in Poole. We had a fantastic time- and we have been left singing all the catch and annoying songs (Baby Shark.........).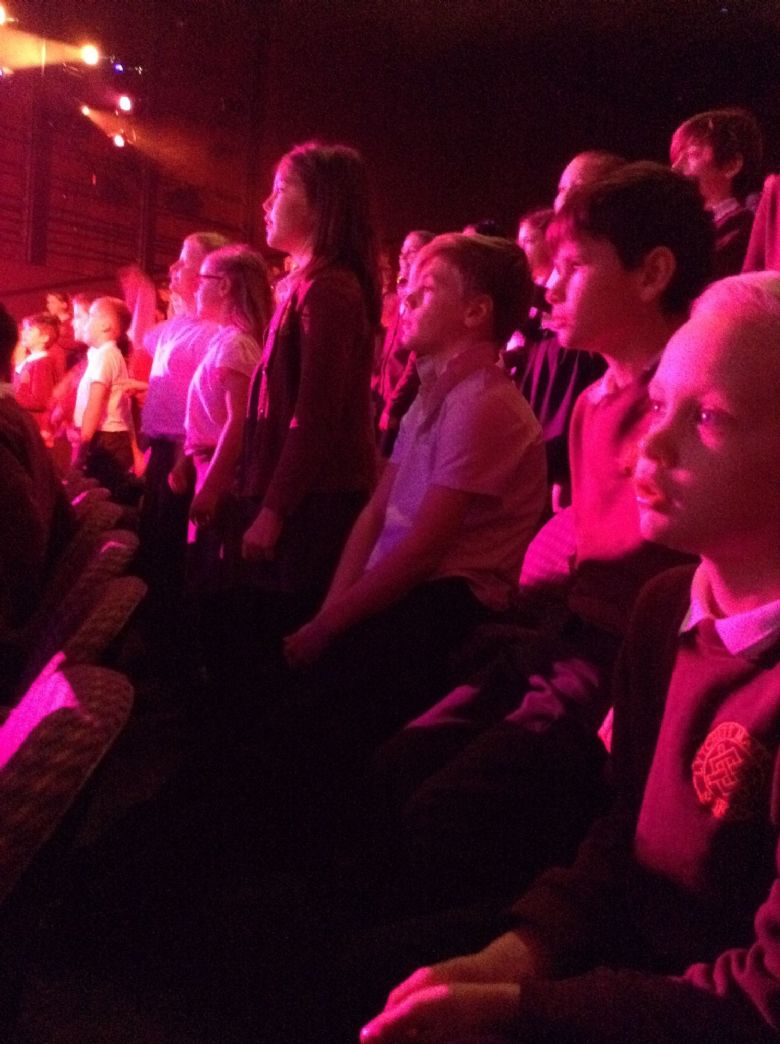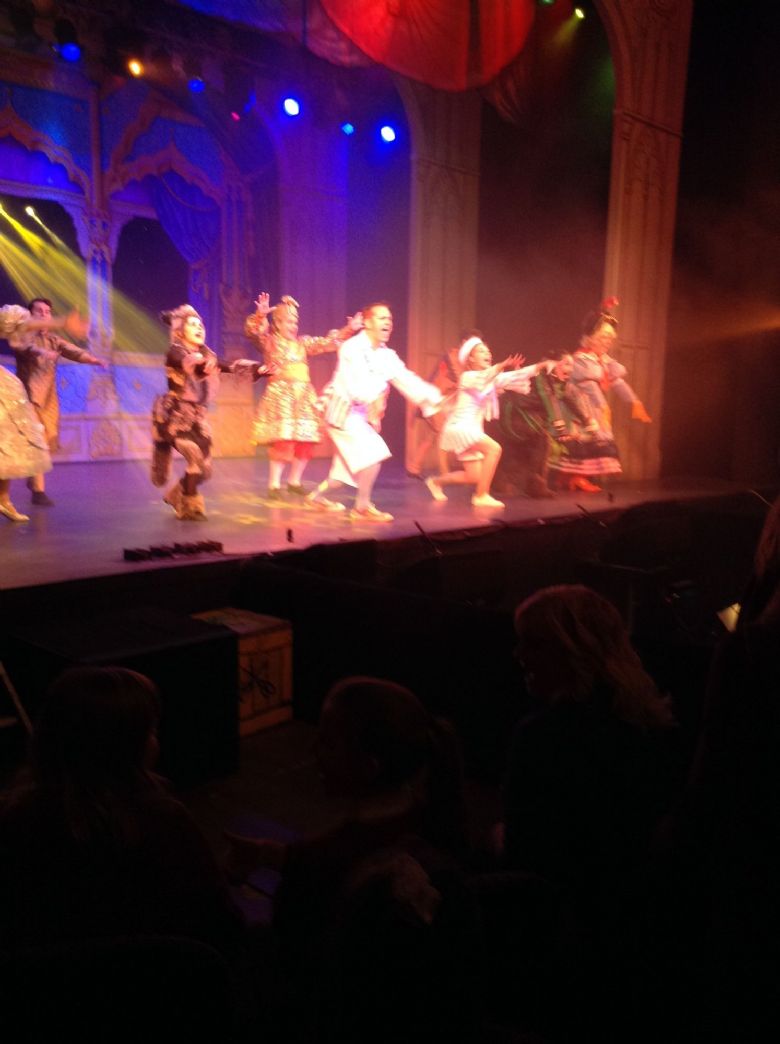 Our Calendars
Here are some of our amazing silk painting calendars.Thank you Mrs King!
Let's Improve Our Roads!
Sustrans came in to work with year 5, as they are helping us improve the road safety around our school. We want to make the road outside the school, a safer and calmer environment for all of us at school, and for the local community.
Sustrans are engineers and educators, experts and advocates. They connect people and places, create liveable neighbourhoods, transform the school run and deliver a happier, healthier commute.
Sustrans work in partnership, bringing people together to find the right solutions. They make the case for walking and cycling by using robust evidence and showing what can be done.
Here are a few pictures from our workshop, where we identified the good and not so good elements of our busy school road. Sustrans will be returning in the new year to continue developing our ideas.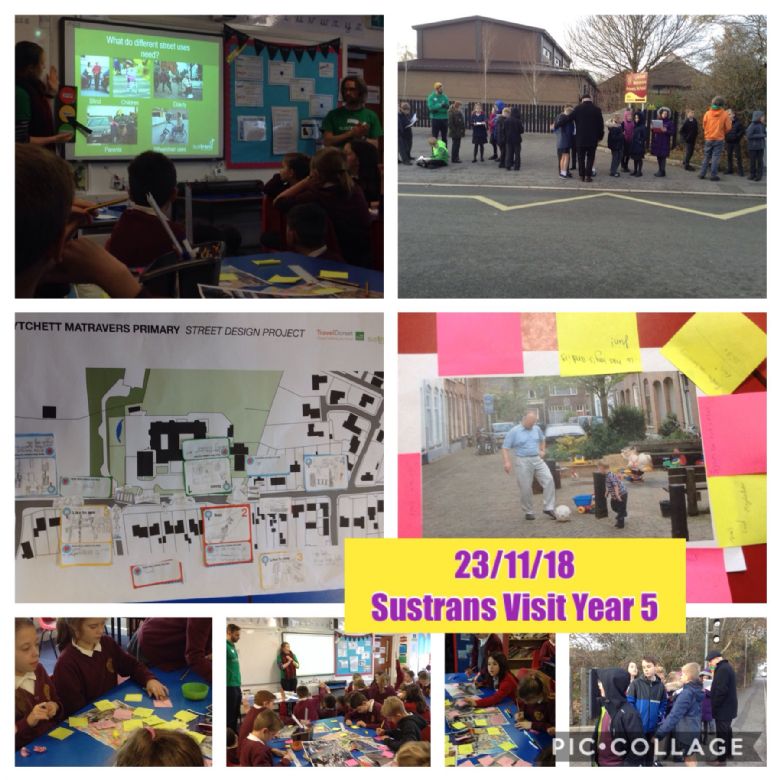 Silk Painting
We have been very lucky to have Mrs King come and and share her creative skills with us. She is an expert at silk painting ans she helped us do a silk painting of the solar system. (Thank you Mrs King!)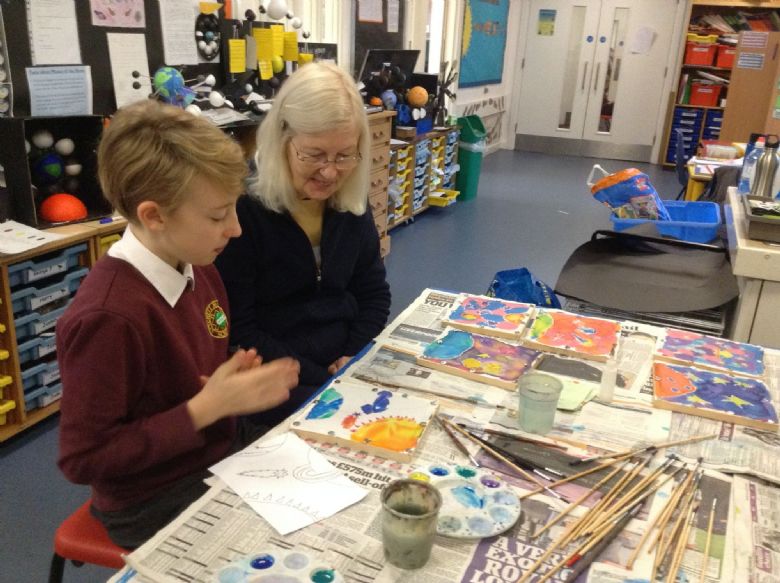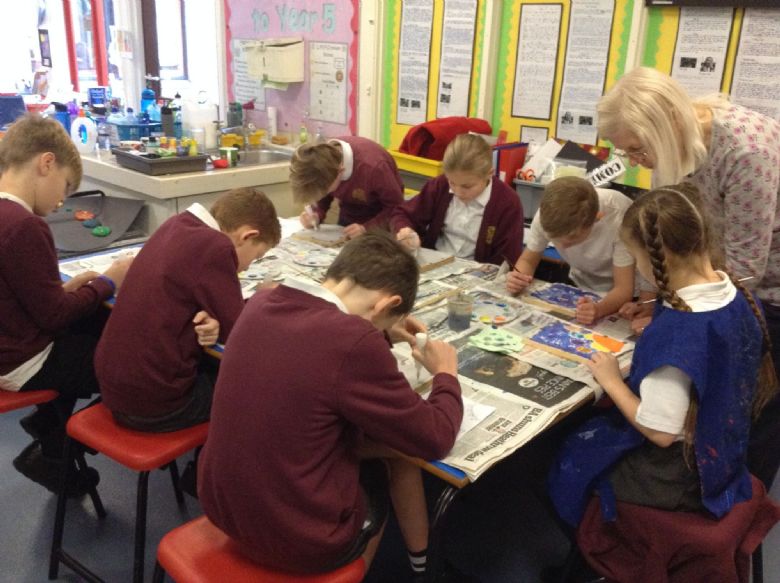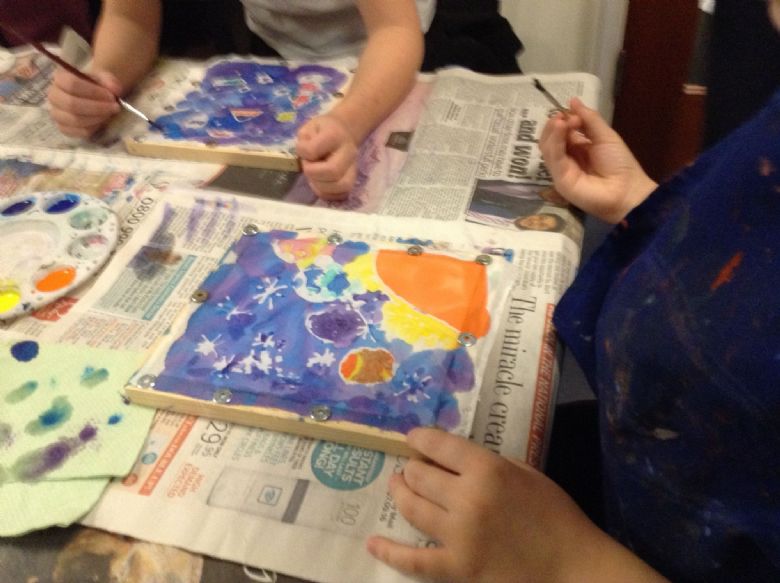 Children in Need
We all went spotty for children in need and we raised over £300 for the school. Here are year 5's spotty winners (woof woof).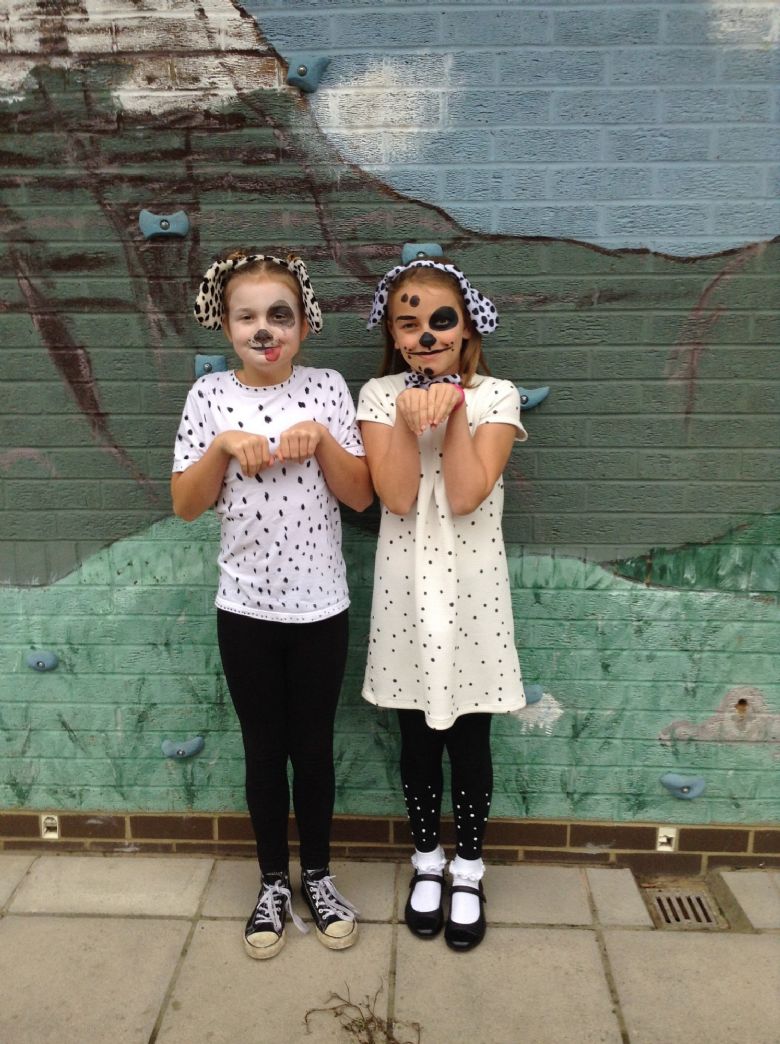 Star Gazing Evening
Year 5 had an amazing star gazing evening, looking at the constellations and our fantastic solar system. It wasn't a very clear night, but we used an amazing Star gazing APP (Skyview). We also had a chance to look at the incredible projects (Phases of the Moon) that the children and the parents did. It was a chilly night, but a warming mug of hot chocolate kept us warm.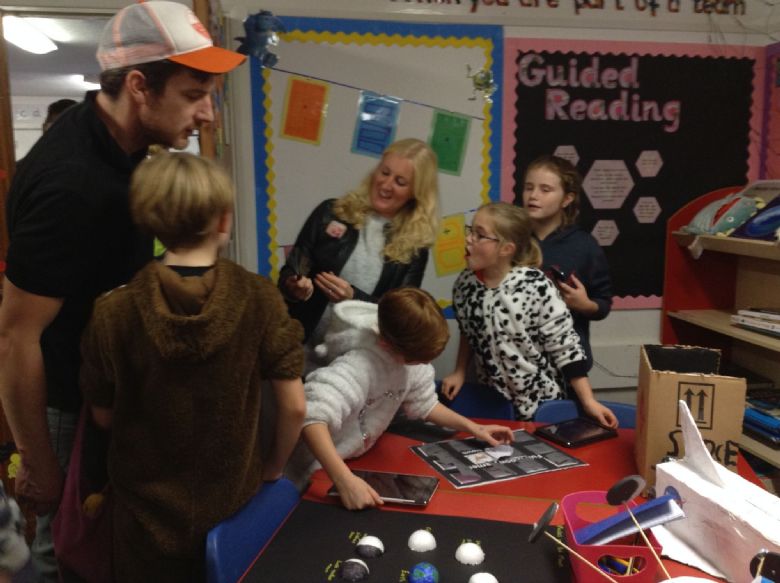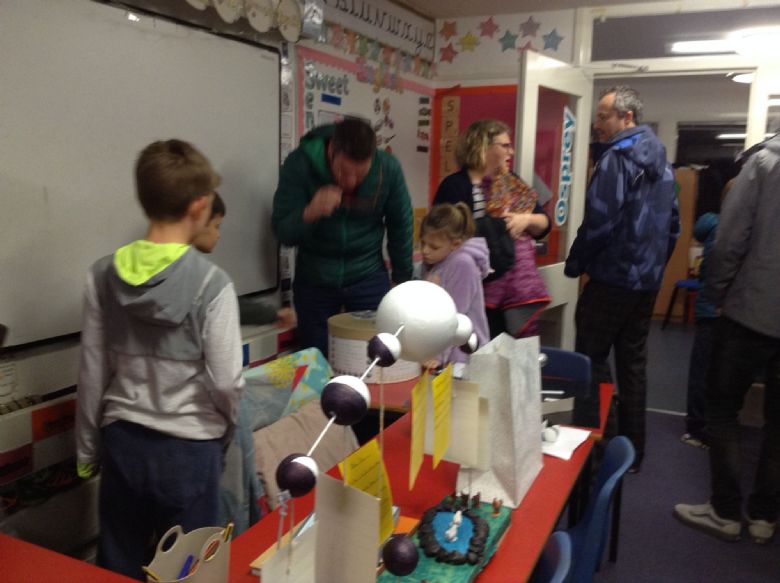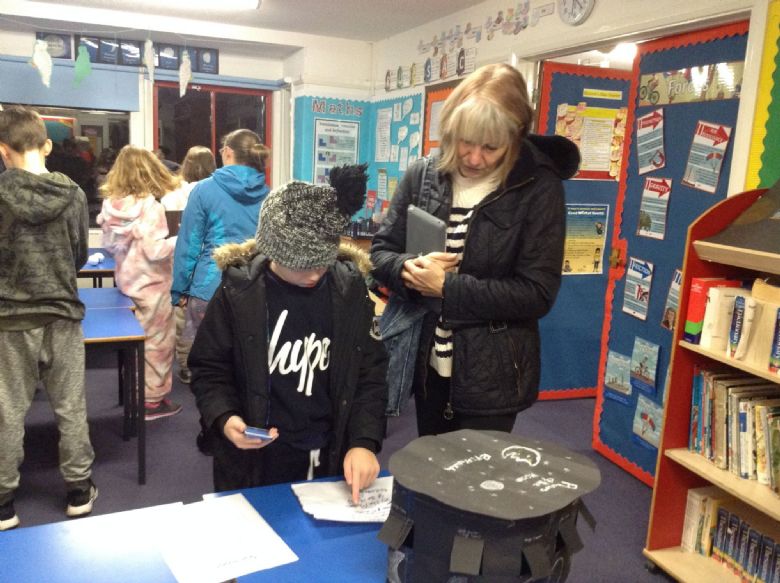 Phases of the Moon Projects
Here are some of the incredible projects that the children did at home. Do you know about the phases of the moon?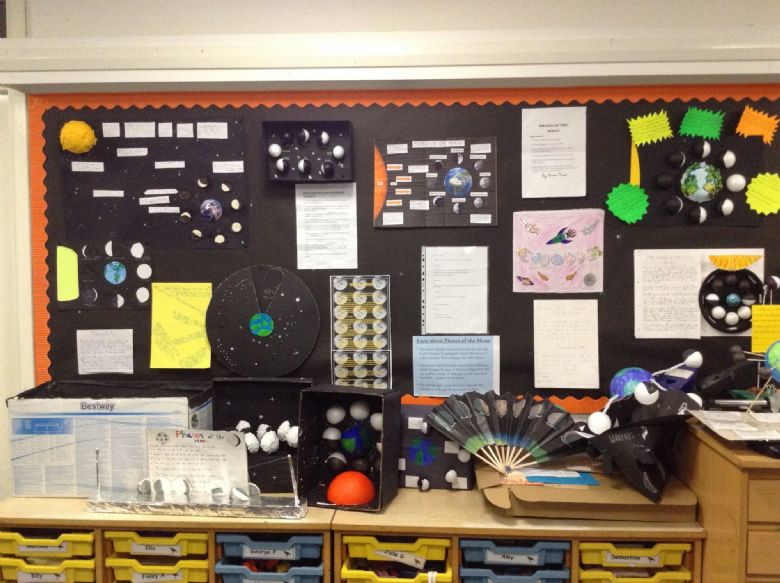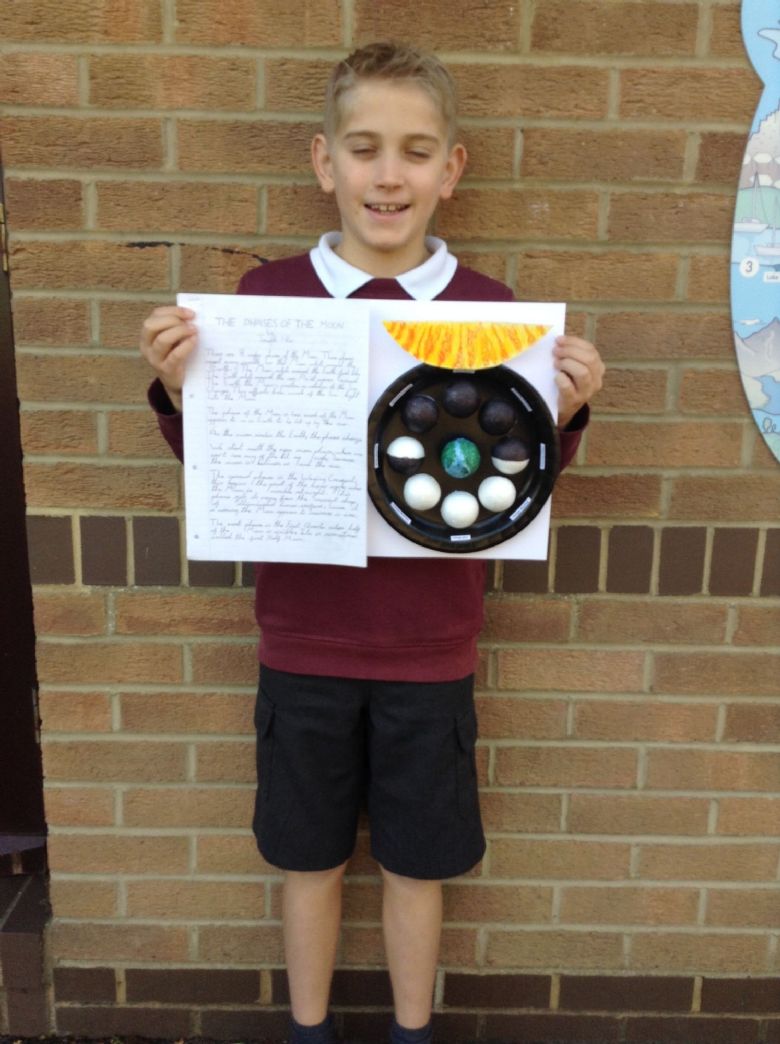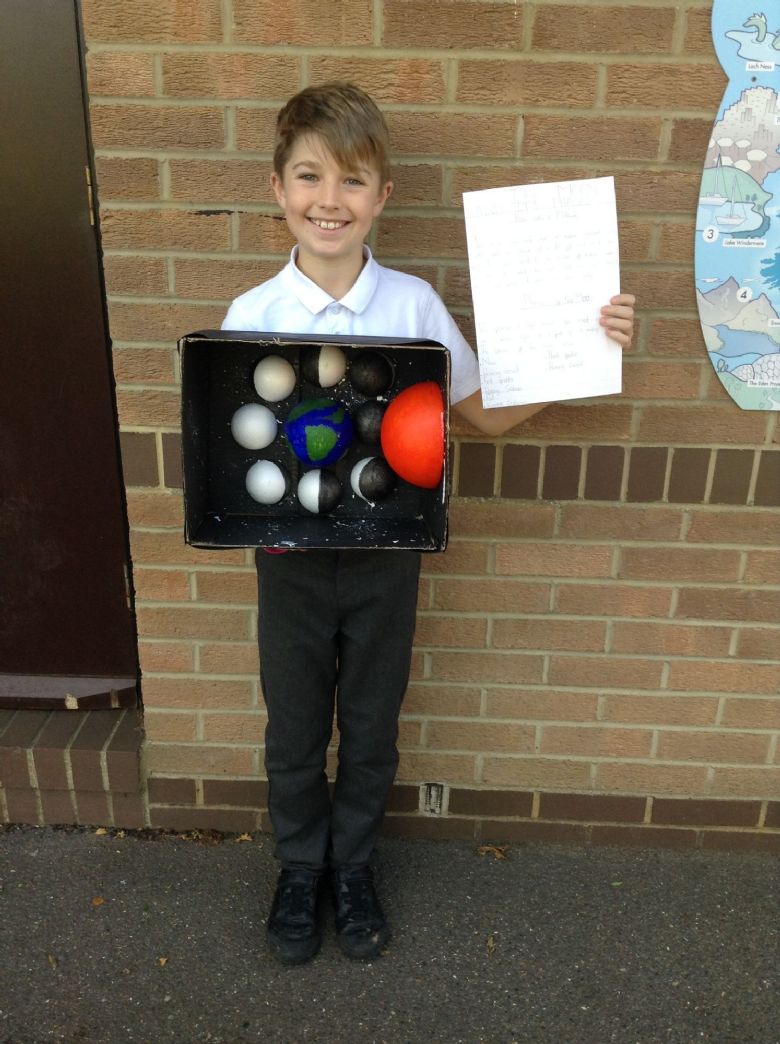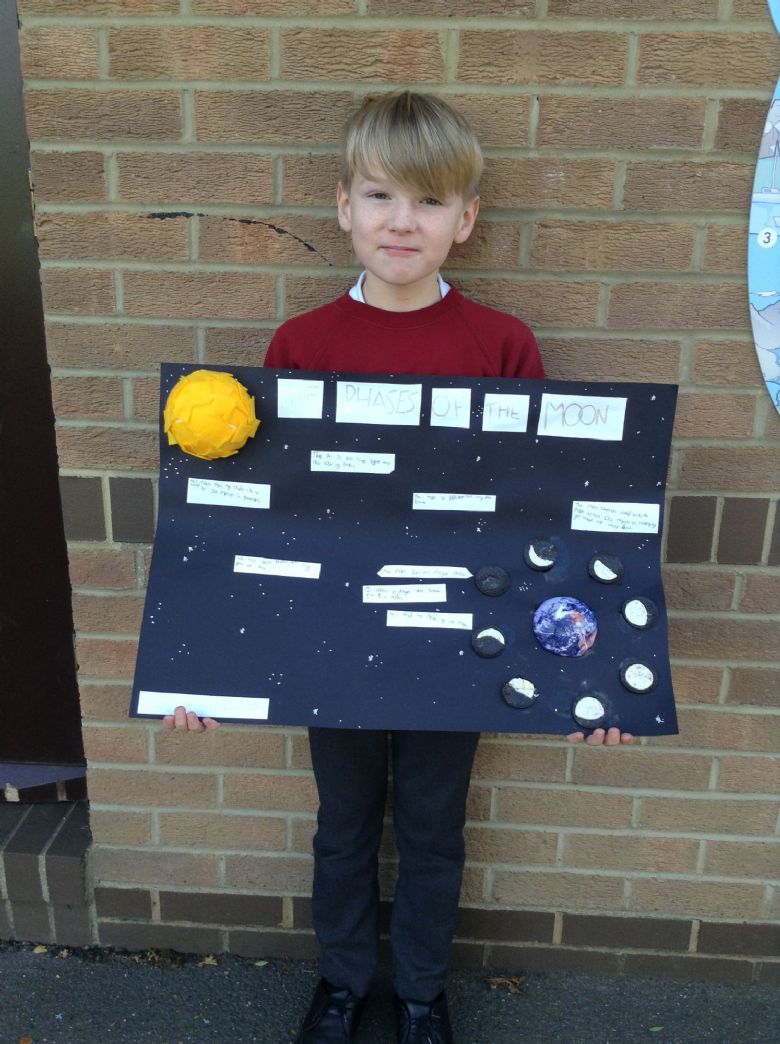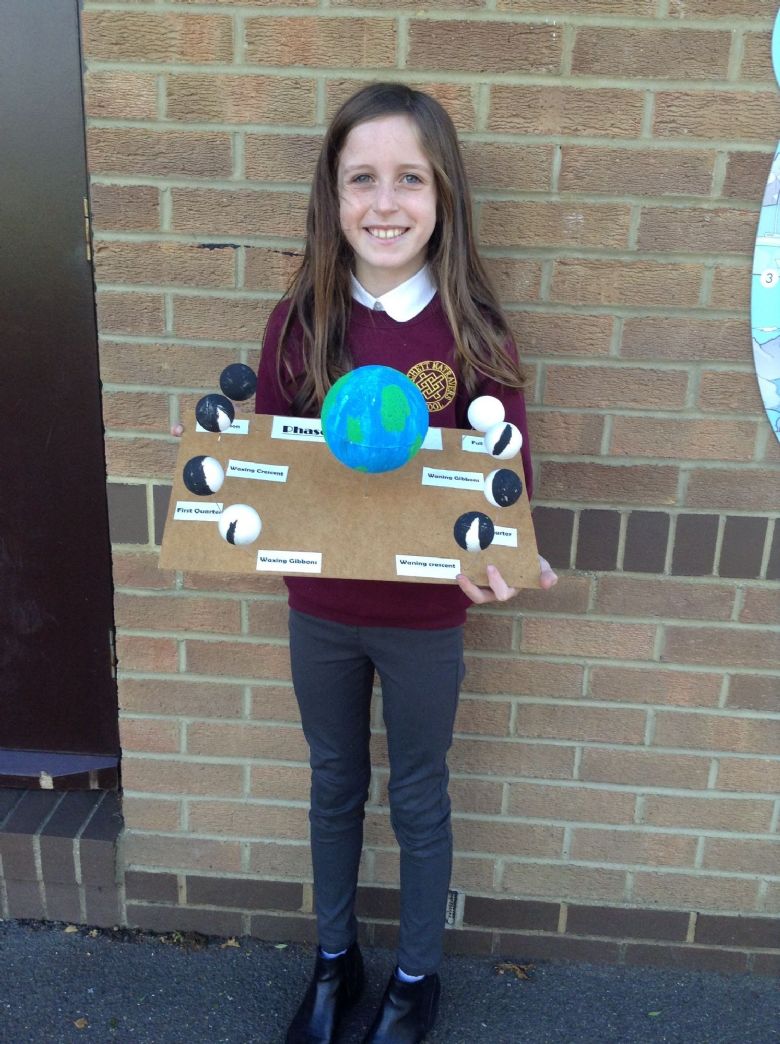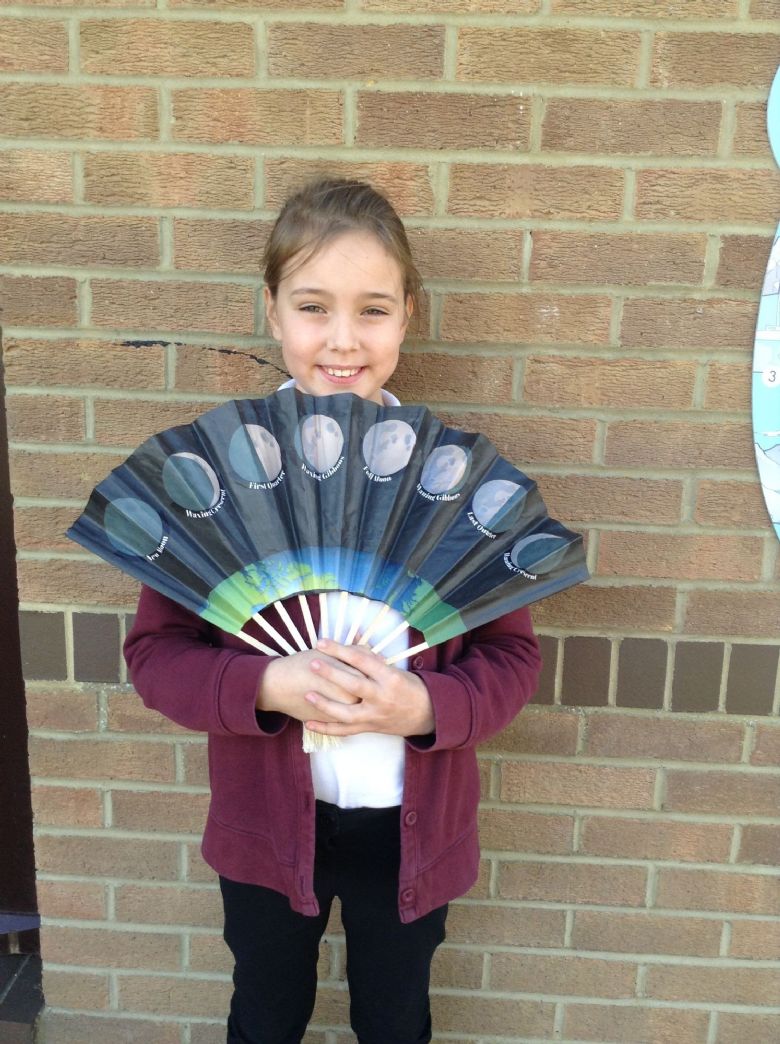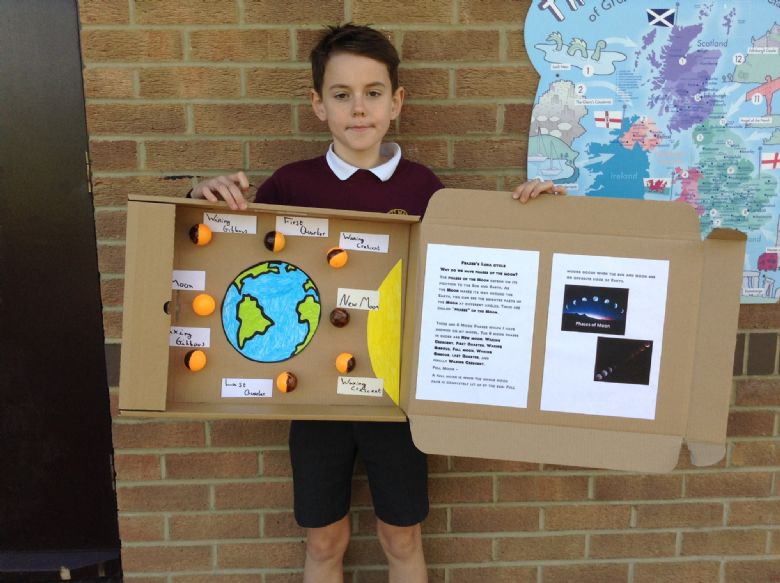 I Have a Dream....
During Black History Month, we looked at Martin Luther King and Rosa Parks. We then wrote speeches about our dreams to make a difference. This is Jasmine's speech.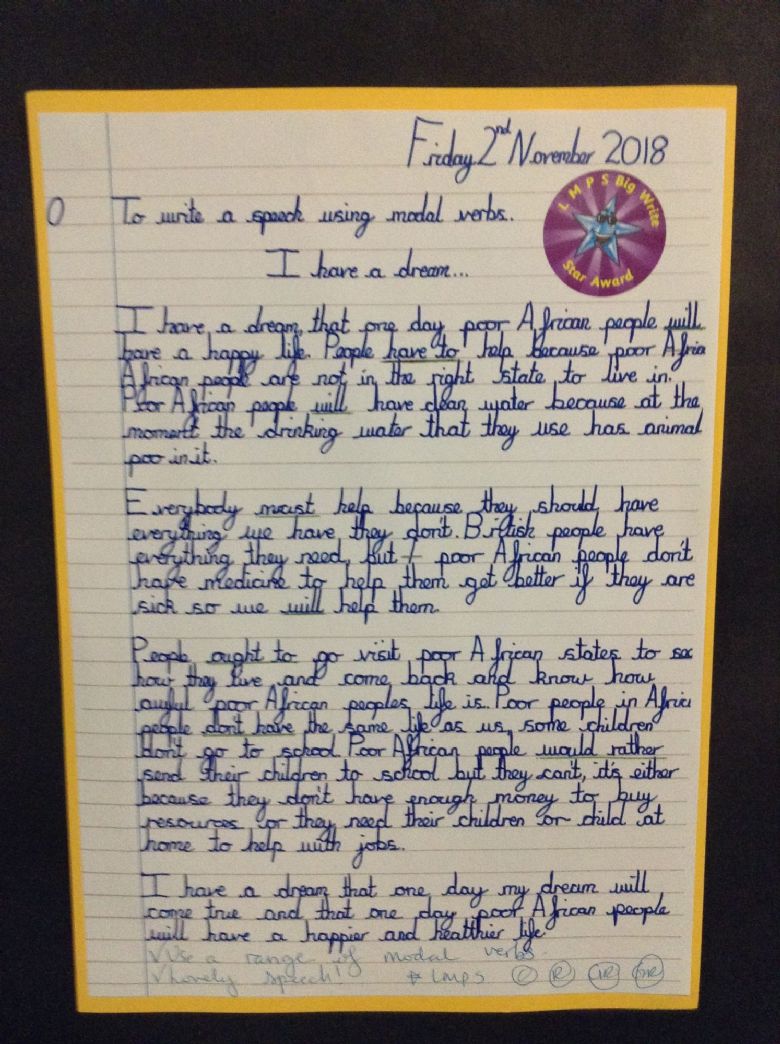 Watch out CHRISTIAN LOUBOUTIN
Buzzard Class have been busy designing shoes and are threatening the famous designers with their new products. Which show would you choose to wear?
Final designs - Take your pick!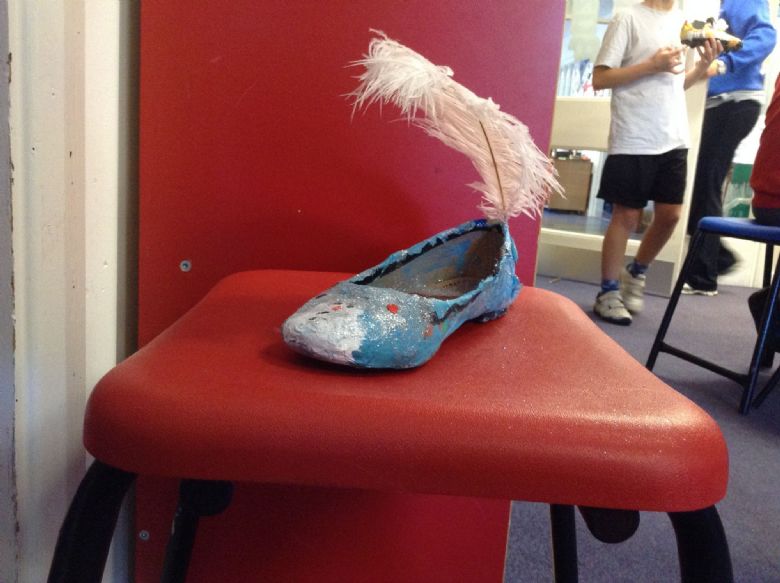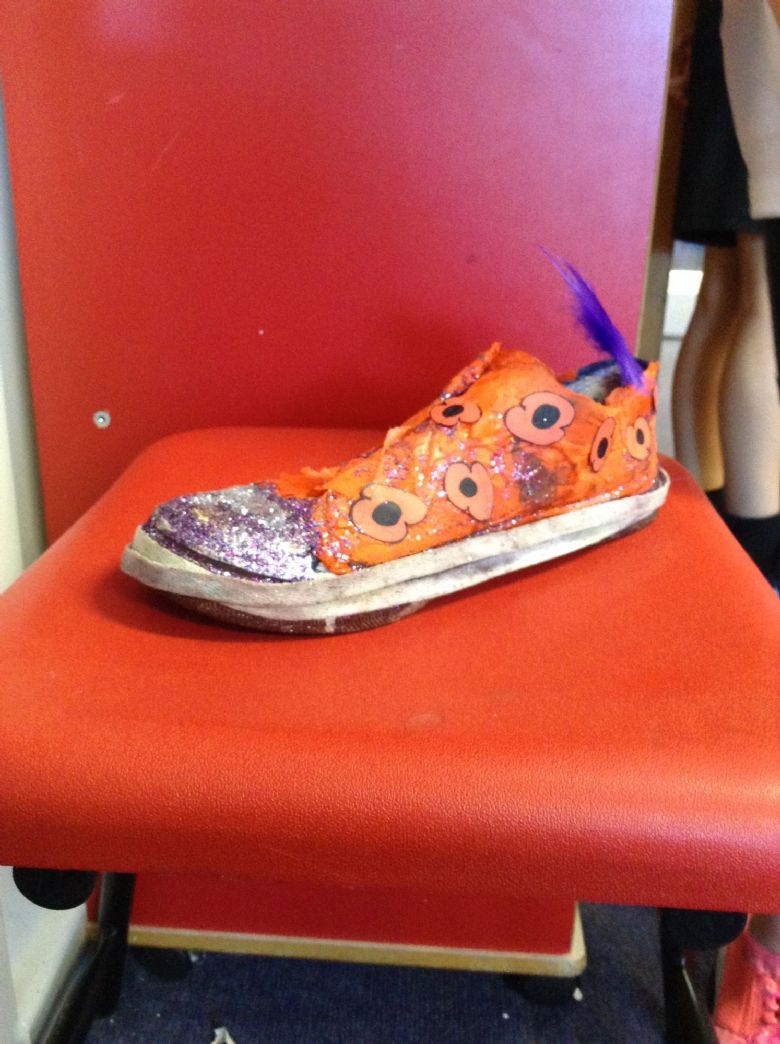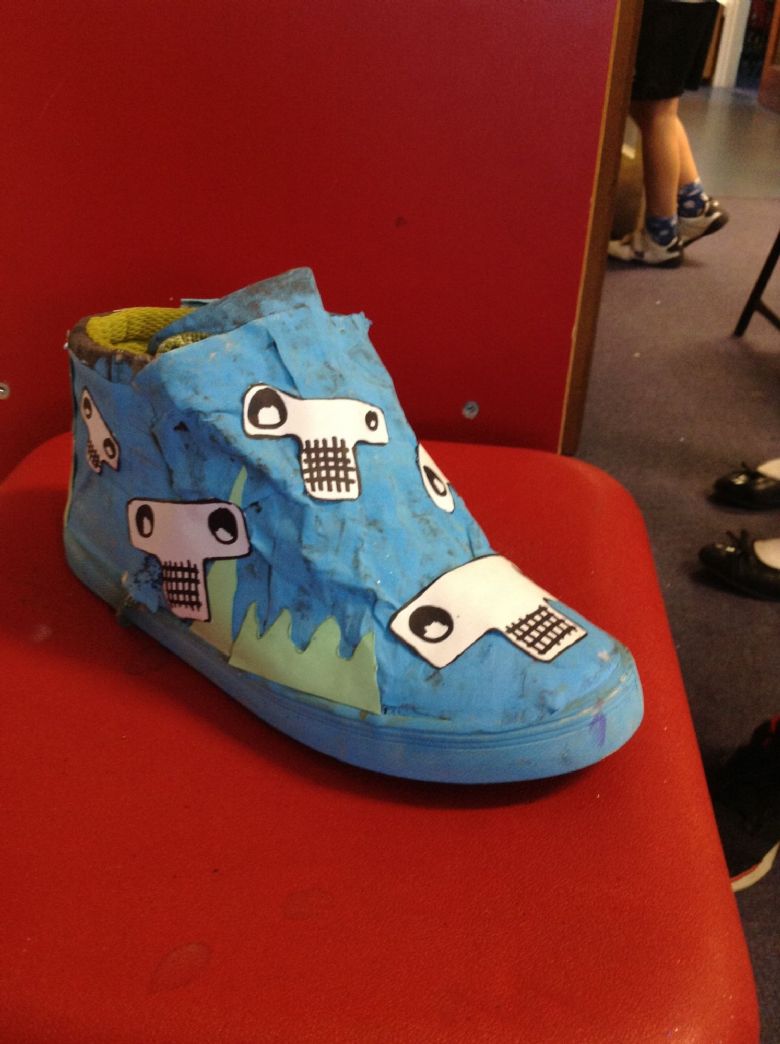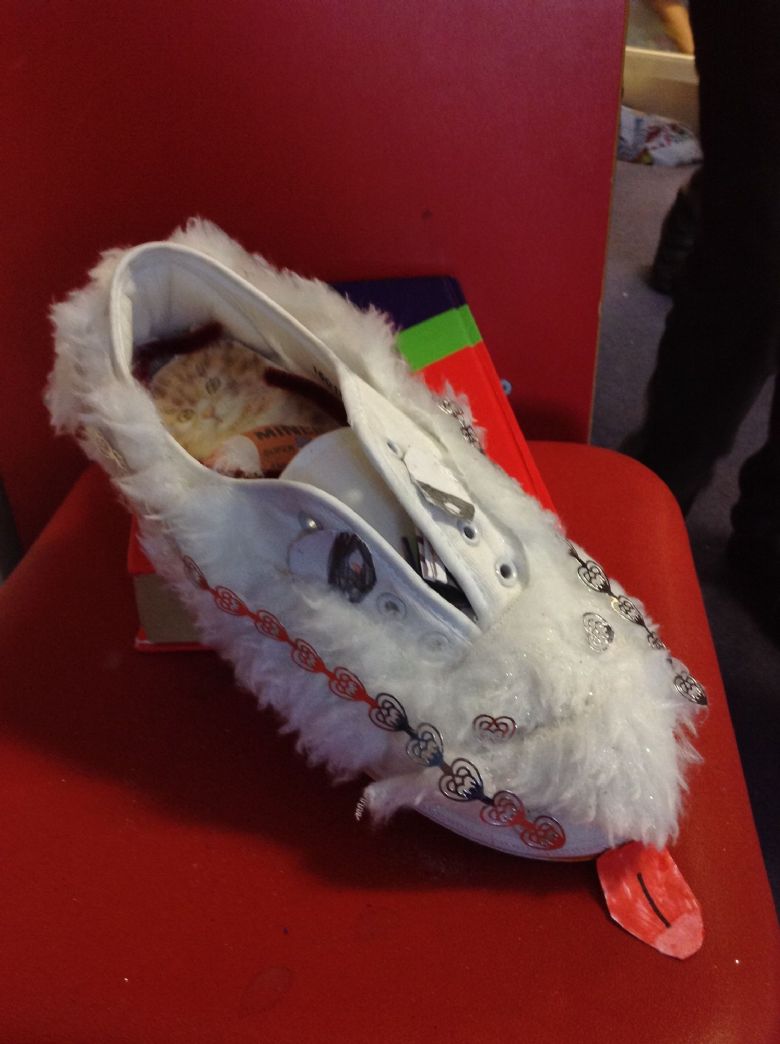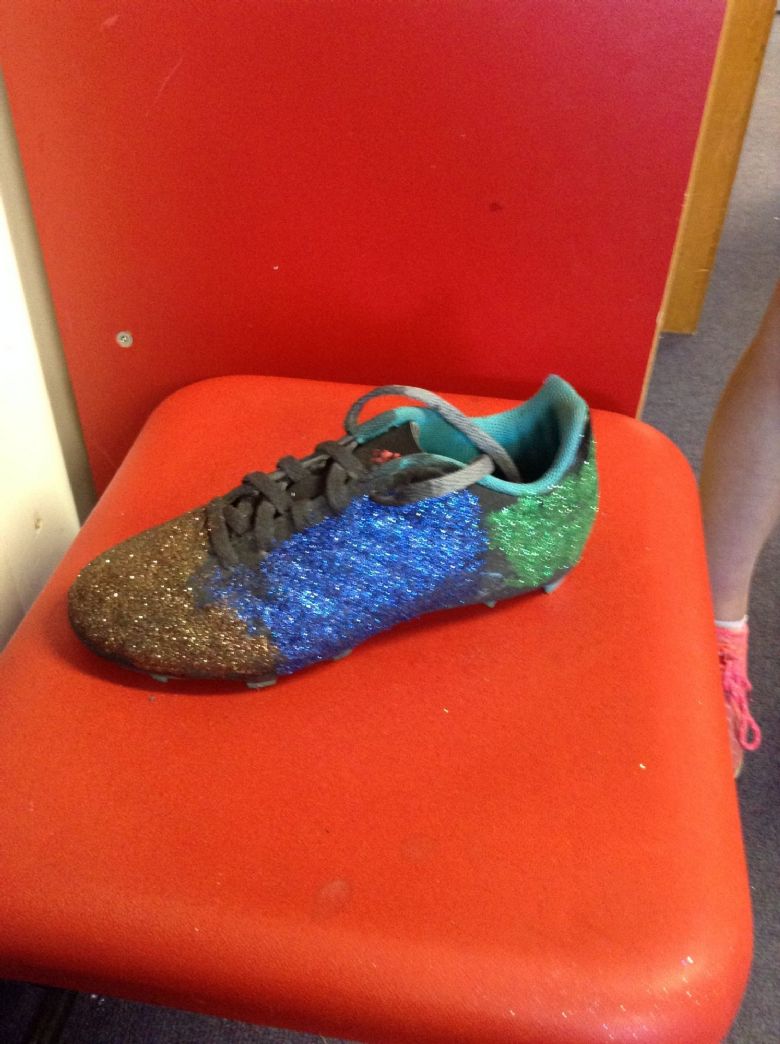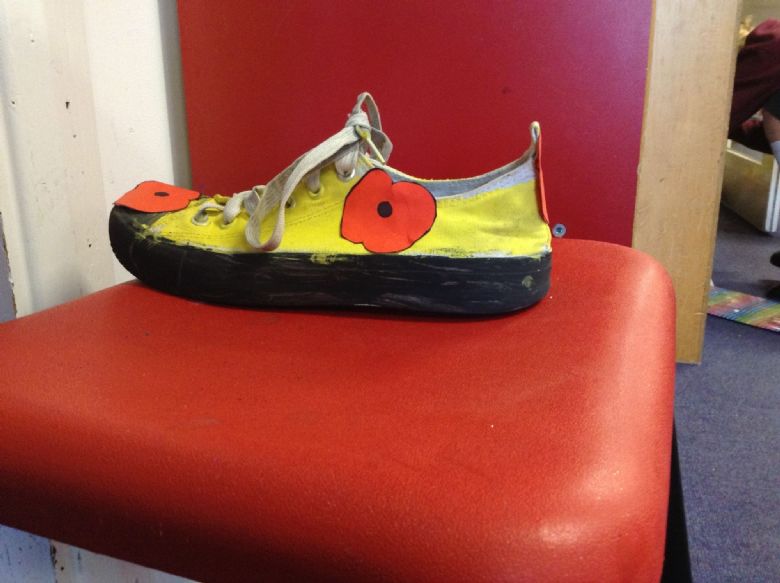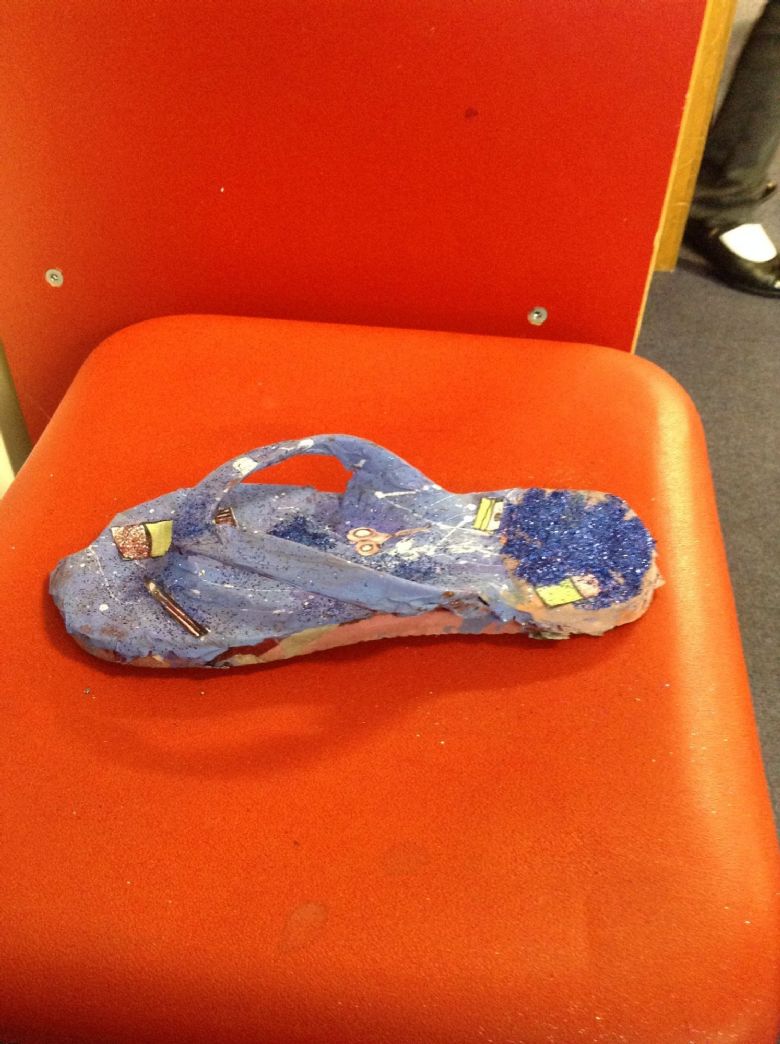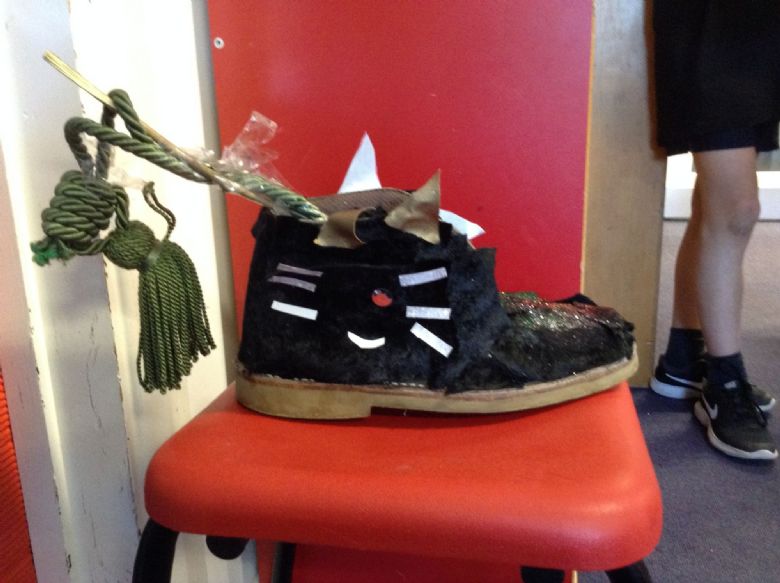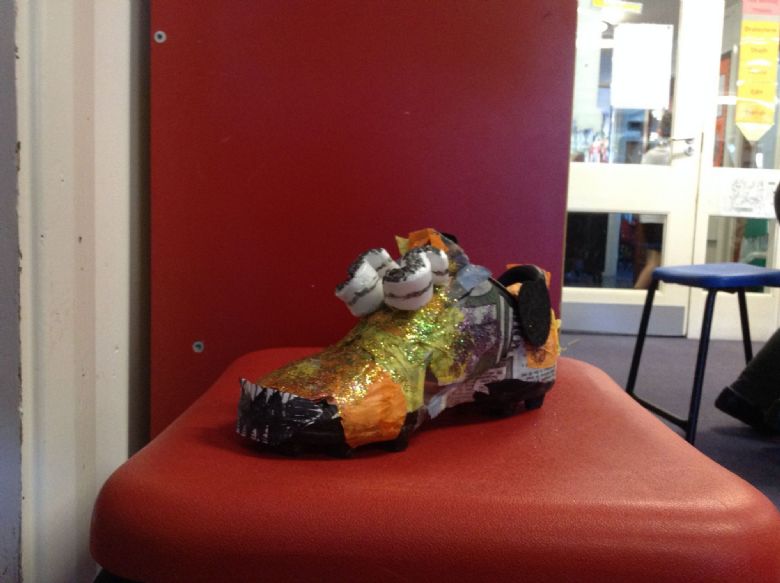 Busy at work.....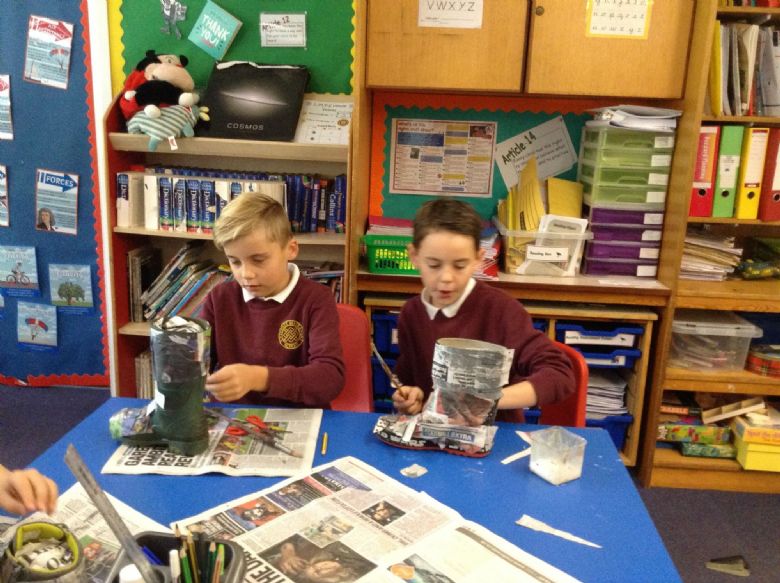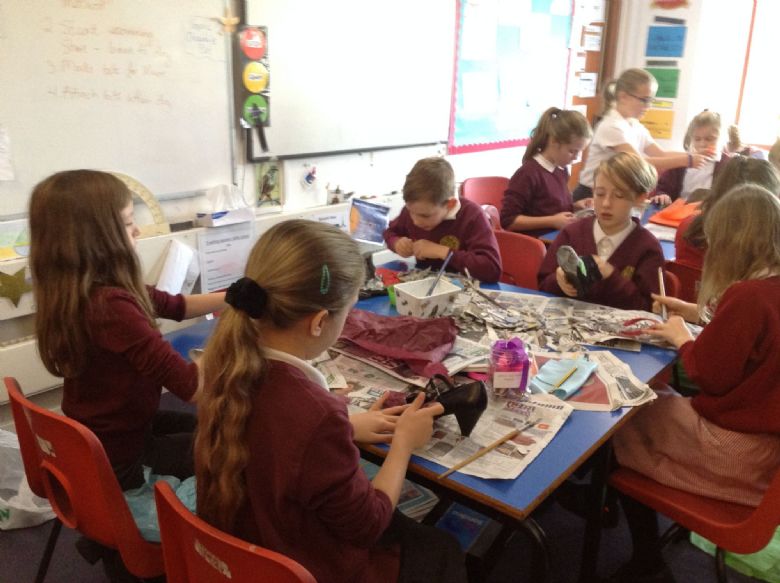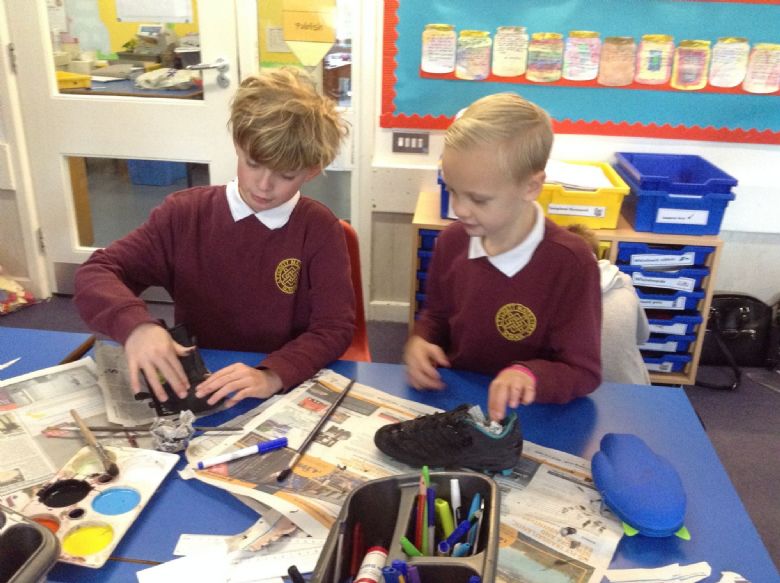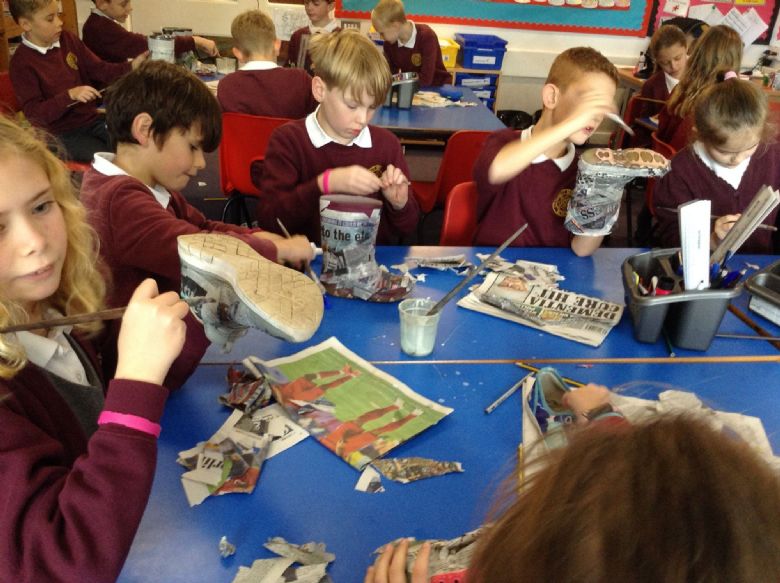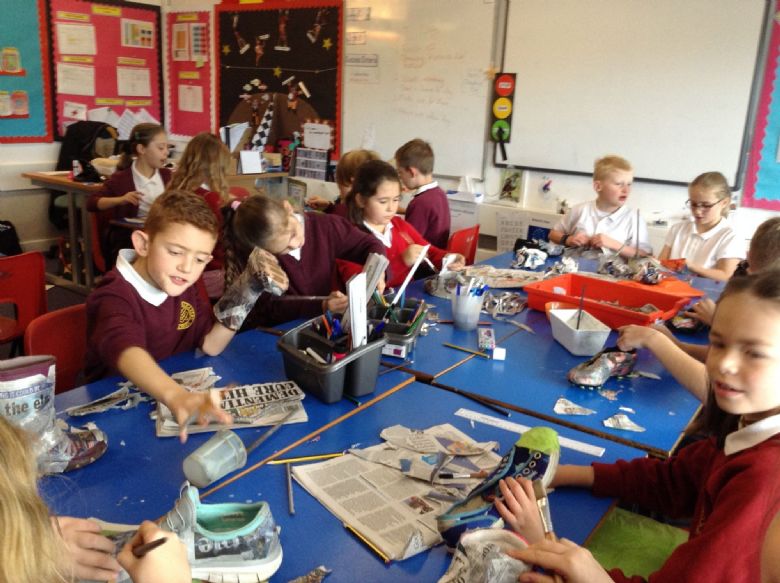 Greek Drama Day
Ben from the Treehouse Theatre, came to do A-Play-In-A-Day with us called 'War and Peace in Ancient Greece'. We had a fantastic day and learned about important events in the Ancient Greek timeline. We all dressed up, which added greatly to the day.
Mrs Shotliff loved the song Ben sang about Zeus (Mr. Loverman), because it reminded her of her school discos (many years ago). She said the parents would appreciate it.
Here's the link to Ben singing it.
https://www.bing.com/videos/search?q=+treehouse+theatre+zeus&&view=detail&mid=06111906CC0C588AE39D06111906CC0C588AE39D&&FORM=VRDGAR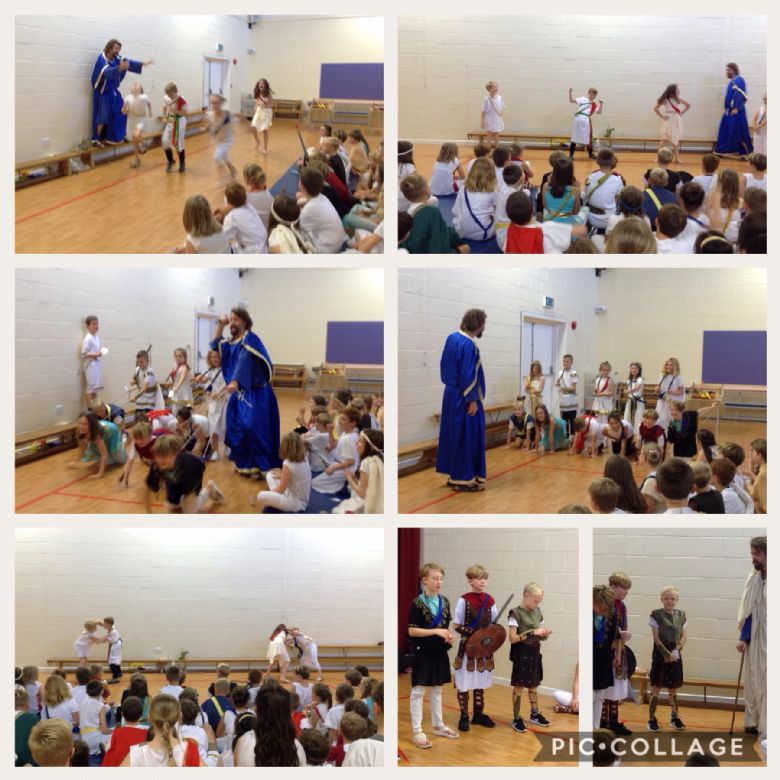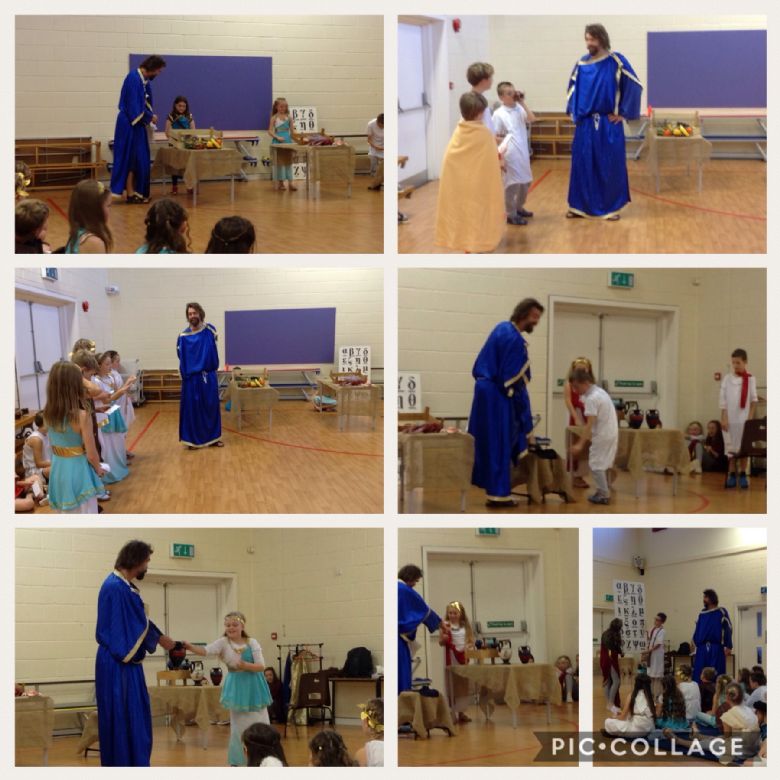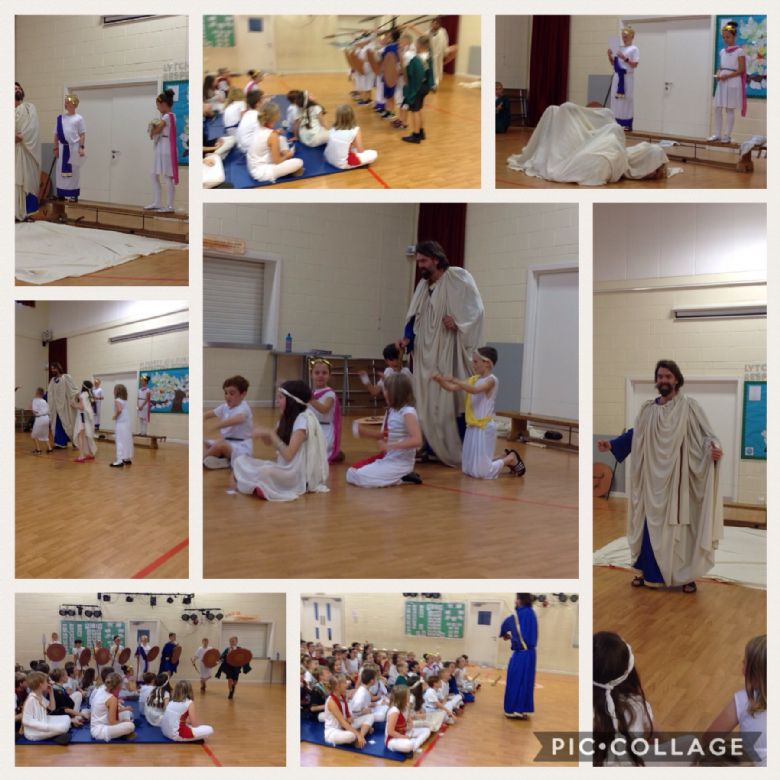 Greek Pots
We have been designing our own Greek pots. We tried to make them look like the actual clay pottery- including Olympic athletes and patterns on them. The pots were used to hold various things, like wine, water and perfume. Which pot do you like best?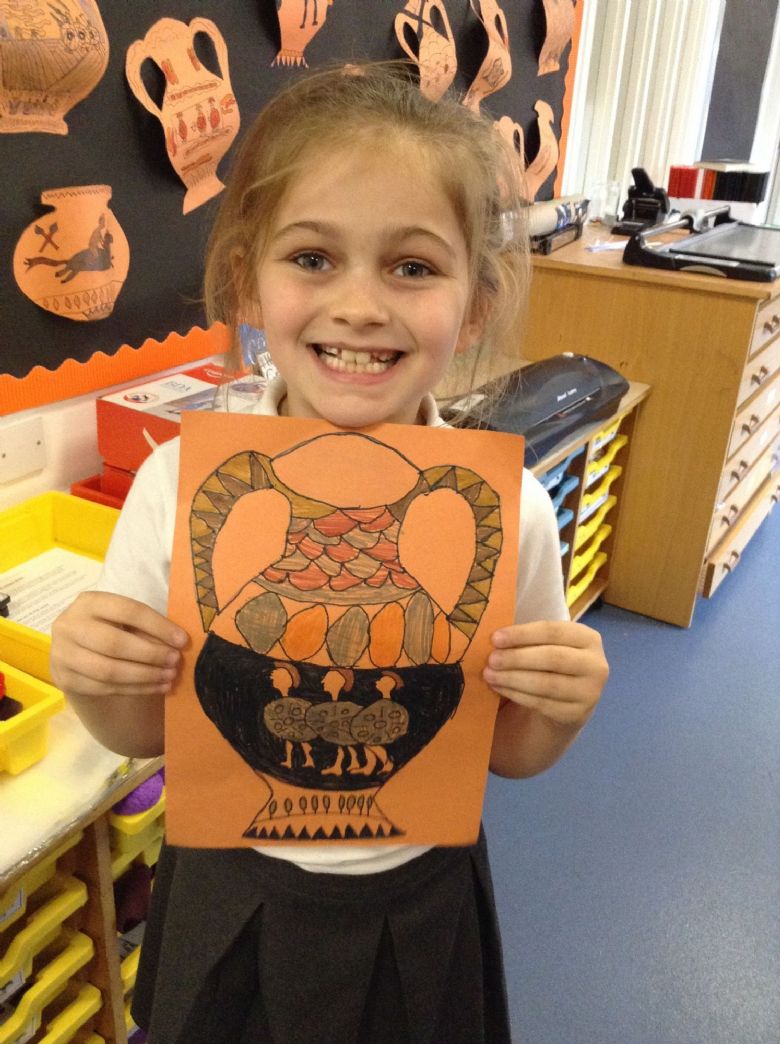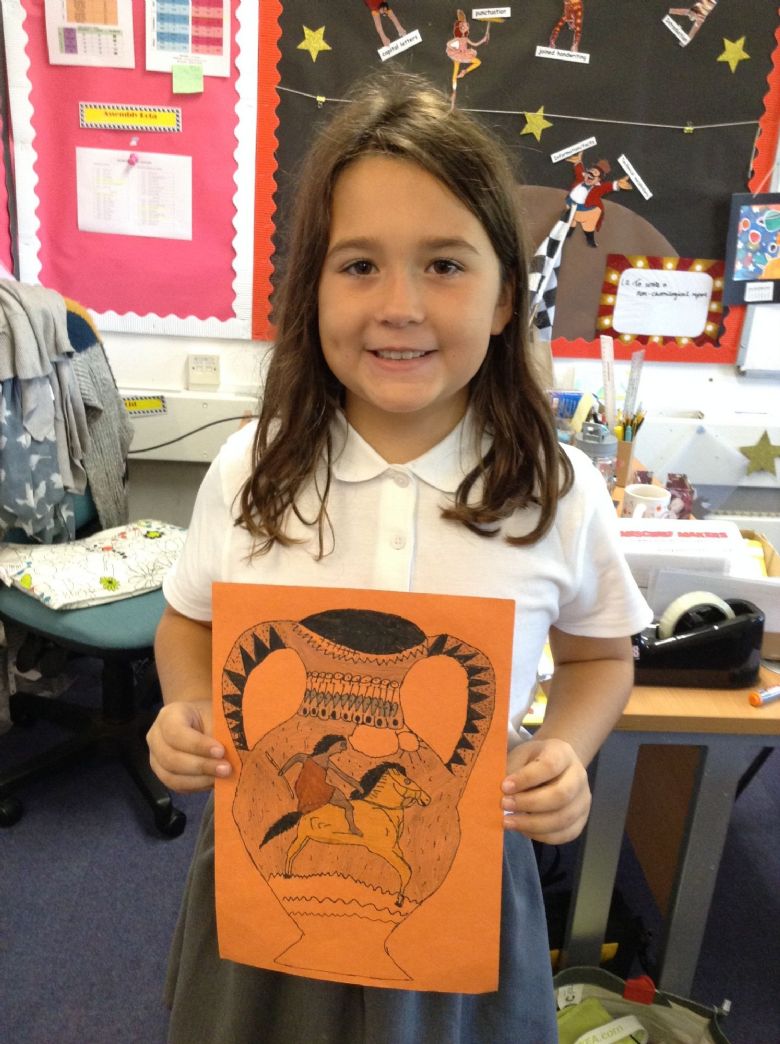 Parents Come Back to School
Our parents came to meet our new teacher and to find out all about Year 5. Mrs Shotliff gave us a challenge to draw a detailed picture of the Chimera from Ancient Greek Mythology. This was the description given:
A fire-breathing beast with a lion's head and body, a serpent for a tail, and a goat's head in the midsection. The chimaera may have represented fiery volcanic mountains where goats and lions dwelt and snakes inundated the foothills. It ravaged Mount Chimaera and was eventually killed by the hero Bellerophon, who shot lead in its mouth. The lead melted in its fiery breath and burnt its insides.
Our parents were very competitive and they all tried their best with their drawing and colouring. We had a vote- where we had to vote for the best pictures of the Chimera. Here are the winning ones.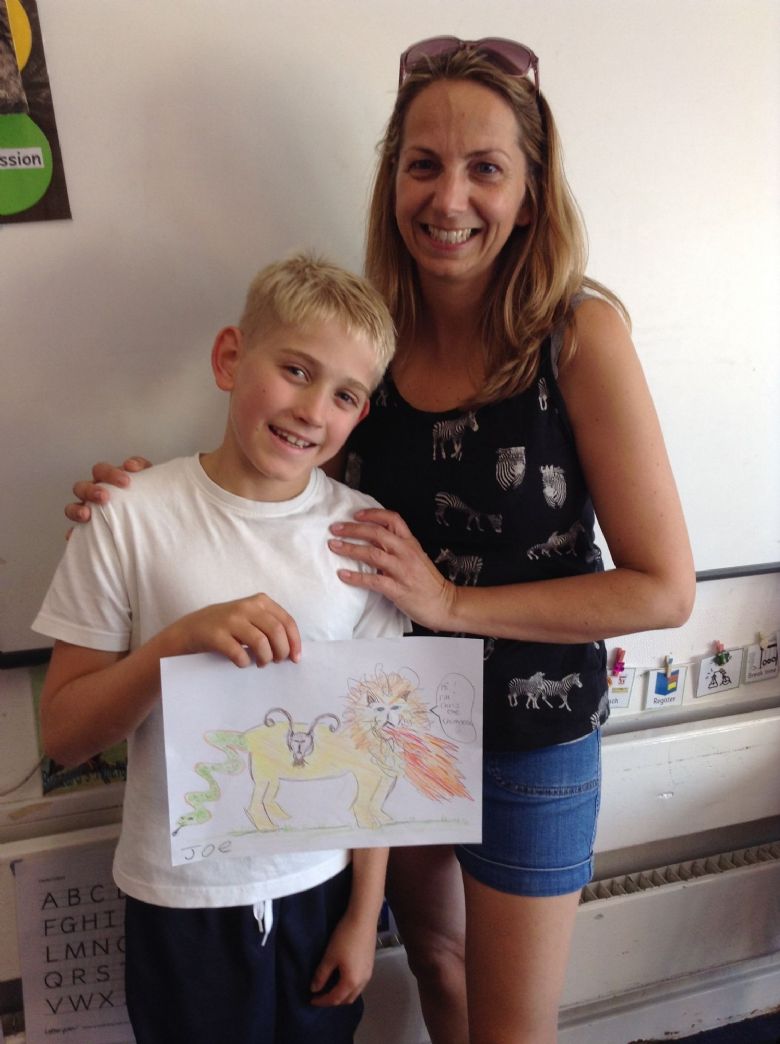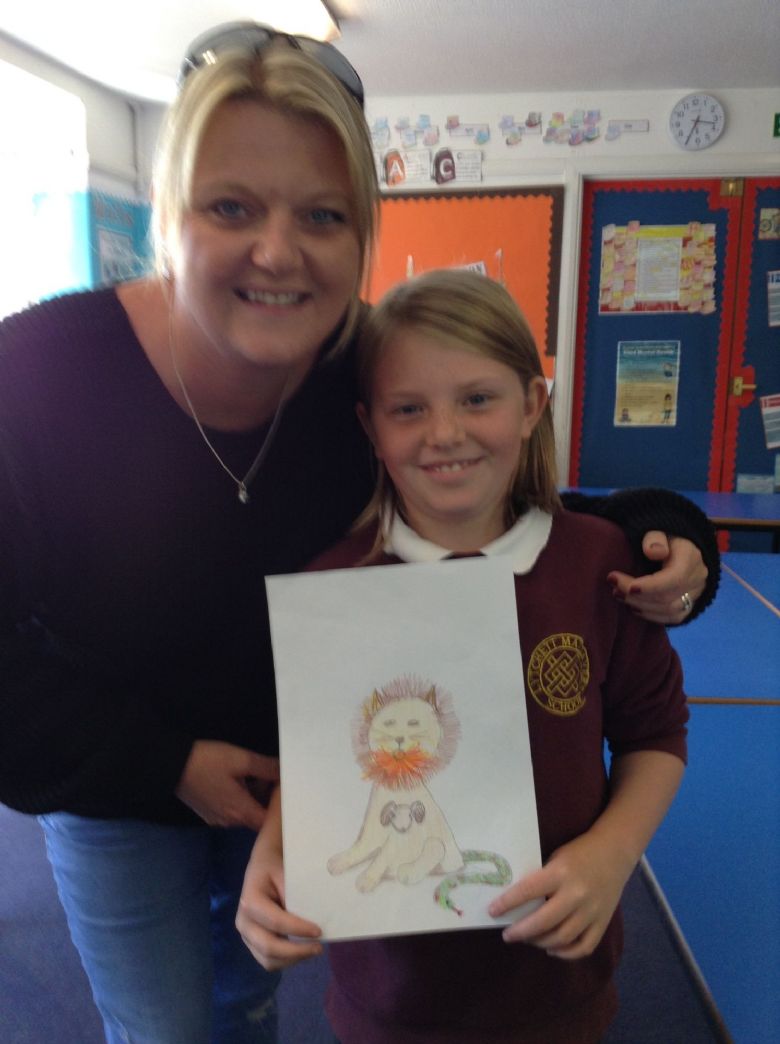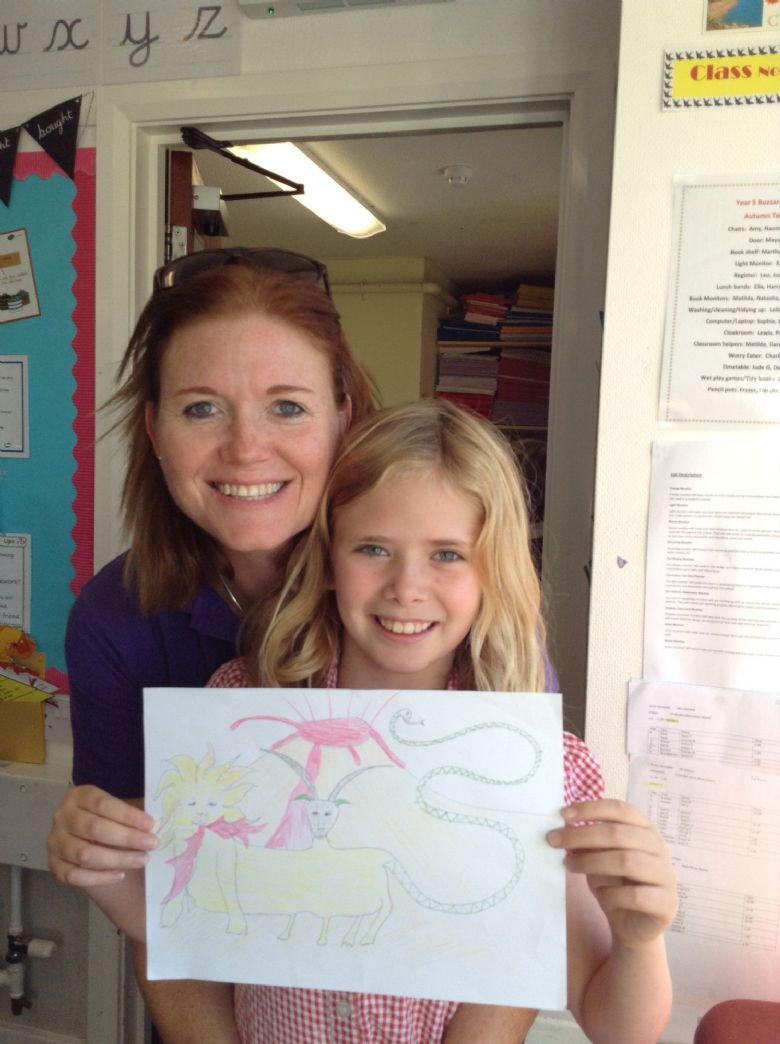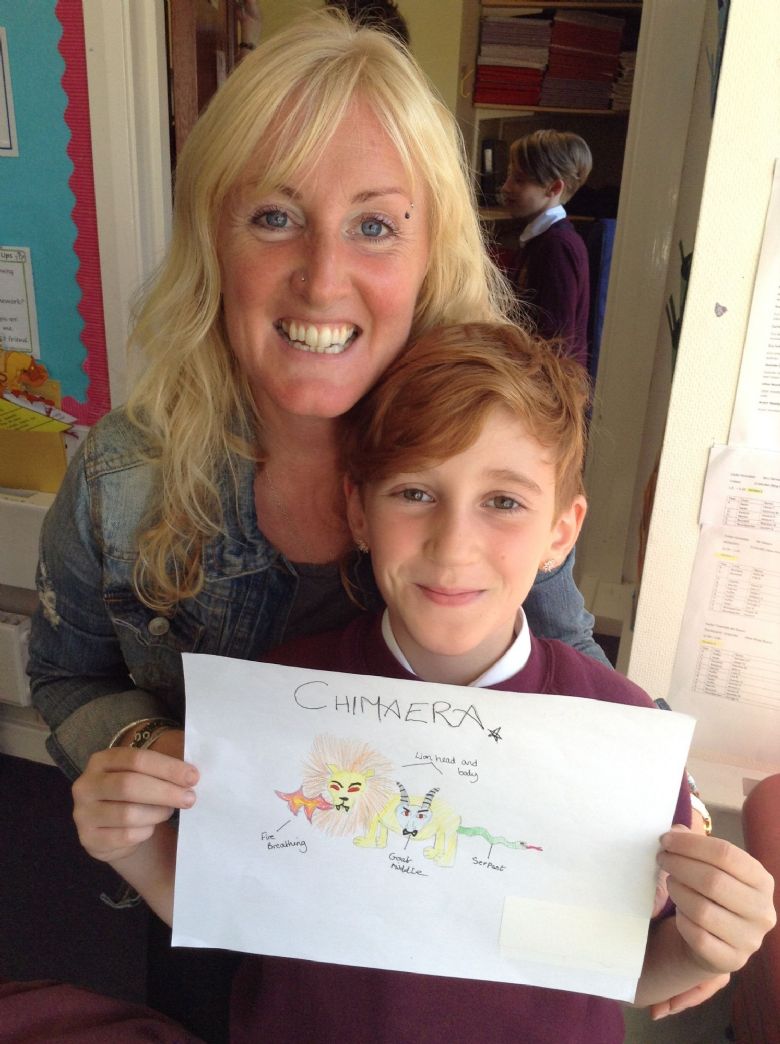 Olympic Games (Part of our Ancient Greece Topic)
We had a debate about whether Olympic games are a positive event, due to their competitive nature. At the end of the debate, despite there being some negative points about the Olympics, we felt that they are a positive event, and deserve to be celebrated worldwide.
RE-Harvest
We went to harvest the apples from the apple orchard, and we discussed the importance of harvest.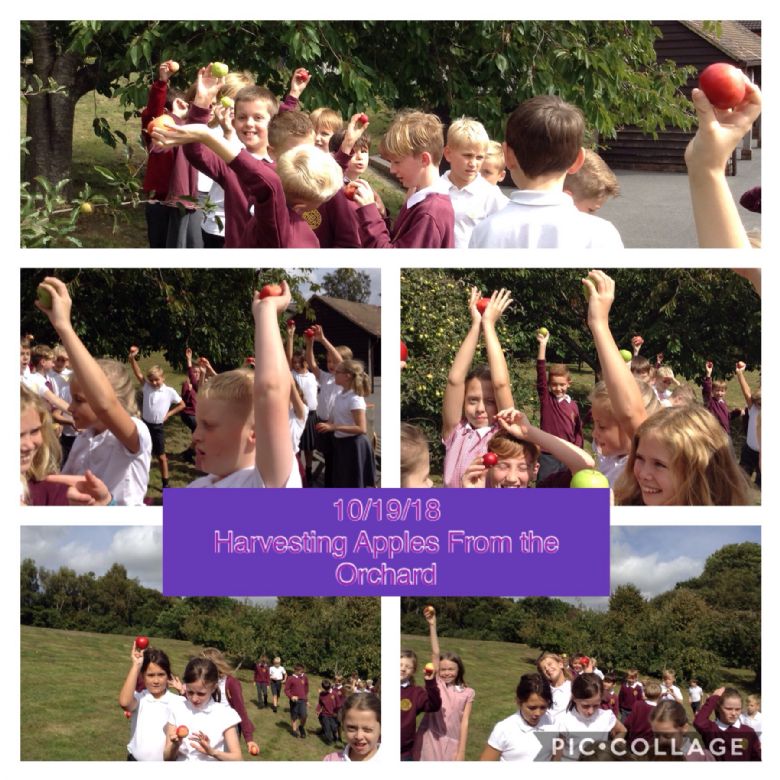 Welcome To Buzzard Class
We hope you all had a lovely Summer! We want to warmly welcome you to Buzzard Class! We hope that you will all have a fantastic year with us.