Music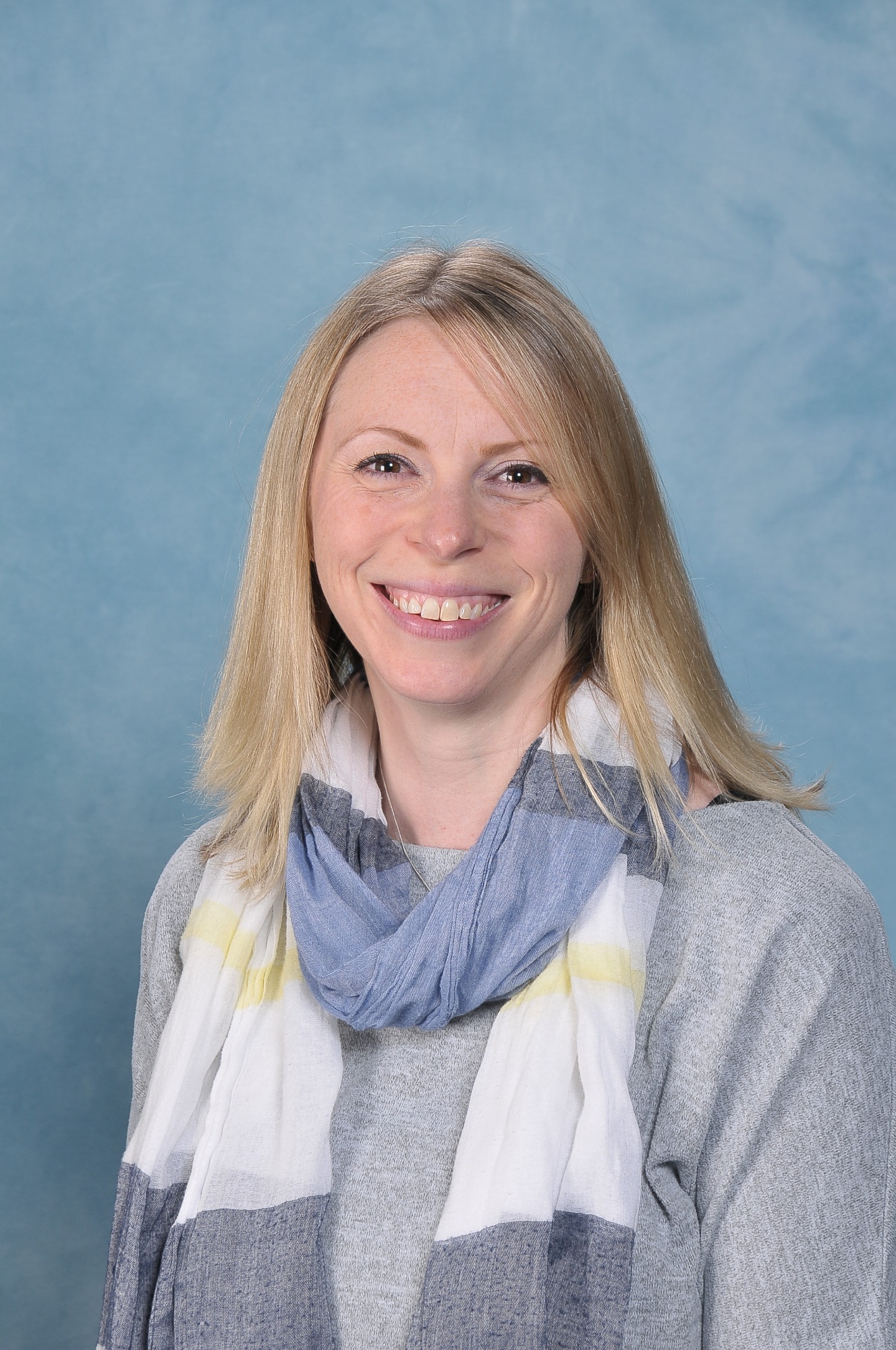 At Lytchett Matravers Primary School, we believe in music for all.
Curriculum
At LMPS we aim to engage and inspire pupils to develop both a love of music and their talent as musicians. We aim to develop a critical engagement with music, allowing them to compose, listen to and perform a wide range of musical styles both in individual and group settings.
Every child in Lytchett Matravers Primary School receives one music lesson a week from Reception to Year 6. This takes place in the lovely, spacious, well equipped studio. There are several keyboards, xylophones, glockenspiels, metallophones and a wide variety of percussion instruments. A diverse range of topics are covered and often alongside the wider curriculum within each year group, where appropriate. Children enjoy taking part in a wide range of musical activities including singing, playing instruments, listening to and appraising music, playing games and performing.
At present, each year, Dorset Music Service come in to provide a Musicianship Programme for a year group for a term. This gives the children the opportunity to learn to play a musical instrument free of charge for a term. If the children wish to continue with those lessons once the programme has finished, they may be able to do so.
FABULOUS FIREBIRDS!
KS1 were given the challenge of creating their own Firebird after listening to The Firebird by Stravinsky. Thank you for sending some of your pictures through. They are stunning! Well done everyone!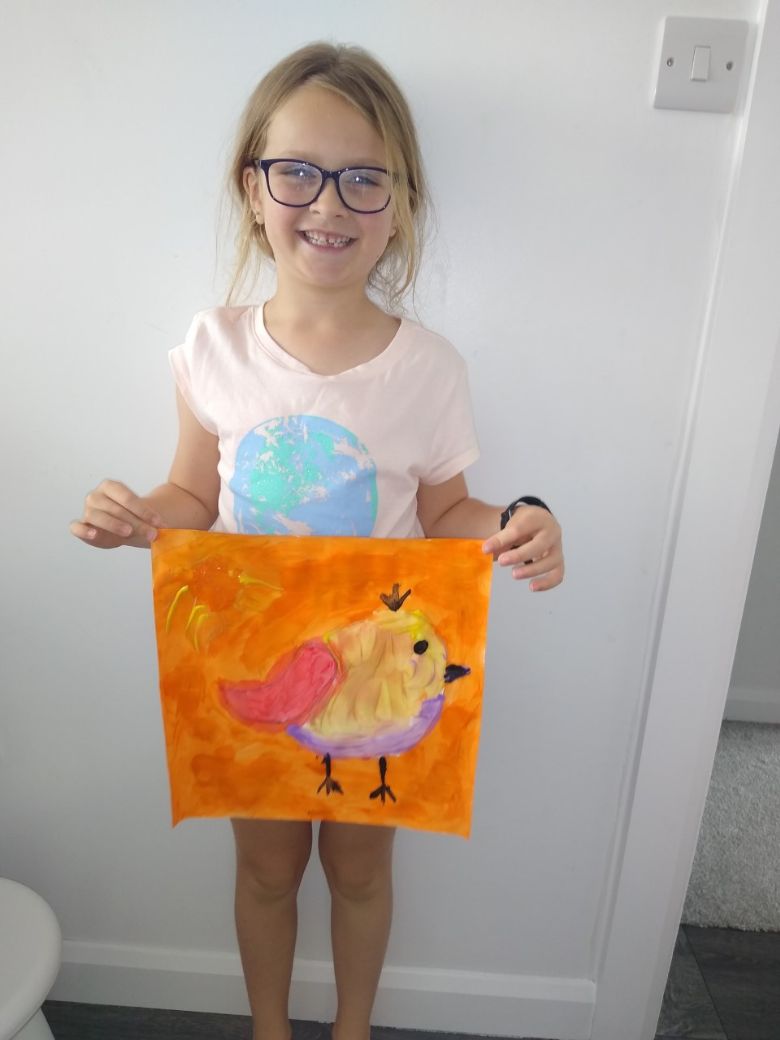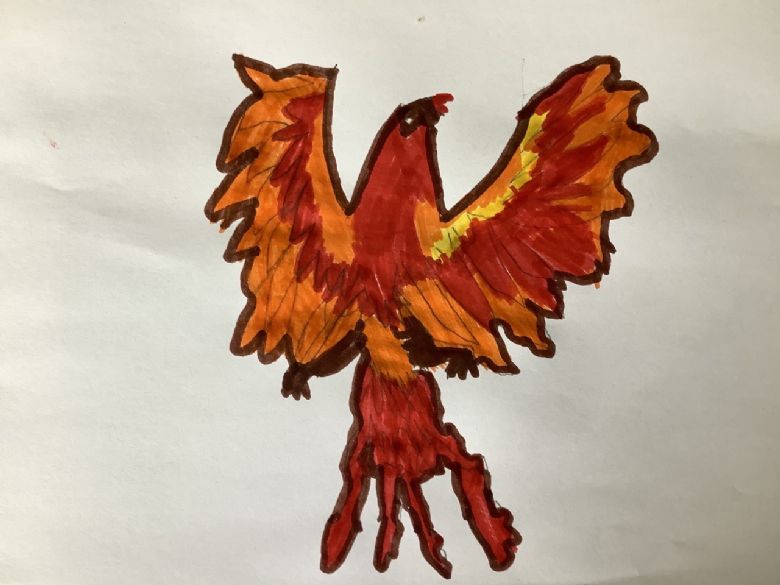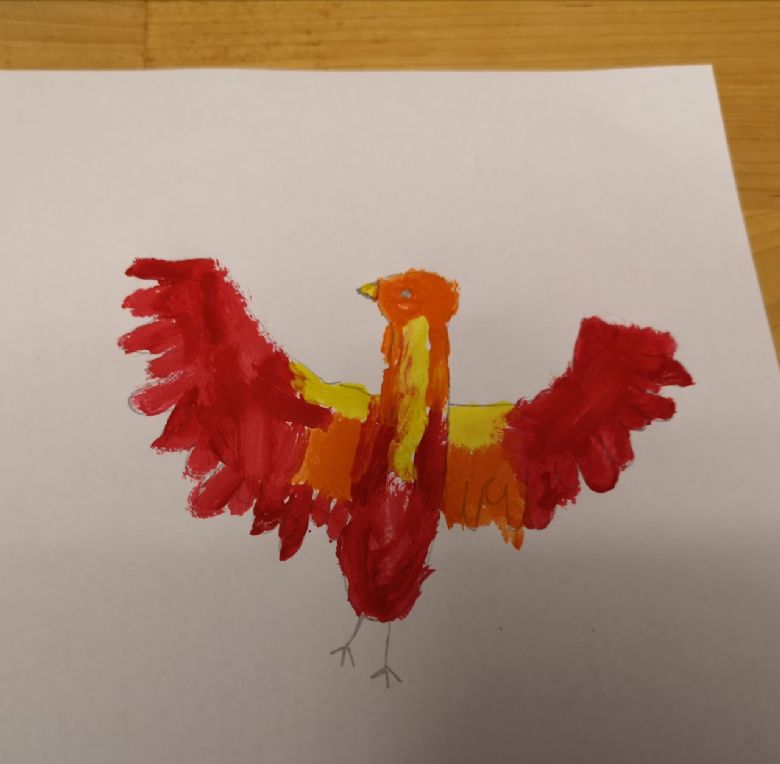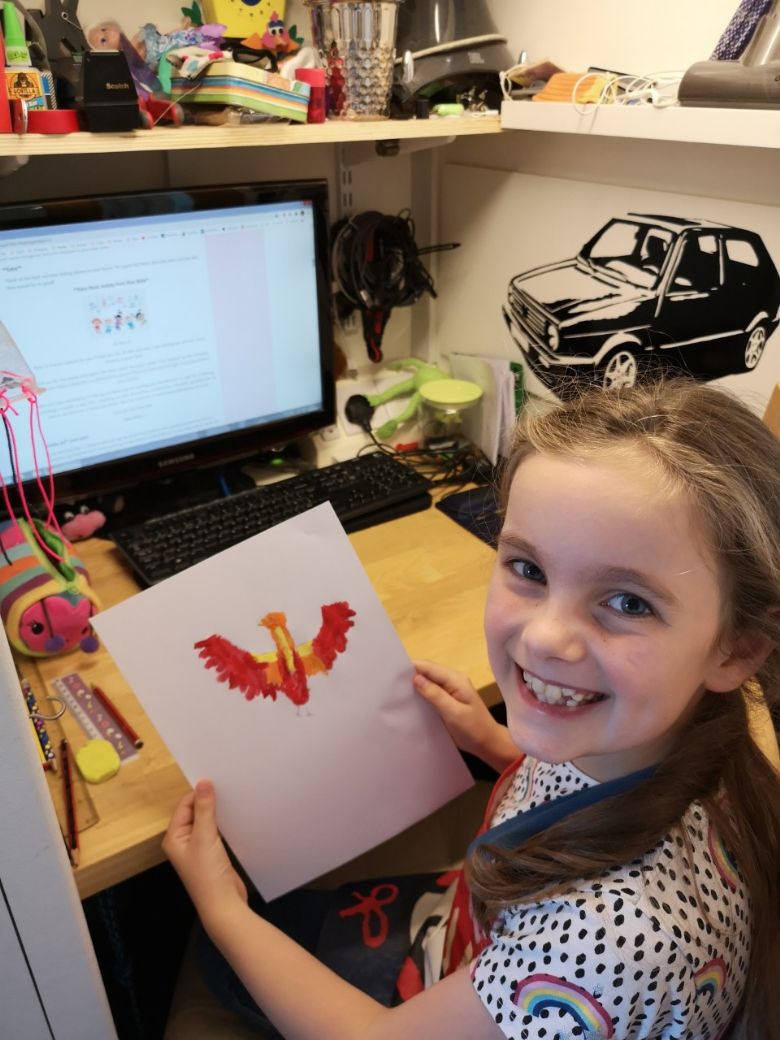 MORE MARVELLOUS MUSIC MAKING!
Here are a couple more examples of lovely music work I've been sent. It's great to receive examples of what you've been doing! Please keep sending them - musiclessons@lmpsdorset.co.uk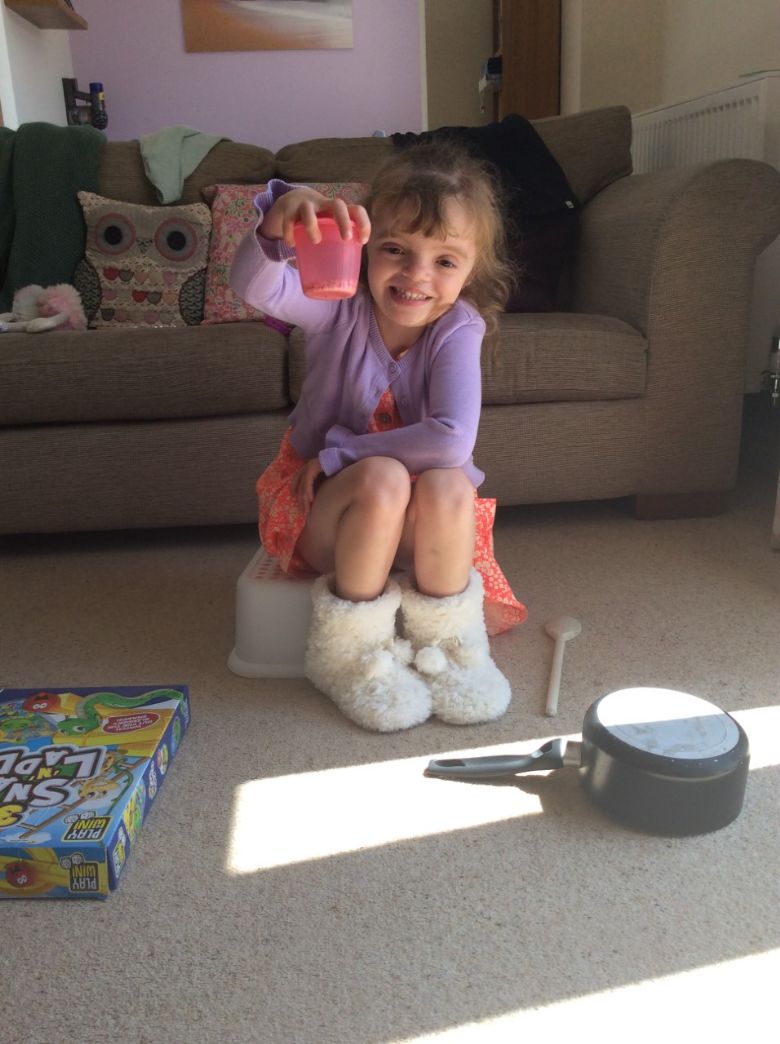 Year 2 had to choose 3 objects that made different sounds, and then see if a partner could tell which object was making the sound without looking.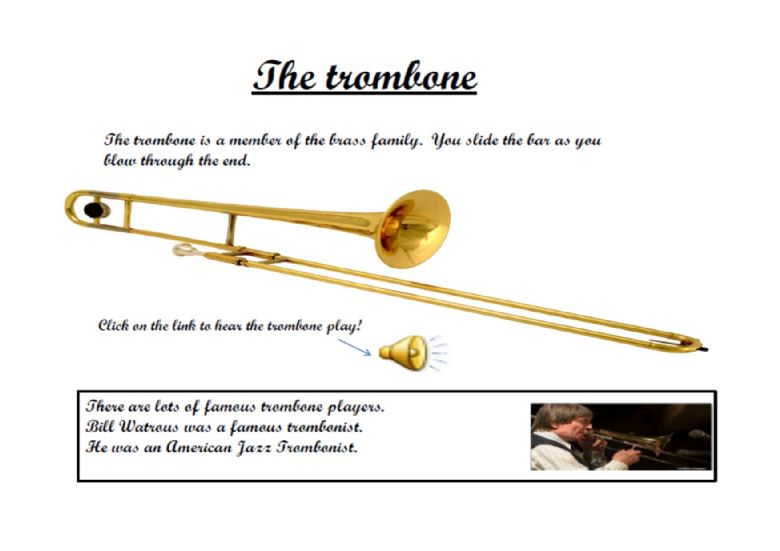 Year 3 were challenged to make a poster about an orchestral instrument of their choice. This one plays an example of the trombone when you click on it!
VE DAY CELEBATIONS
If you would like to have a sing song as part of your VE day celebrations, here are the words to We'll Meet Again. It seems very appropriate at the moment in particular! Sing it loud so everyone can hear it!
NEWS FROM CASTLE FARM CARE HOME
For those KS2 choir members who have sung at Castle Farm Care Home - we received a lovely card today. I hope it's not too long before we are able to visit them again. If you would like to send a reply, I'm sure it would be very much appreciated. The address is Castle Farm Retirement Home, Castle Farm Road, Lytchett Matravers, Poole, BH166BZ.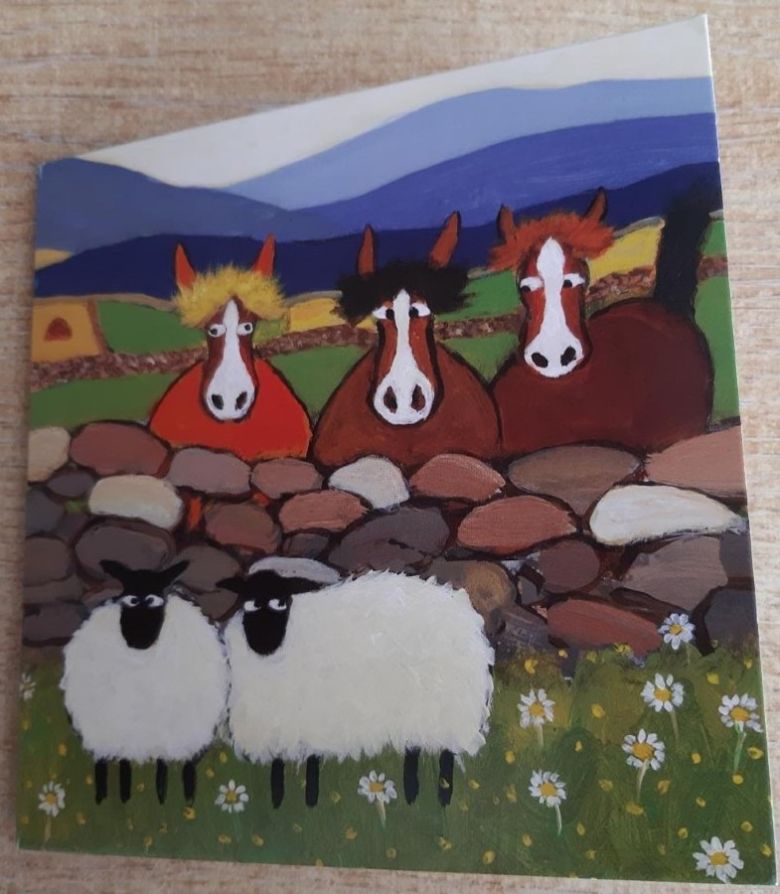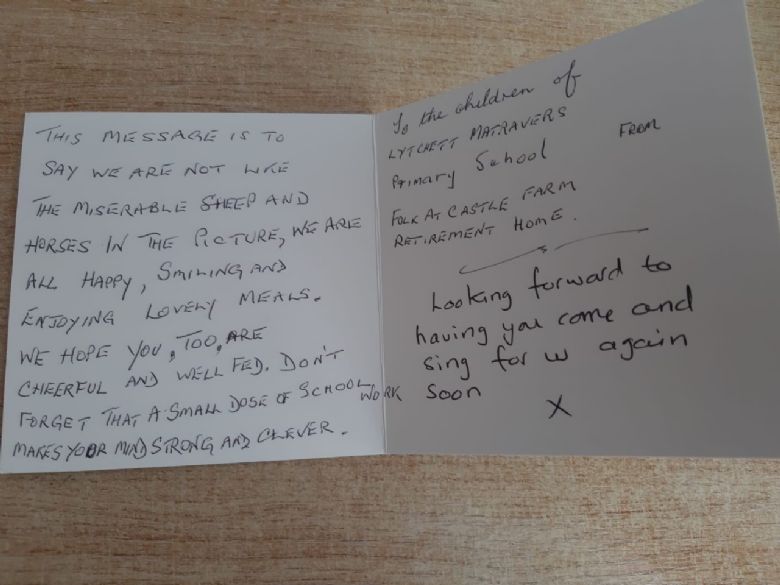 MORE GREAT HOME LEARNING!
Thank you for sending some lovely examples of the music work you have been doing at home. It has been wonderful to see! Here are some examples of your fantastic work.....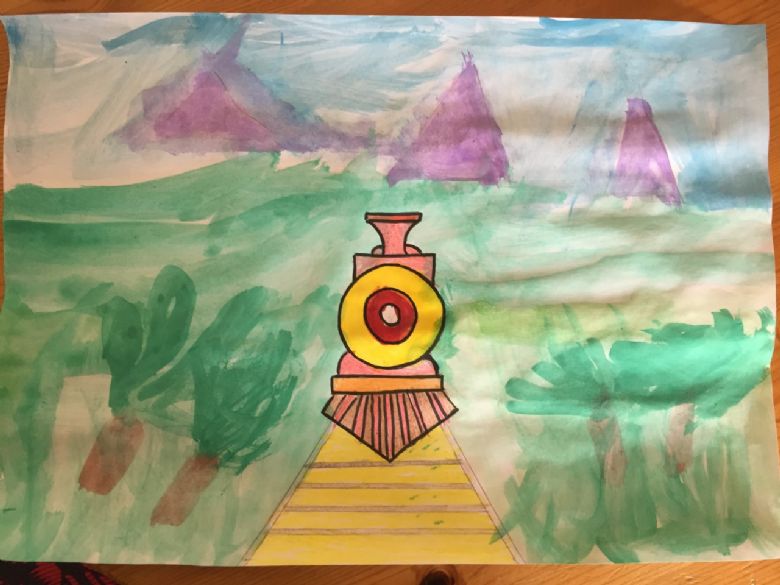 This was painted in response to a piece called The Little Train of the Caipira, which Year 4 listened to. It tells the story of a train chugging through the Brazilian countryside. Aren't the colours beautiful?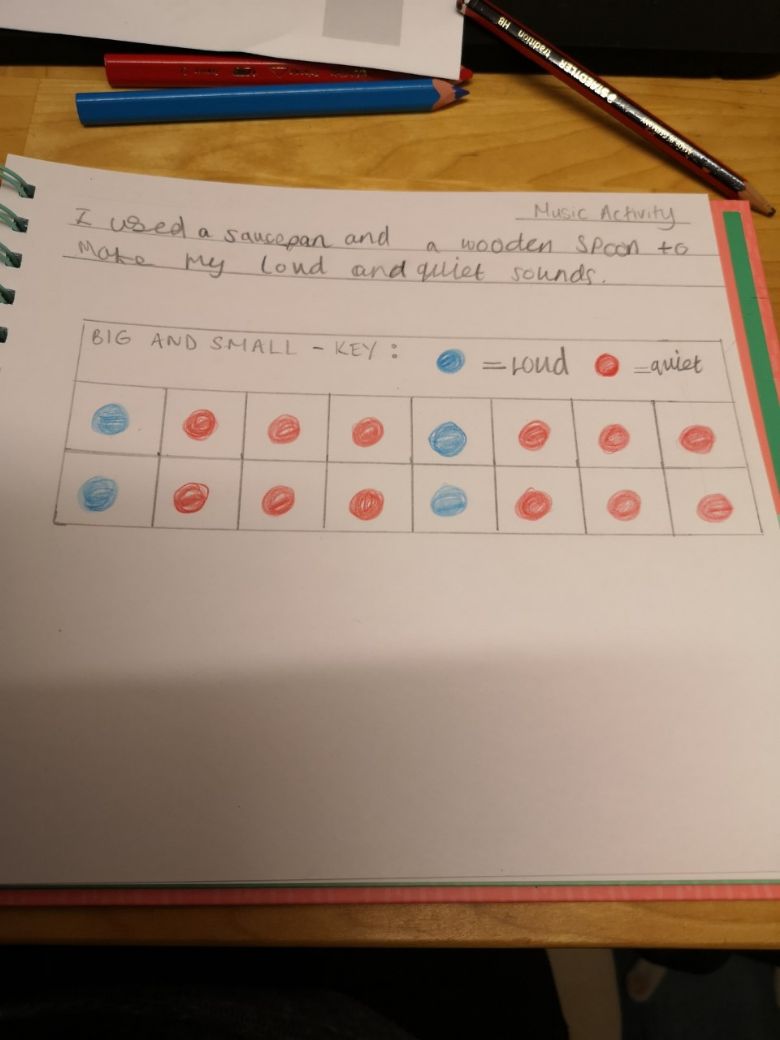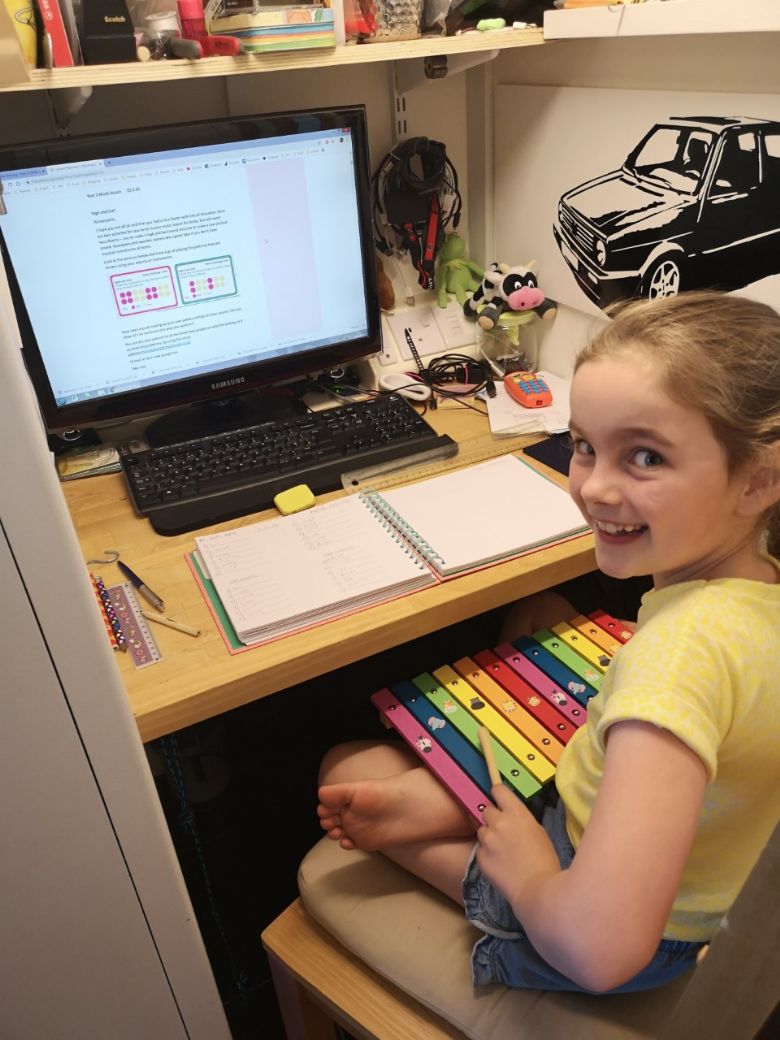 Year 2 have been experimenting with playing high and low pitched sounds, and have drawn their own patterns for someone else to play!
HOME LEARNING!
It has been brilliant to hear about how you have all been doing with your music activities while you are at home. I had one great example of music being used to describe goblins from Norse mythology from a year 5 child. He had really thought about how the musical dimension of pitch, tempo and dynamics could be used effectively. Have a look at the document at the bottom of the page! Well done!
MORE MUSIC WITH MYLEENE
Here is another episode of Music with Myleene where she talks through a brief history of music with some peformances of classical music, including one by her daughter, which could inspire some of our amazing musicians I think!
SINGING!!!
I am really missing KS2 Thursday Singing Assembly at the moment. When we get back it'll be great to have some really uplifting songs to sing together. If you would like to do a bit of singing while we are away, why not have a look at this video and try to learn the sign language to the lyrics! Year 6 learned this a couple of years ago for their Leavers Assembly and it was awesome! It would be wonderful if we could all sing it when we are back together again. Happy singing everyone!
KS1 and 2 CHOIR
If any of you in KS1 and KS2 choir are feeling at a loose end, it might be a nice idea to write a letter or draw a picture and send it to the residents of Castle Farm Care home or Forest Hill Nursing home. We had planned to go and sing to them this term and next, and I know how much they enjoyed seeing you all and hearing you sing. I am sure a note or picture would make their day. The addresses are:
Castle Farm Retirement Home, Castle Farm Road, Lytchett Matravers, Poole, BH16 6BZ
or Forest Hill House Nursing Home, Rushall Lane, Corfe Mullen, Wimborne, BH21 3RT
Thank you!
MORE MUSIC WITH MYLEENE - DYNAMICS!
This video is a great reminder for children in Years 4, 5 and 6 as we have looked at these terms already. Year 3, this would be a good introduction for you!
ONE FOR EYFS AND KS1
If you are rainbow spotting on a walk or from your windows, this would be a great song to sing and sign!
https://www.bbc.co.uk/cbeebies/watch/playlist-something-special-nursery-rhymes?collection=playlist-collection
SINGING AT HOME!
This has been requested time and again, mainly by Year 5 children. Sing along at home!!
MORE MUSIC IDEAS
If your child already learns a musical instrument or is particularly interested in music, then this might be worth a look while we are not at school. Myleene Klass will be hosting weekly music lessons on her youtube channel. It is more suited to upper KS2 or at least to those children who are already learning a musical instrument and are familiar with notation. Here is her introduction and the first lesson.
IDEAS FOR HOME LEARNING IN MUSIC
Below is a list of ideas for activities that can be done at home, mainly using resources online, to help your child with music. The list will be updated and is just a starting point but music has a wonderful way of lifting the spirits so do take part in some singing or music making if you can!
Year 1, 2 and Reception
Singing songs and creating sounds to accompany them is a great way to enhance musical skills and learning as well as helping children to learn in other areas of the curriculum.
CBeebies has some great programmes for younger children such as Yolanda's Band Jam.
BBC Schools radio also has a number of programmes that might be useful including a selection of songs.
https://www.bbc.co.uk/teach/school-radio/nursery-rhymes-songs-index/zhwdgwx
https://www.bbc.co.uk/teach/school-radio/music-songs-ks1--ks2-page/znrj8xs
https://www.bbc.co.uk/teach/bring-the-noise/music-games-and-activities-for-teaching-primary-school-children/zrxmd6f
Playlists are available on various devices that are tailored to younger children too. Try encouraging your child to play along in time to the music – if you don't have any instruments at home, saucepans and wooden spoons make great drumkits!
KS2
Here are some websites that can be useful for music making and appreciation:
www.classical100.org A selection of 100 classical pieces along with background information about the piece and composer.
https://www.musicfun.net.au/ A selection of printable worksheets which are based around music theory.
https://www.musicteachers.co.uk/resources/funstuff Lots of interactive games helping children to consolidate their understanding of the different musical elements.
https://www.bbc.co.uk/bitesize/subjects/zwxhfg8 There are great ideas here for helping children to understand the different musical elements.
If your child plays a musical instrument, please encourage them to practise regularly. If they have a CD in their practise book, encourage them to play along with it. It will make practising much more fun.
PYRAMID MUSIC AFTERNOON
Several musicians from Year 5 and 6 visited LMS yesterday for an afternoon of music making. On arrival they split into woodwind, brass and percussion, and string groups and went off to rehearse in separate rooms along with musicians from LMS. They then performed their pieces to each other before a performance to parents. The string group played Eastern March and the William Tell Overture, while the brass, woodwind and percussion group played Twist and Shout and then the James Bond Theme. I was so impressed with both the behaviour of our children and the concentration and musicality they all showed. They were a credit to the school and themselves. A huge well done to all of them.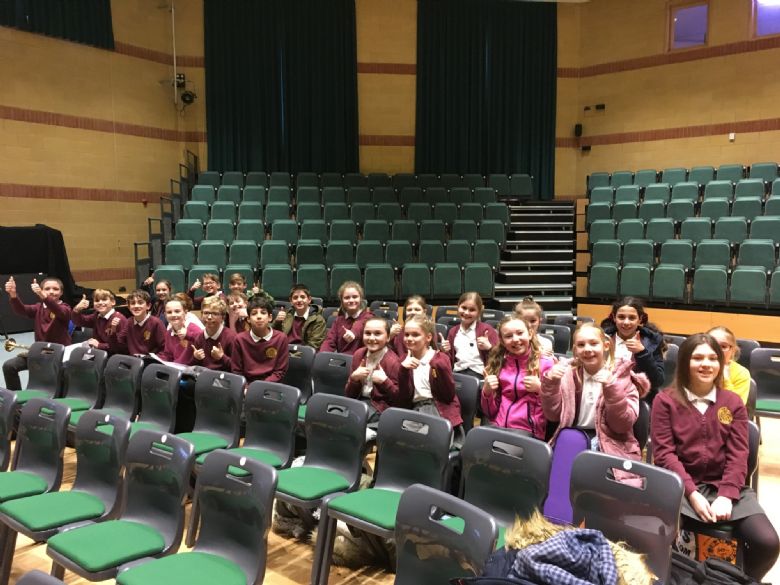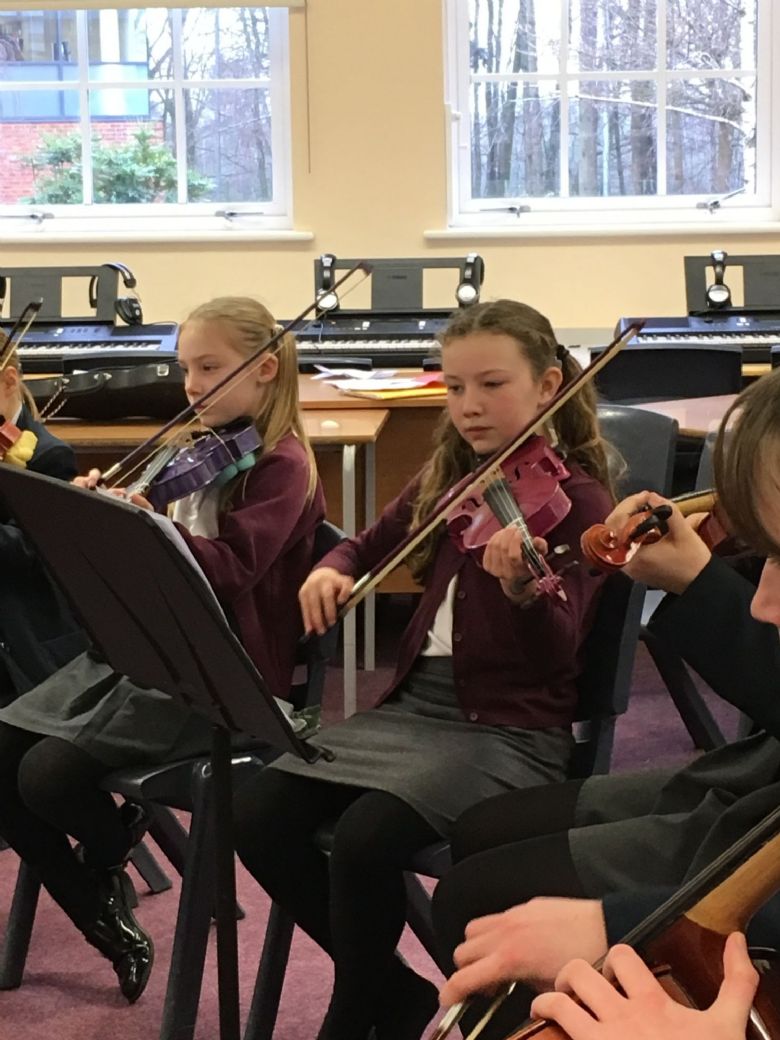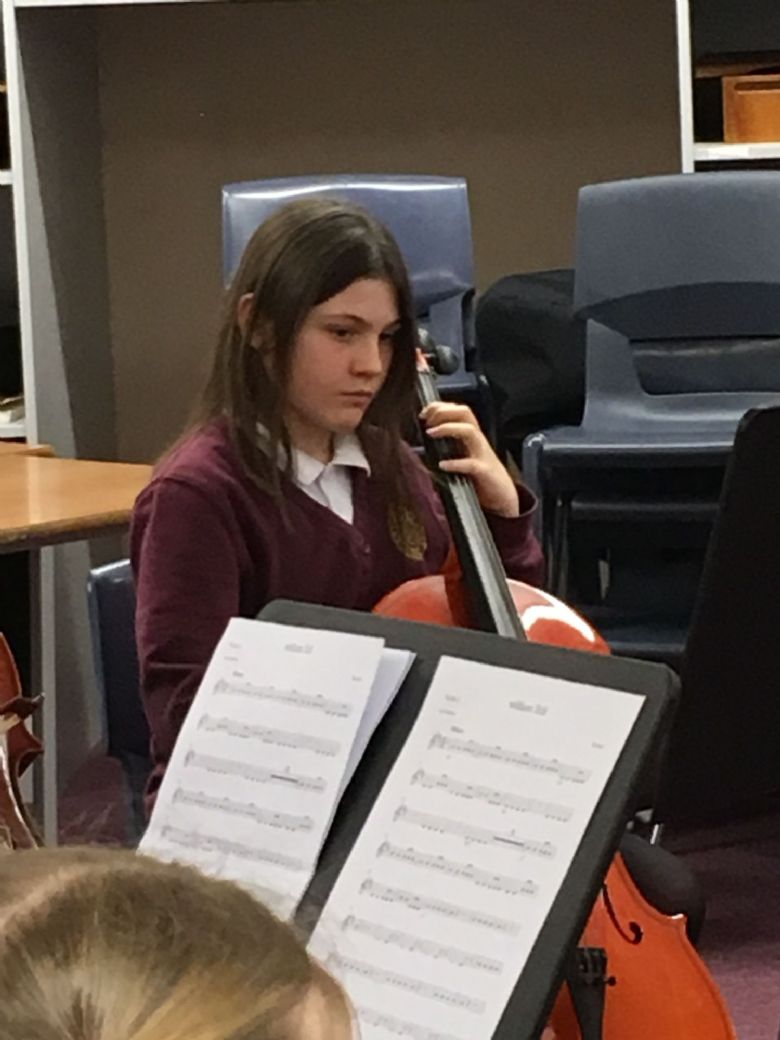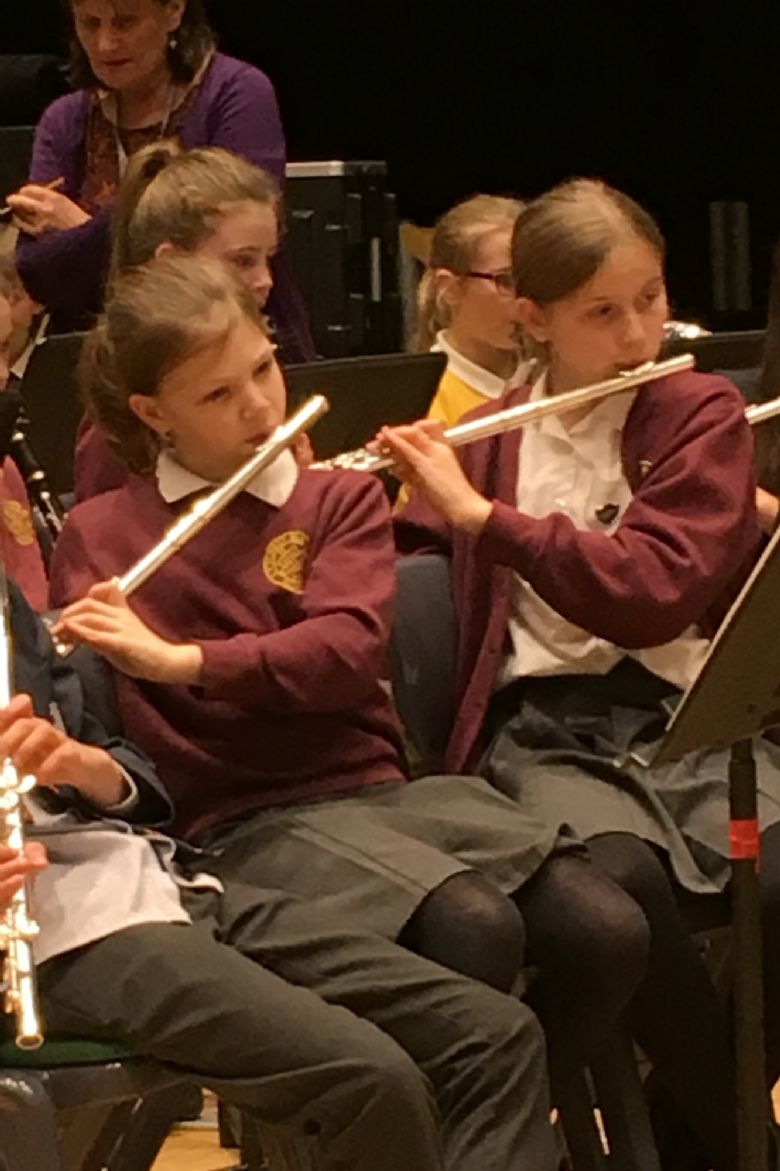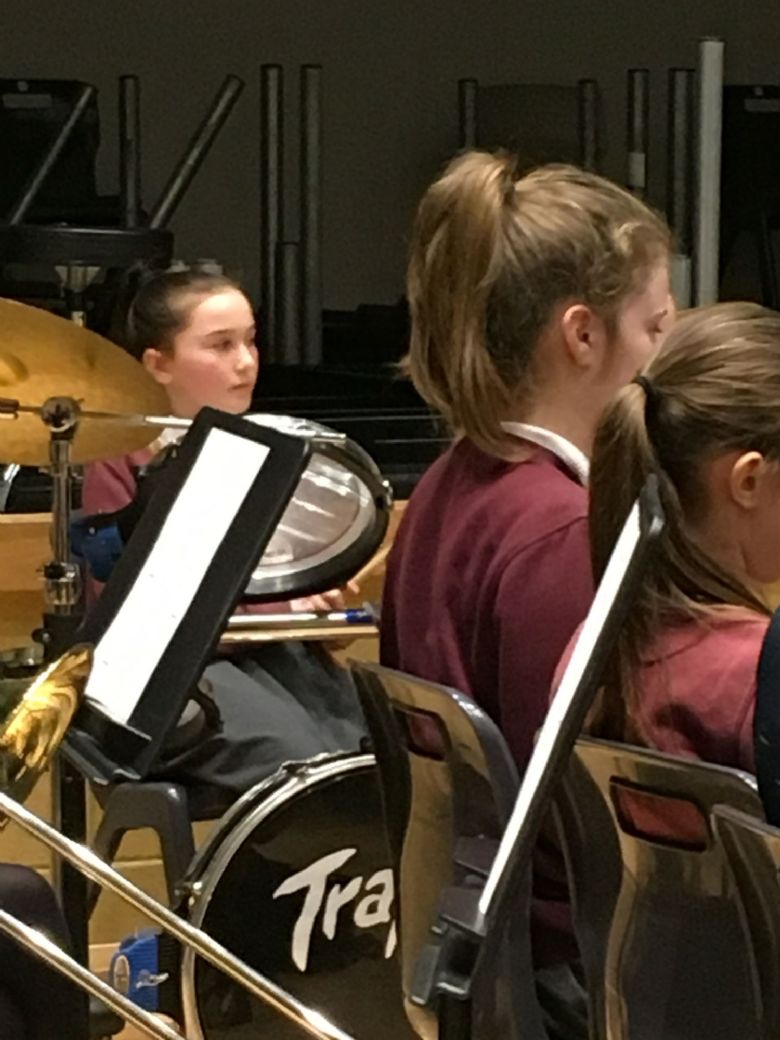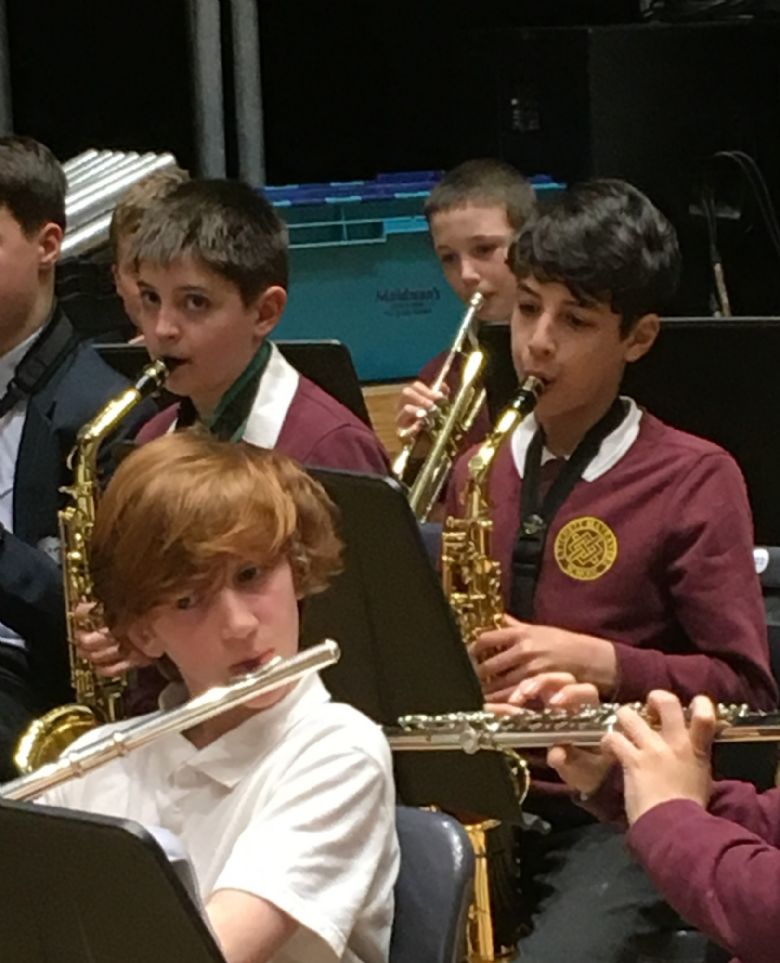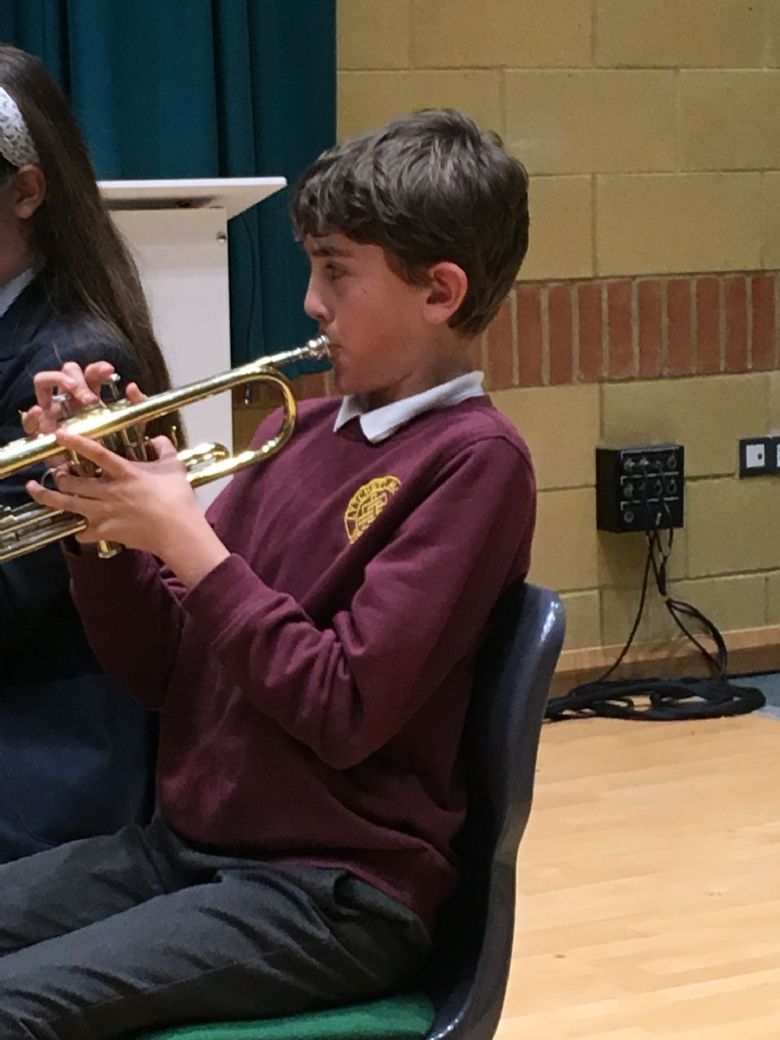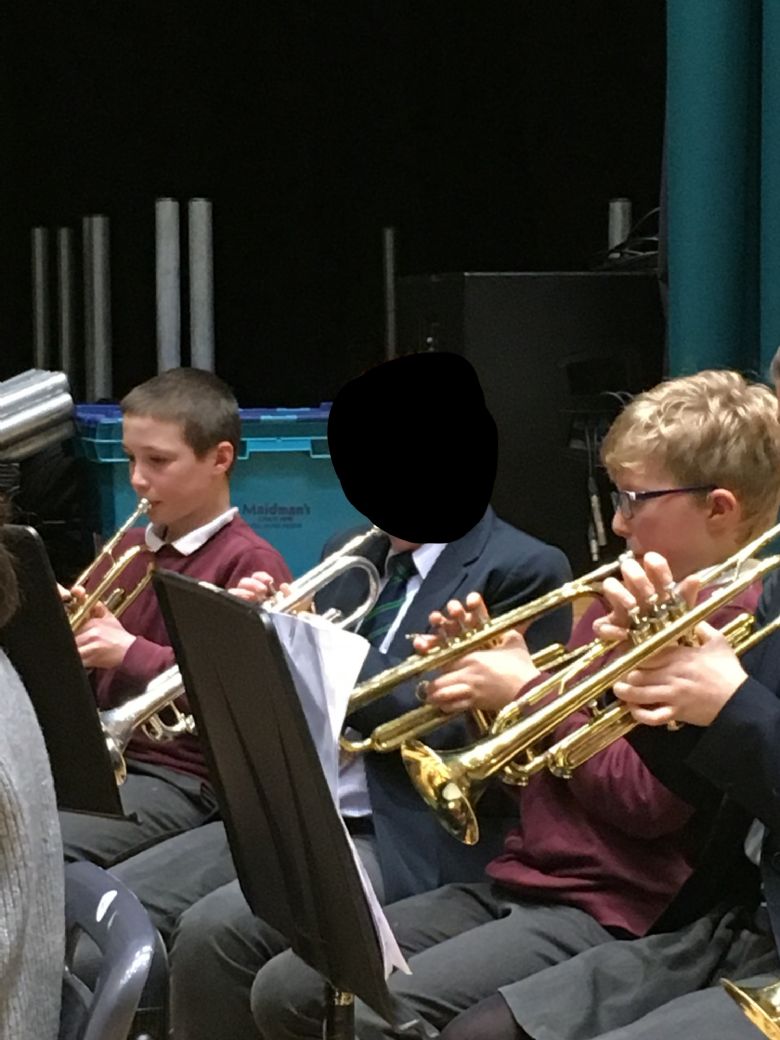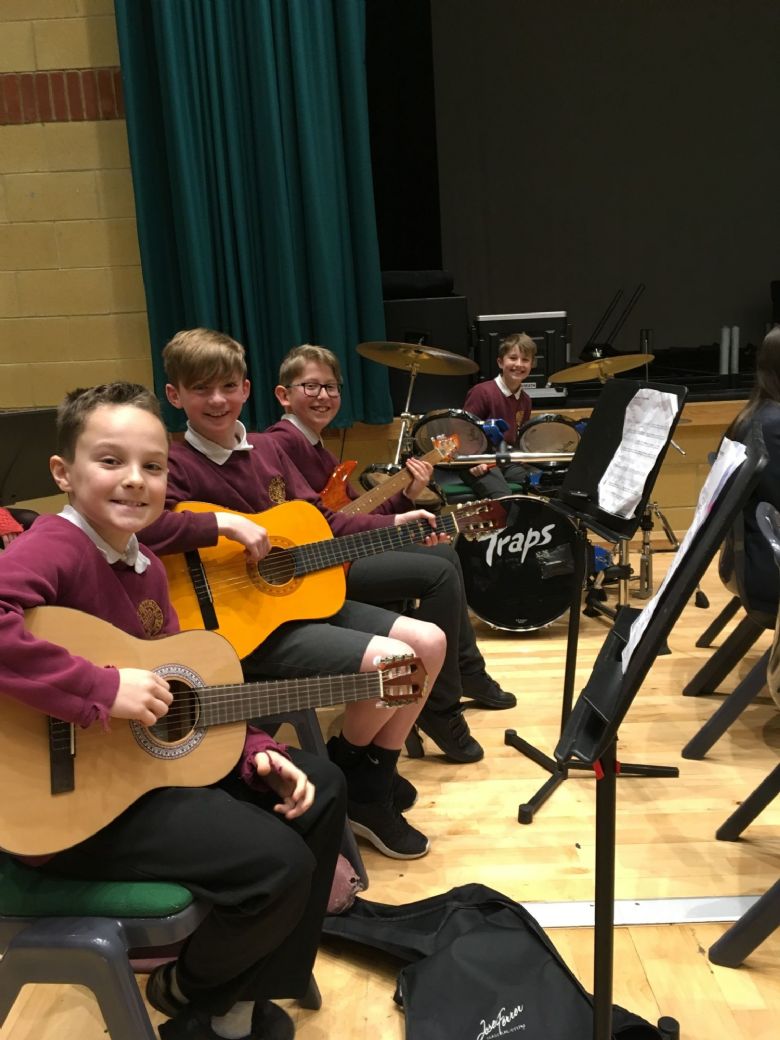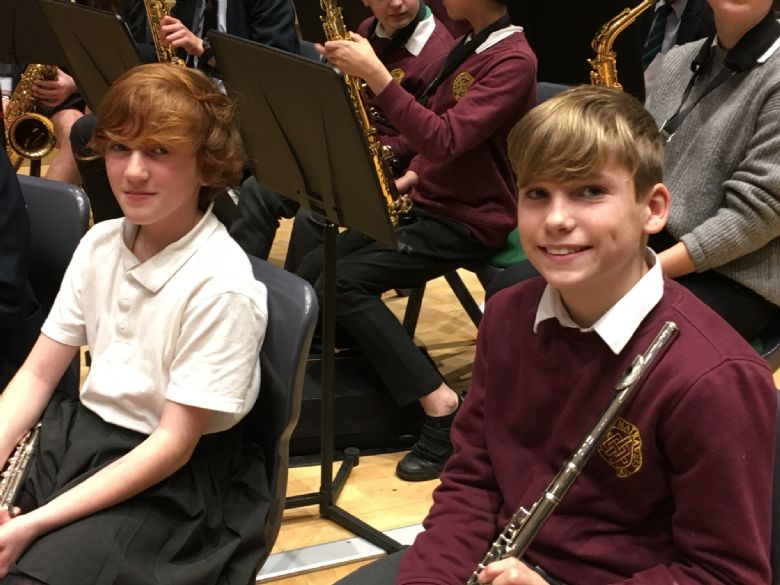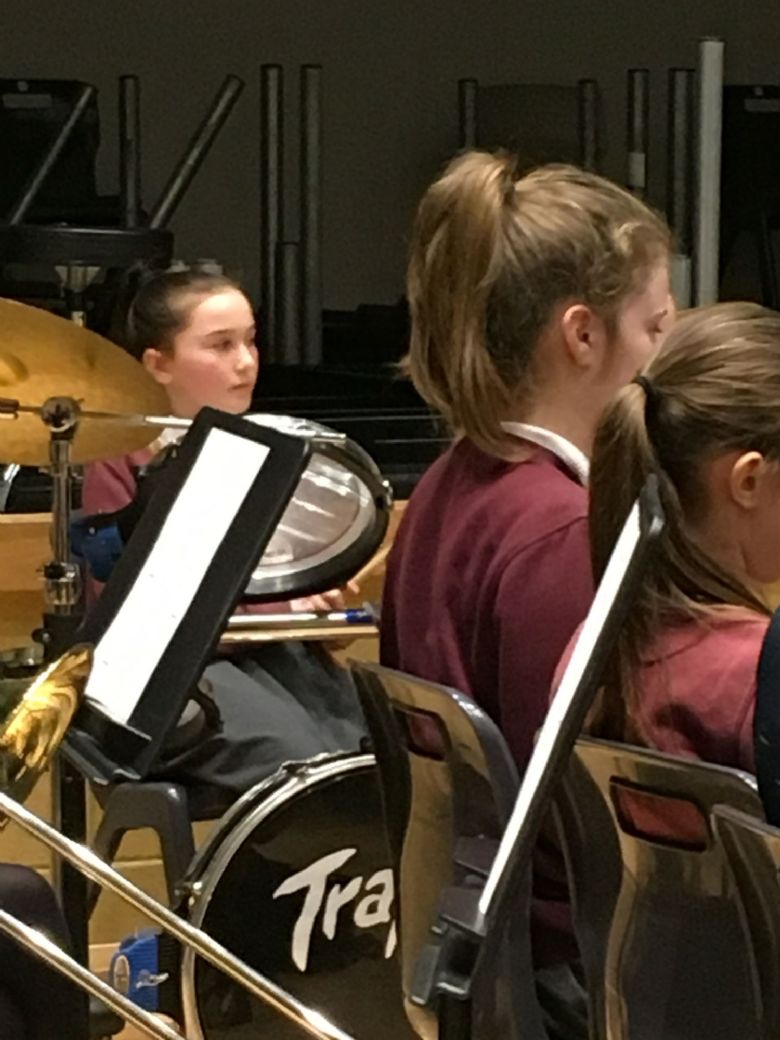 KS2 Choir Christmas Performances
KS2 choir have been extremely busy over the last couple of weeks, performing at Castle Farm Care home, the Christmas Fayre and at Upton Social Club for the Best Foot Forward Leg Club. They have entertained their audiences with festive classics such as Little Donkey and Away in a Manger, as well as newer pieces like Love Shone Down. It has been wonderful to be able to spread a little festive cheer through music. As our choir is so large (numbering nearly 50) we tend to take groups from the choir to sing, rather than all of them - perhaps we need to look at booking the Royal Albert Hall in order to get them all in! Here are some pictures or our older choir members singing at Upton Social Club.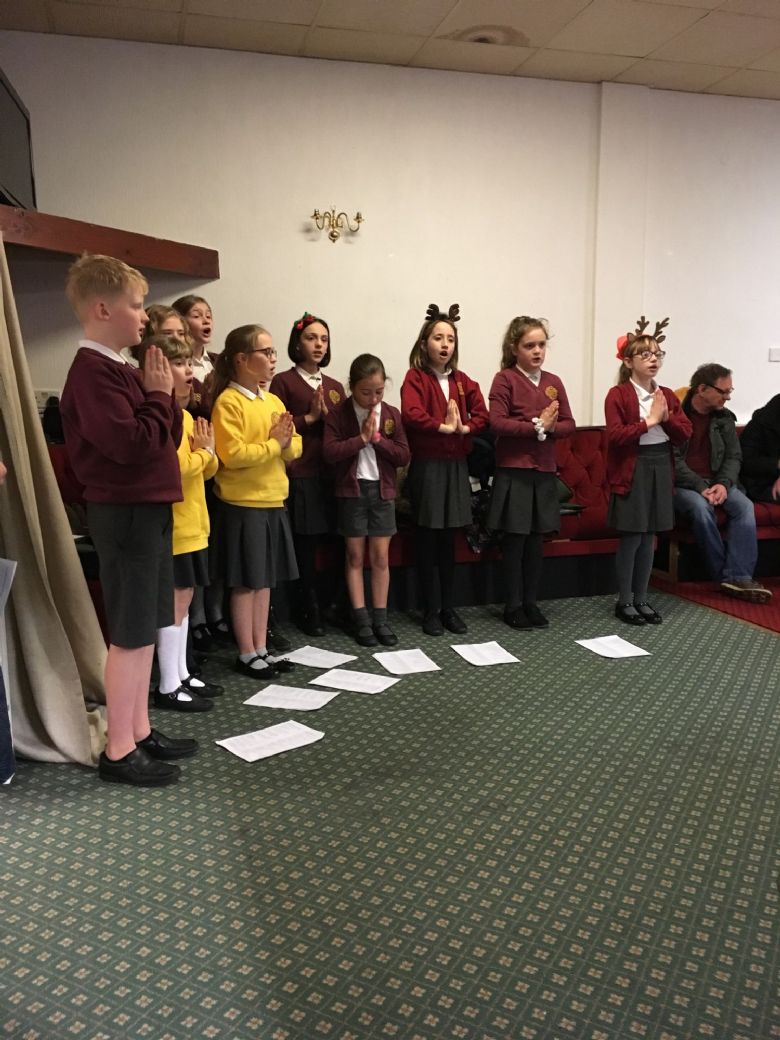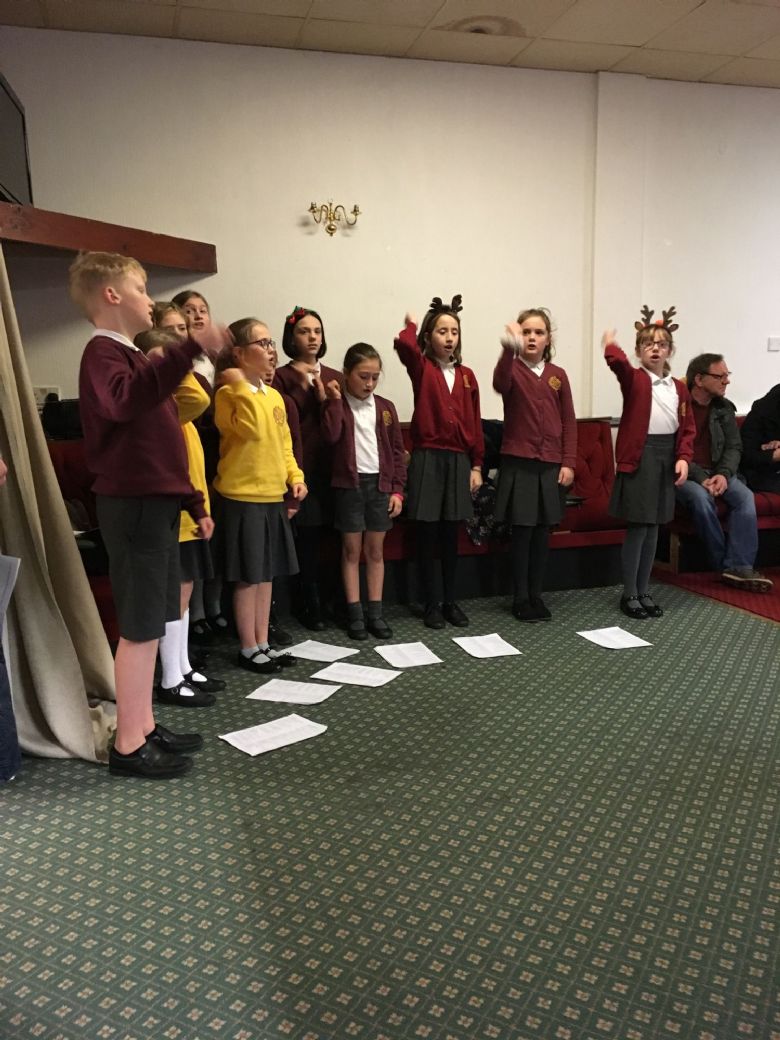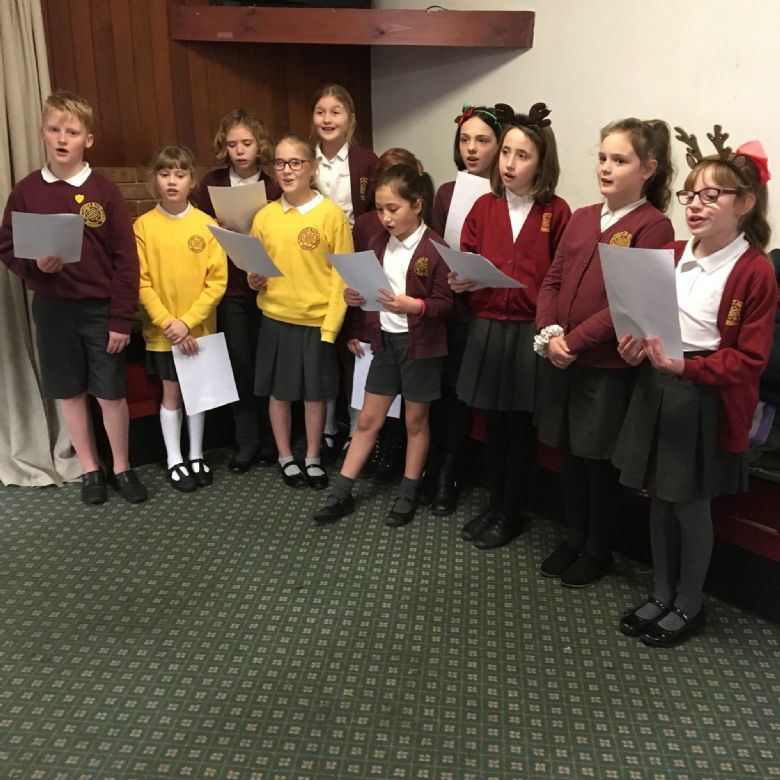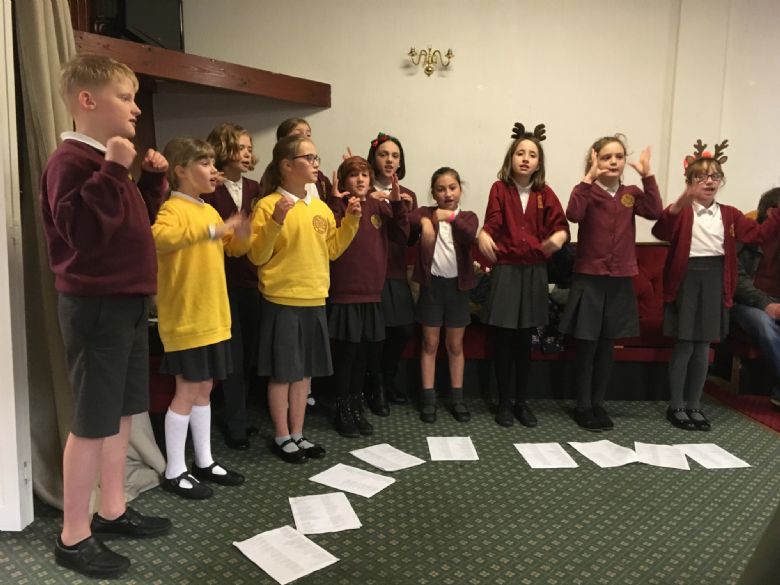 Clarinet Concert!
Four of our clarinet learners played in assembly today, entertaining the rest of KS2 with two pieces - "Barefoot Boogie" and "Start and Stop". They performed beautifully. Well done girls!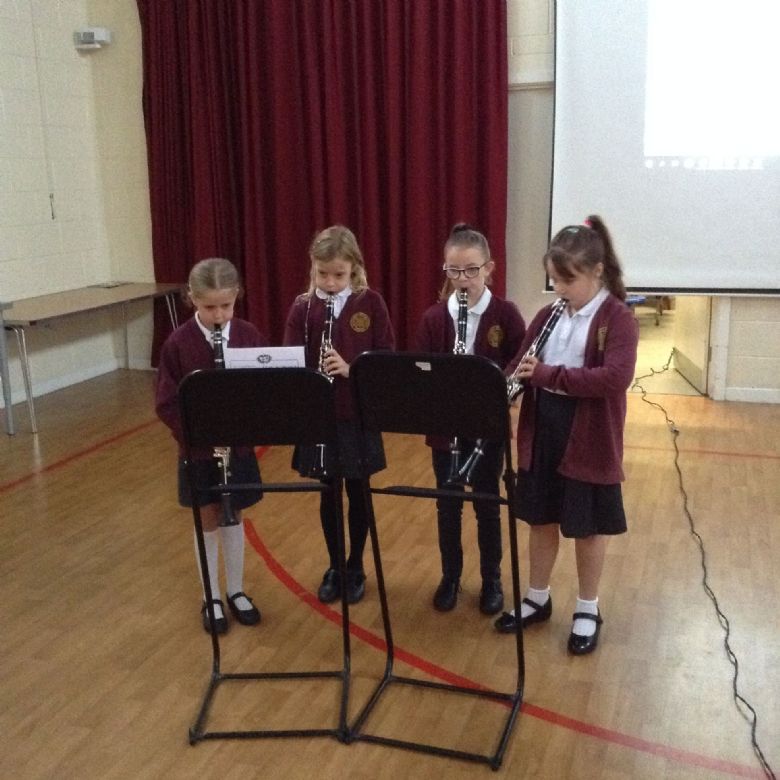 Manhattan Blues
This week our Year 3 violinists played this piece. It's a great one for listening and counting. If your child would like to practise it at home, here is the music. The first set of notes are all played on the D string, the note on the second gap in the stave is an A. Ask your child what the squiggles are!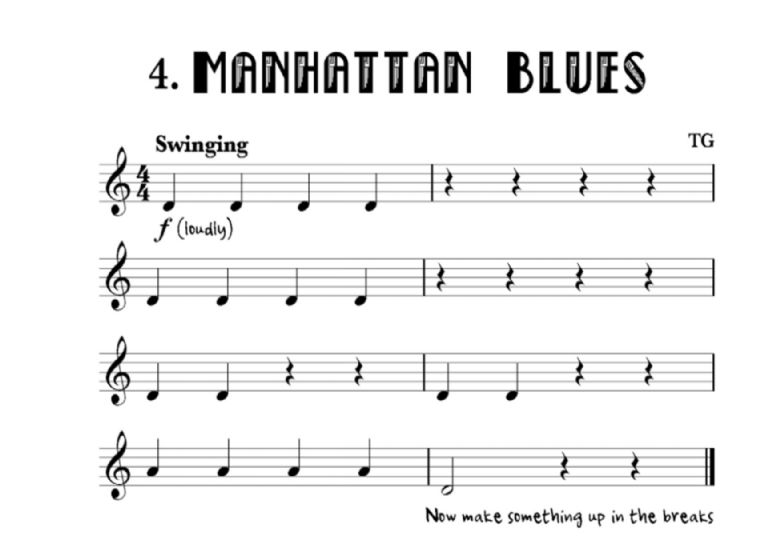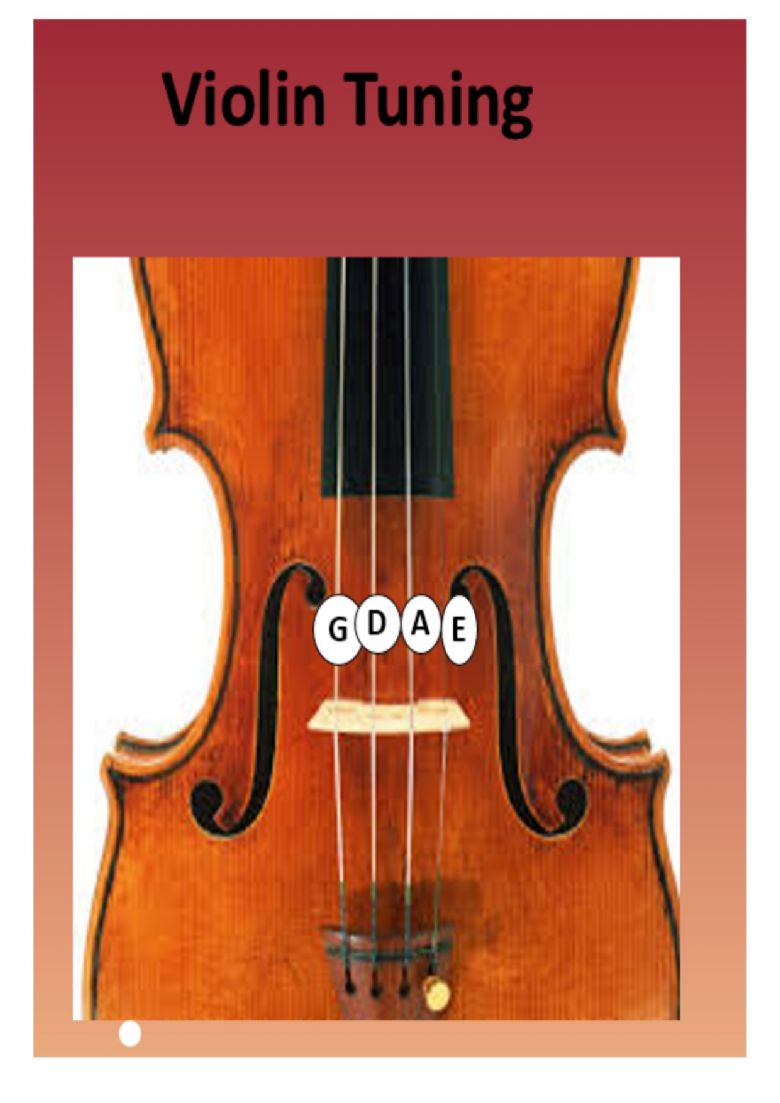 YEAR 3 MUSICIANSHIP PROGRAMME
Year 3 are steaming ahead with their violin lessons. This week they played a spooky piece called trick or treat, using pizzicato and arco - ask your child what these terms mean! The notes are displayed below, along with the notes for Shotgun, which the children can play along to at home if they would like to. Remember, a little bit of practise through the week will make a big difference to the progress your child makes and the enjoyment they get from playing.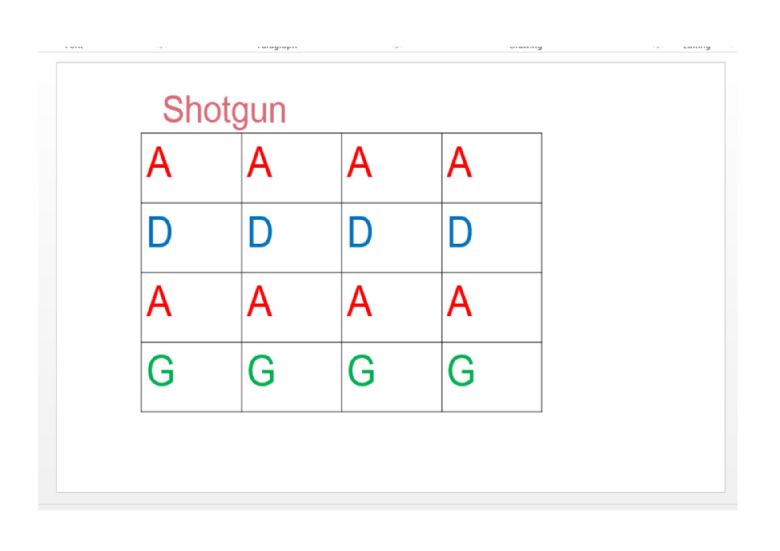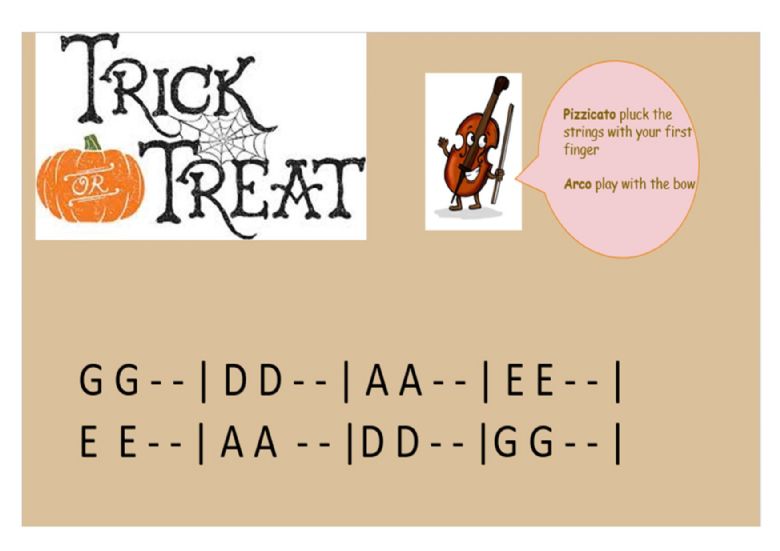 Keep your eyes peeled for more information about the time of the concert they will give on the 4th December.
Letters also went home via parentmail this week letting you know how to sign up for lessons if your child wishes to carry on learning a stringed instrument after Christmas. If you have any questions, please come and ask Miss Wells. Please note that the absolute cut off date for registering is the 8th November.
Instrumental Lessons
At Lytchett Matravers Primary school we have a wide variety of private instrumental lessons available, that take place in our music practice room.
Drums - Mr Bennett Woodwind - Mrs de Garis
Piano - Mrs de Garis and Mrs Storey
Brass - Mr Bilby Ukulele – Mrs Storey
Violin – Ms Stenwak Guitar - Mr Gibson
Children that have been learning an instrument for at least one term are encouraged to bring their instrument to their whole class curriculum music lessons.
If your son/daughter is interested in taking up a musical instrument please ask for more information at the school office.
Musical Clubs at LMPS
Lytchett Matravers Primary School offers the following musical clubs:
| | | | |
| --- | --- | --- | --- |
| Club | When | Teacher | Children |
| KS2 Choir | Thursday after school | Miss Wells and Mrs Markham | Years 3, 4, 5 and 6 |
| Orchestra | Tuesday lunchtime | Mrs de Garis, Mrs Blake and Miss Wells | By invitation |
| Beginner ukulele | Monday lunchtime | Mrs Storey | By ability |
| Intermediate ukulele | Friday lunchtime | Mrs Storey | By ability |
| KS1 Choir | Tuesday after school | Miss Waring | Years 1 and 2 |
Performances
Throughout the year, there are a variety of opportunities for all children to perform a musical item to an audience. We hold termly assemblies where the children can exhibit their newly acquired skills to an audience of fellow students and parents.
We work closely with our partner schools in the Lytchett Pyramid to take part in workshops and also a competitive Pyramid Music Festival during the Summer Term.
We also work collaboratively as a school staff team to put on a wonderful end of year musical performance which involves choir, orchestra, dancers, actors and stage crew. Last year the children performed Choose Dance and the next production is being planned as you read!
-----
Below you can find the following documents;
A guide to music at Lytchett Matravers: This document guides you through the private instrumental lessons on offer at Lytchett Matravers and also includes a slip that you can complete to give to the office if your son/daughter is interested in taking up a musical instrument.
Whole School Curriculum Map: You can download our Curriculum Map for all subjects by clicking on the document below. This document clearly outlines the key learning objectives for Music in every year group.
Web Pages & Useful APPs
The following web pages/apps may be of interest to you.