Yr5/6 Rugby Success!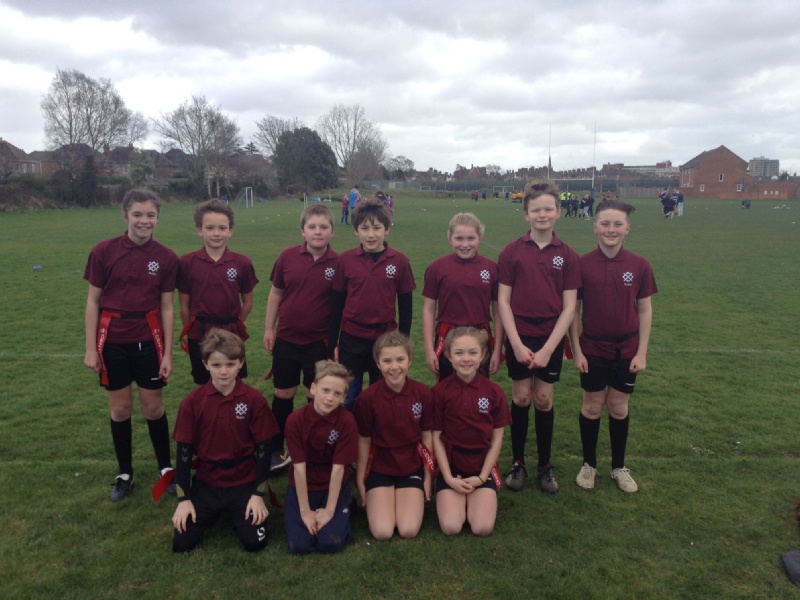 Year 5 and 6 Tag Rugby Tournament:
On Thursday 23rd February, our Year 5/6 LMPS Tag Rugby Team played a tournament against various local schools at Poole High School.
All of the children were very excited about the prospect of putting their training into use on the tag rugby field. The LMPS team was were made up of children playing in their first tag-rugby tournament, more experienced players and a combination of talent from both Year 5 and Year 6.
Our Lytchett team began by playing two matches in the 'group' stages of the tournament. The team rocketed into their top gear and performed extremely impressively as a team – supporting one another brilliantly and always giving the player with the ball passing options. This teamwork and skill was too much for the opposing teams and LMPS managed comfortable victories against each opponent.
Following their dominant group stage performance LMPS was entered into the final stage of matches against the other winners of the group competitions. Despite a slightly less emphatic start to their first match, LMPS managed to find ways to work together to break down the defense of a well drilled Heatherlands team. Eventually, we managed to beat them 5-1 (an impressive score, which was ultimately very important in the final tournament result).
In our final match, LMPS faced a very strong opponent in Hamworthy Park Junior School. Despite the expert (and very enthusiastic) coaching from Mr Noyce on the side-lines, LMPS struggled to make their obvious strengths over the opposition count. After an exciting match, where all children showed excellent spirit, character and performance, the matched ended in a 2-2 draw.
After some rapid mathematical calculations from the officials, I am pleased to say that LMPS were rewarded for their excellent performance by winning the entire tournament (on try difference, after their 5-1 win!)
I would like to say a special thank you to Mr Noyce for giving up his time to work with our children and coach the tag rubgy players every Monday lunchtime, turning them into a serious impressive team of committed players. I would like to thank the Sports Leaders and staff from Pool High School for organising and running the whole event.
Finally, a big thank you goes to you, our parents, for supporting us at matches, transporting the children to and from the fixtures and encouraging the team spirit and ethos of enjoyment within the team. It was a real pleasure to be involved in such an excellent tournament and thank you for your continued support.
Mr Paul Burton
Year 5/6 Leader