Tin Hats & Telegrams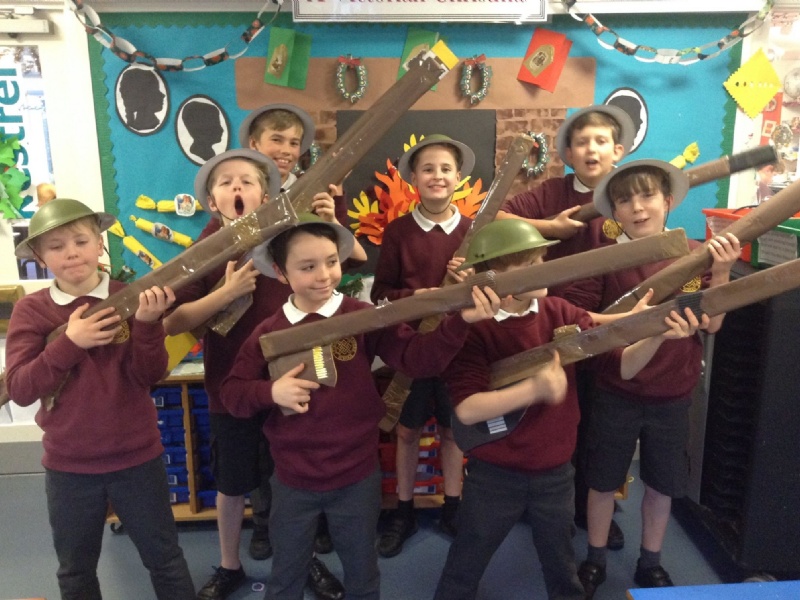 2018 marks the centenary of the end of the Great War. After spending the last half term learning about the war in RE, history and English, Year 6 decided to make the Armistice the subject of their Christmas production.
Tin Hats and Telegrams takes us back in time to meet some of the people caught up in the hardships of the war, including: villagers, soldiers, nurses and ambulance drivers. The play starts in 1914 as an English village remembers sending off their young lads to fight and we follow a group of soldiers into the trenches.
Jack, a dreamy poet, is persuaded to write some verses for the trench newspaper, The Wipers Times. Meanwhile, his feisty sweetheart, Alice, learns to drive an ambulance at the Front. Back home, the village fete is in full swing when a fateful telegram arrives.
At a field hospital in France, the nurses organise Christmas trees for the wounded soldiers. At last the war ends, and the hardships are over. Back in the village, the community holds a celebratory party. The production packed a real emotional punch, with comic and tragic moments woven together by the amazing musical score - which was arranged by the legendary Mrs Lympany.
Mrs Lympany put in a great deal of time and effort into teaching our singers and dancers and the result is nothing short of spectacular. She has coached brilliant performances and we are so thankful to her! We had a fantastic time practising and performing the play - it is something we will never forget.