Year 6 Victorian Evening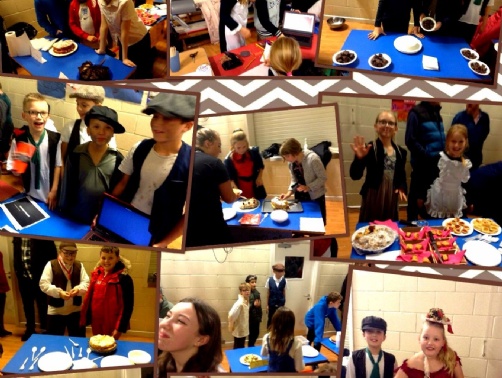 On Monday 21st of November, the hall was transformed into a Victorian Fayre. Year 6 invited their families and friends along to celebrate their learning of the Industrial Revolution and the Victorians. Exhibits featured inventions such as dynamite and the x-ray and Victorian toys were out on display such as hopscotch, cup-and-ball, skipping ropes and ball-and-hoop.
Visitors learned all about thaumatropes and could make their own as well as spinning tops. The artwork of Year 6 was on display including our moody urban landscape paintings and our unique prints inspired by William Morris. Visitors could make their own print and design their own Victorian Christmas card.
One of the best features was all the glorious food! Children (and their parents) had baked a feast of Victorian delights such as sponge cake, fudge, lemonade, berry pudding, Workhouse gruel, and even spinach ice-cream! The evening concluded with two brilliant plays written and performed by each class featuring the story of children pick-pockets and the match girl strike.
Everyone agreed that it was a wonderful way to share learning - each and every children was involved in a way that they chose.
We are so proud of our Year 6!