Christmas 1914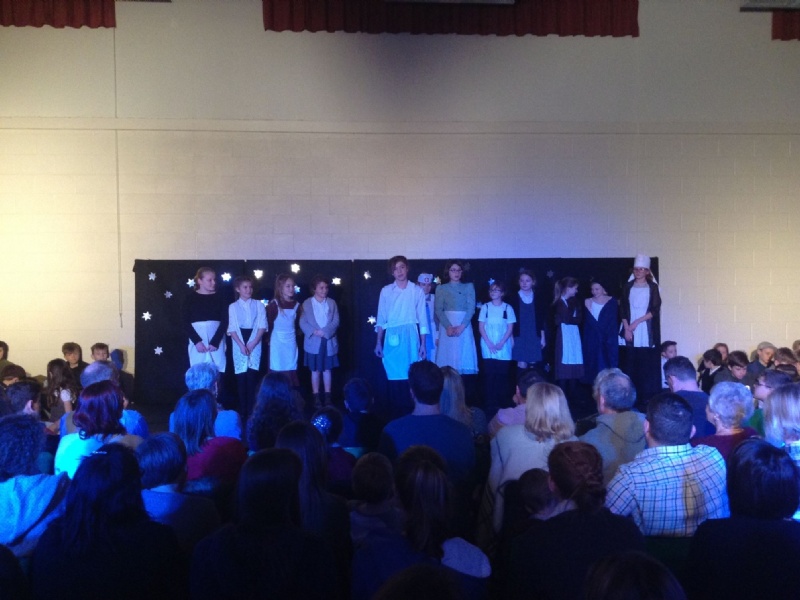 After studying World War I, Y6 put on a play that explored the impact this period of history had on ordinary families in England. Hot-headed Joe and his teenage friends rushed off to enlist in the British army, leaving anxious families and sweethearts behind.
The girls were soon hard at work in the munitions factory, while the lads went through basic training. Joe's younger brother Alfie lost an important letter, Grace's dad couldn't accept her working in the factory and poor Mrs Schroder, the piano teacher, was victimised for her German name. To rousing choruses of songs such as 'Something About A Soldier', 'It's Long to Tipperary' and 'Pack Up Your Troubles' the children sang their hearts out while the conflicts on and off the stage were resolved. Mrs Lynpany, who arranged the music and wrote many of the lyrics, accompanied the children on the piano. It was an amazing production - featuring comic moments such as the song 'Nursie Nursie', a rat frightening the soldiers and chasing a bully off the stage. There were also poignant scenes as the grim reality of war took hold and families wondered if their boys would make it home. However, out on the front line, even the misery of the trenches was briefly lightened by a moment of goodwill - The Christmas Truce.
The German soldiers and the Tommies (British soldiers) played a game of football and sang 'Silent Night' together. Back home, the community gathered for a carol service and everyone paused to remember their sons, fathers, brothers and friends at war. The performances from the children was outstanding - many grown ups admitted being moved to tears. The teachers, parents and staff were incredibly proud of everyone - from the lighting crew, stage hands, soloists, tap-dancers, drummers, actors and chorus.
Appropriately, a collection was taken up to be shared between the performing arts at LMPS and the charity 'Not Forgotten' which serves ex-service men and women in the UK.
The Year 6 children and staff put on a superb performance to be proud of. Thank you to everyone involved in making this performance such a success.